« U.N. Official Says "Hezbollah deserves U.S. respect" | Main | Rumsfeld Takes On Hillary »
August 04, 2006
Nasrallah Thinks Tel Aviv Is Capitol Of Israel ~ LOL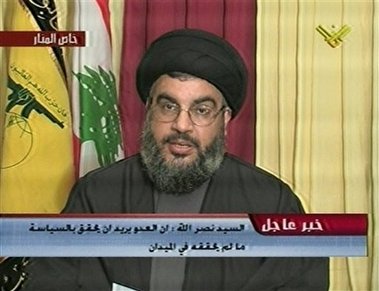 Hezbollah leader Hassan Nasrallah threatened to bomb Tel Aviv during a TV address Thursday night, should Israel attack in Beirut. His threat was delivered in a broadcast over Hizballah's mouthpiece, al Manar TV.
"If you indeed do this, I say this clearly. I won't use terms I used up to now, past Haifa, but I will say clearly and in a way that is not open to interpretation: If you bomb our capital we'll bomb your capital. We'll bomb Tel Aviv and we can do this."
Posted by Wild Thing at August 4, 2006 12:55 AM
---
Comments
Blinded by hate and ignorance his Iranian puppet strings are showing. I'd like to see the Israeli's capture Nasrallah then, televised, hang him on the spot.
Posted by: Jack at August 4, 2006 02:46 PM
---
I would watch it yep I sure would. Pop some popcorn and watch the whole thing. Good idea Jack.
Posted by: Wild Thing at August 4, 2006 03:15 PM
---