« Hugos Weekly Show On Venezuelan TV | Main | CAIR Rally Against Israeli War on Lebanon and Palestine »
August 08, 2006
Modem Problems But Lap Top Saves The Day
I apologize for being so late responding to your comments and no new posts this morning.
I had some computer problems late last night and this morning. Then forgot I had a lap top. Now how funny and blonde moment is that. hahahaahaha And I love this lap top, I just so seldom use it.
It is my modem so the guy will fix it tomorrow morning...yippee

((( hugs)))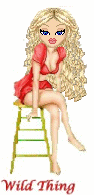 Posted by Wild Thing at August 8, 2006 04:27 PM
---
Comments
Sorry to hear that WT, haven't had it happen to me on the new modem but, lordy it was constant on the old one. I still have the old dial up. The daughters new DSL modem with Comcast has died twice in as many months, they've replaced it but the downtime is murder if it's for business.
Posted by: Jack at August 8, 2006 06:13 PM
---
Jack thank you. I usewd to have Earthlink dial up and loved it so much. And never had a problem with it ever.
I have Comcast now, and what you said about your daughter having it happen too with Comcast is so true. That is my only complaint. And I work at home now since I stopped working with that vile Muslim doctor. So I know how frustrated your daughter would be when the modem gives out.
Everything else I have grown to love about Comcast, especially for the speed things load for me it zooms when it does work. hahaaha
Posted by: Wild Thing at August 8, 2006 10:30 PM
---