« Carter Be Gone! | Main | Iran Weapons Found At Iraq's Port City »
August 17, 2006
In Country With Our Troops
FORWARD OPERATING BASE ORGAN E, Afghanistan - Army Capt. Paul Deis, Civil Affairs Officer for 27th Engineer Battalion from Fort Bragg, N.C., hands out humanitarian assistance supplies to Afghan children. The 27th Engineers accomplished another milestone recently in Afghanistan with the joint opening of a solar well and water tower in the town of Sarobi in Paktika Province.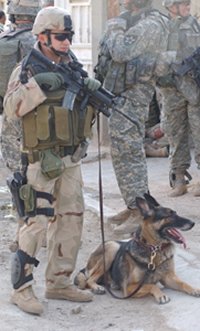 BAGHDAD – U.S. Air Force Staff Sgt. Jessie Mendez, military working dog handler, 2nd Security Forces, Barksdale Air Force Base, Shreveport, La., attached to Multi-National Division – Baghdad's 4th Infantry Division, waits while his assigned dog, "King," takes a breather from searching buildings and cars during a joint clearance operation conducted by Iraqi National Police and Soldiers from Company C, 5th Battalion, 20th Infantry Regiment, 3rd Stryker Brigade Combat Team, 2nd Infantry Division, in the Abu T'Shir neighborhood Saturday. (U.S. Army photo by Staff Sgt. Kevin Lovel, 363rd MPAD)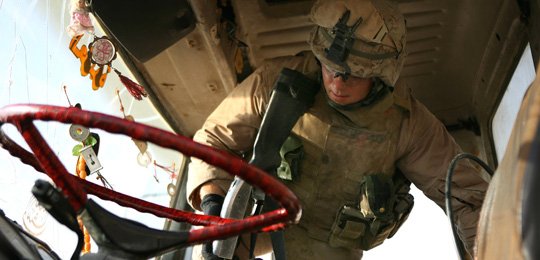 U.S. Marine Corps Lance Cpl. David J. Spicer looks through an Iraqi's truck while conducting a snap vehicle checkpoint near Gharmah, Iraq. Marines from 2nd Battalion, 8th Marine Regiment conducted snap VCPs to try to catch insurgents moving supplies. The VCPs restrict the insurgents' abilities to gain free movement in the region. (U.S. Marine Corps photo by Lance Cpl. Erik Villagran)
GHARMAH, Iraq, Aug. 16, 2006 — Marines from 2nd Battalion, 8th Marine Regiment, are demonstrating to insurgents there is no safe passage through their area of operations.
Marines from the battalion's Weapons Company performed mounted and dismounted patrols in Gharmah, to interrupt insurgents moving in the area. The aim was to disrupt insurgent activity, interdict insurgents and weapons being transported through the area and maintain security in the region.
Vehicle checkpoints are important because, although, we don't always catch people, it shows we are out here," said Lance Cpl. Thomas A. Upton, a 20-year-old assaultman from Mooresville, N.C. "We're still constricting the flow of supplies from the north to the south."
Marines stopped vehicles along a road in the area, searching the drivers and passengers. At the same time, Marines checked every corner of the vehicle – peeking under hood, into trunks and even in the fold in seat cushions – for hidden weapons or insurgent paraphernalia.
Most times, searches went without incident. Identifications were returned. Marines thanked the Iraqis for their patience and they were sent on their way.
Still there was one intense moment
One Iraqi driver approached the checkpoint and stopped his car. He hesitated a moment, drove in reverse and stopped once more. Then he approached the checkpoint one more time, passing the first Marines guarding the checkpoint.
Another Marine grabbed a signal flare and shot it over the top the Iraqi's truck. He stopped immediately as Marines approached the truck.
The vehicle was inspected and nothing was found. The driver told Marines he was in a hurry.
"Popping the pop-up was the right thing to do," said Sgt. Tim C. Stellhorn, a 23-year-old section leader from Batlimore. "It was the correct step in the escalation of force."
The outcome could have been worse for the driver but the Marines did not lose their nerve. They kept their composure, holding their fire and keeping an innocent Iraqi from getting harmed.
"They did what they were trained to do," said Gunnery Sgt. Shawn M. Dempsey, a 33-year-old platoon commander from Jersey City, N.J.
Marines collapsed the checkpoint and moved along into the city to patrol through the maze of buildings. They stopped to search homes and speak to Iraqis, learning of their needs and concerns and asking about insurgent activity in the region.
Dempsey said he planned to continue conducting checkpoints to interfere with insurgents' plans. The checkpoints and patrols, he explained, remind the insurgents Marines are always on the prowl, never allowing the insurgents a chance to get established and launch attacks against Marines, Iraqi Security Forces and terrorize local residents.
"I think checkpoints are effective as long as we don't set a routine," Dempsey said.
Stellhorn said he was pleased with his Marines' actions from the day's activities. He said they kept their wits about them and maintained their awareness despite the heat and long hours of walking through the city.
"The patrol went well," Stellhorn said. "The VCP's looked good. The Marines are tired but they are working real hard."
The battalion is serving with Regimental Combat Team 5 near Fallujah.
Posted by Wild Thing at August 17, 2006 01:55 AM
---