« August 8th Primary Election | Main | Demand a Ban on Exploitation of Fallen Soldiers »
August 09, 2006
Captured the Hizbullah Kidnapper Details Syrian, Iranian Collusion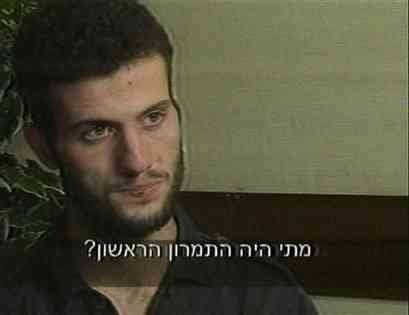 Video released by the Israeli Defense Forces, Monday Aug. 7, 2006, shows Hizb'allah terrorist Hussein Ali Suleiman. Suleiman acknowledged his part in the raid on an Israeli army patrol July 12, that ignited the current conflict with Lebanon.
If the MSM reported this, then the MSM would not be able to blame Israel for Islamic terrorist attack worldwide.
Captured Hizbullah Kidnapper Details Syrian, Iranian Collusion 21:53 Aug 08, '06 / 14 Av 5766 by Nissan Ratzlav-Katz

Israel National News (Arutz Sheva)
The IDF released videotaped footage of an interview with a captured Hizbullah member who was involved in the July 12th attack in which eight IDF soldiers were killed and two others kidnapped.

Chief of military intelligence, Maj.-Gen. Amos Yadlin, told cabinet ministers on Sunday that the Hizbullah terrorist had been taken prisoner during an operation in Lebanon. Soldiers Ehud Goldwasser and Eldad Regev are still being held hostage by the Iranian-backed Hizbullah.

Among other revelations of Hizbullah recruitment and training methods, the captured terrorist, Hussein Ali Sliman, said that he and a group of 40 or 50 others travelled from Beirut to Iran by way of an unofficial Syrian air strip in 2003. He also noted that the caravan of Hizbullah vehicles crossing into Syria travelled by way of an official military lane. The trip was undertaken for one of two practical field exercises of Hizbullah terrorists under Iranian tutelage.

Sliman, age 22 from the Beirut-area Burj Al-Barajneh PLO refugee camp, was interrogated after being captured by IDF forces in an unspecified raid in Lebanon. Speaking in Arabic, the captive Hizbullah member appears to be very calm and cooperative with his off-camera interrogator in the edited recording.

Early in the interview, Sliman described how he began Hizbullah militia training activities at the age of 15, after school hours, in his home town. The training, Sliman said, lasted one and a half months, during which the youths were given military, educational and religious instruction.

Sliman: "I was young. In 2000, I took part in a combat course, after the liberation [a reference to the Israeli unilateral withdrawal from southern Lebanon in that year - ed.]."
Interrogator: "And until 2000, what did you do during that period?"
Sliman: "Nothing. Mosque attendance. Mosque attendance and lessons with the sheikh [Muslim cleric]."
After a multi-faceted 45-day combat course in the Ba'albek region of eastern Lebanon, Sliman learned how to use anti-tank weapons and eventually took part in what might be likened to a military officers course for commanders of specific districts.
When asked by his questioner if he took courses outside of Lebanon, Sliman answered, "Not a course. I took part in practical field training exercises ['war games' - ed.]. Two exercises."
Interrogator: "When was the first exercise?"
Sliman: "At the end of 2003."
Interrogator: "Where did you do it?"
Sliman: "In Iran."
Interrogator: "How did you leave for Iran?"
Sliman: "We left Beirut in cars, range rovers, other vehicles...."
Interrogator: "Hizbullah cars. It is known that military cars belong to the Hizbullah."
Sliman: "Not military vehicles, but..."
Interrogator: "But they are recognized as belonging to the Hizbullah."
Sliman: "Yes. Recognizable."
The captured Hizbullah terrorist was then asked where they went from Beirut. "From Beirut to the Damascus airport," he replied. "At the Al-Missna Crossing, by way of the military lane."
After clarifying that the group of about 50 Hizbullah terrorists traveled to Syria as a group, by way of a military crossing, the interrogator asked Sliman what they did once they reached the Damascus airport.
Sliman: "We did not enter the Damascus airport, we entered a separate area...."
Interrogator: "That is to say, unofficial."
Sliman: "Yes, unofficial."
Interrogator: "They entered the Damascus airport..."
Sliman: "An airport bus, the bus came and took us and we took off in the plane."
Interrogator: "Did they stamp your passports when you left?"
Sliman: "We didn't have any passports."
The video then cuts to a discussion of the attacks Sliman carried out once back in Lebanon. In 2005, he was part of a peripheral team assigned to prevent Israeli tanks from firing at the border town of Rajar, as another cell attempted to kill or kidnap IDF soldiers stationed on the Israeli side of the border. That operation failed. "The main goal was really not achieved," he admitted, "but the secondary goal was to land a harsh blow against the military outposts."

Regarding his part in the July 12th attack and kidnapping on the Lebanese-Israeli border, Sliman said that he was assigned to prevent the approach of IDF reinforcements from nearby military positions.
Posted by Wild Thing at August 9, 2006 12:55 AM
---
Comments
Should we wait for 60 Minutes or 20/20 to interview this guy. Yeah sure, bad joke. They might interview a propagandist from CAIR, but not a real live captured terrorist. Because, the MSM only believes in insurgents, not terrorists.
I hope the Israelis get enough info from this guy to be able to launch highly productive raids against Hezbollah and destroy their infrastructure in Lebanon. The UN is also going to worry about what this guy says because he is showing the Iranian and Syrian connections to the terrorist movements of Iran, which the UN prefers to deny.
Getting interesting folks. The Arab losers are begging for a cease fire as their plans come unraveled.
Posted by: TomR at August 9, 2006 01:56 AM
---
Tom I hadn't even thought of the UN and your so right. They must be nervous about this guy.
Posted by: Wild Thing at August 9, 2006 09:00 AM
---