« Iran To Launch Major Military Maneuvers ~ Like Right After They Pray? | Main | Hillary "Outraged" by bin Laden Ad »
August 18, 2006
France To Send 400 Troops To Lebanon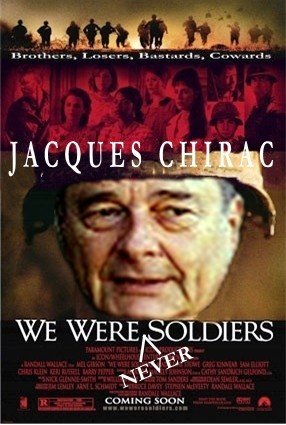 Bangladesh and France offers troops for Lebanon
UNITED NATIONS - Nearly 50 countries that could contribute the 13,000 new troops needed to expand the U.N. peacekeeping force in Lebanon met Thursday amid concern over the ground rules and firepower the soldiers could use.

Bangladesh pledged up to 2,000 troops and France offered 200, a disappointment to some who expected more from the country likely to lead the force.

In an opening speech, Deputy Secretary-General Mark Malloch Brown said at least 3,500 troops are needed to deploy within 10 days to expand the 2,000-strong U.N. force trying to help maintain an uneasy truce between Israel and Hezbollah militants.

"Every moment we delay is a moment of risk that the fighting could re-erupt," he said.

Malloch Brown told diplomats from the 49 countries invited to the meeting that details on how the expanded force will operate and the rules of engagement will make clear that "this will be a strong, robust force, equipped and authorized to take all necessary action in its key tasks."

The U.N. resolution that led to Monday's cease-fire between Israel and Hezbollah after a brutal 34-day war authorized up to 15,000 U.N. peacekeepers to help 15,000 Lebanese troops extend their authority throughout south Lebanon, which Hezbollah controls, as Israeli troops withdraw. The aim is to create a buffer zone free of Hezbollah fighters between the Litani River and the U.N.-drawn border, about 18 miles to the south.

Malloch Brown said the draft rules of engagement call for the use of force to prevent hostile activities in the buffer zone and to resist attempts to prevent the U.N. force, known as UNIFIL, from discharging its duties. The rules also allow UNIFIL to use force in assisting the Lebanese government if asked to secure its borders to prevent foreign forces, weapons and ammunition from entering the country, he said.

France and Italy said earlier Thursday that the peacekeeping mandate — partly written by the French — is not explicit enough, and demanded the U.N. set clear rules of engagement for troops that would bolster the force. A key concern, not mentioned by Malloch Brown, is whether the force will be called on to disarm Hezbollah fighters, as called for in a September 2004 U.N. resolution.

Even though the Israel withdrawal and handover to U.N. forces has gone well thus far, some potential contributors are believed to be concerned about avoiding confrontation with Hezbollah or being caught in the middle of a future conflict. Germany — uneasy given its Nazi past of any possible military confrontation with Israeli soldiers — said it wouldn't send any but is expected to provide logistical support.

Italy has said it could quickly send as many as 3,000 soldiers — up from its current contribution of about 50 — but Italian Prime Minister Romano Prodi's office said that he was pushing for explicit ground rules. In a telephone conversation late Wednesday with U.N. Secretary-General Kofi Annan, Prodi called for "a clear mandate, without any ambiguity and with very precise rules of engagement, for the soldiers who will be deployed," the premier's office said.

UPDATE:
President Jacques Chirac announced Thursday that France will immediately double to 400 troops its contingent in the U.N. peacekeeping force in Lebanon.
The statement from Chirac's office came after he spoke by phone with U.N. Secretary-General Kofi Annan. France currently leads the UNIFIL force in southern Lebanon, and its decision-making on its role in a strengthened force has been closely watched.
Chirac told Annan that France "will immediately double its current contribution by sending 200 men," the statement said.
The plan will be presented at a U.N. meeting in New York later Thursday to flesh out which countries will participate in the peacekeeping force as it expands from the current 2,000 troops to as many as 15,000, Chirac's office said.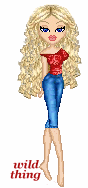 Wild Thing's comment......
That's almost enough cooks for the fighting men who need to be stationed there. Hey maybe they can teach Hezbollah how to surrender.
Posted by Wild Thing at August 18, 2006 01:55 AM
---
Comments
400 'men', how magnanimous Jaques Chirac!!! This must be the limit imposed on France by Vladimir Putin. Vlad doesn't want them underfoot of the Hezbollah either. Somehow I think the world would be better off without the Frog invasion and there's no oil for food incentive in Lebanon, yet!!!
Posted by: Jack at August 18, 2006 11:39 AM
---
Jack your right, no oil for food incentives there at all. haha
Posted by: Wild Thing at August 18, 2006 01:51 PM
---

SUNDAY,SUNDAY,SUNDAY!!!!ONE TIME ONLY!!!
PAMONA COUNTY FAIR GROUNDS, 500 FRENCH
RIFLES "NEVER FIRED,DROPPED ONLY ONCE!!!

Posted by: Tincan Sailor at August 19, 2006 10:15 AM
---
Tincan Sailor hahaha never fired and dropped only once. heh heh Good one!
Posted by: Wild Thing at August 19, 2006 10:57 AM
---