« In Country With Our Troops | Main | Rightroots ~ Great Things Are Possible With People Who Do Things »
August 03, 2006
Did Barney the Dog Join the Cult of Islam?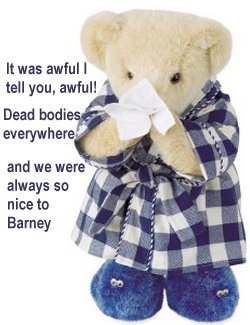 A guard dog has ripped apart a collection of rare teddy bears, including one once owned by Elvis Presley, during a rampage at a children's museum.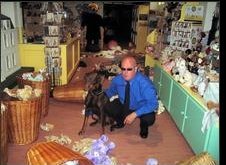 "He just went berserk," said Daniel Medley, general manager of the Wookey Hole Caves near Wells, England, where hundreds of bears were chewed up Tuesday night by the 6-year-old Doberman pinscher named Barney.
Barney ripped the head off a brown stuffed bear once owned by the young Presley during the attack, leaving fluffy stuffing and bits of bears' limbs and heads on the museum floor. The bear, named Mabel, was made in 1909 by the German manufacturer Steiff.
The collection, valued at more than $900,000, included a red bear made by Farnell in 1910 and a Bobby Bruin made by Merrythought in 1936.
The bear with Elvis connections was owned by English aristocrat Benjamin Slade, who bought it at an Elvis memorabilia auction in Memphis, Tenn., and had loaned it to the museum.
"I've spoken to the bear's owner and he is not very pleased at all," Medley said.
A security guard at the museum, Greg West, said he spent several minutes chasing Barney before wrestling the dog to the ground.
Wild Thing's comment.......
I have had dogs and kitties all my life and never had one attack my teddy bear collection. Sometimes a dog will adopt a bear for his own and sleep with it and play with it. So this story is very odd indeed. Since the Islam is the cult of death and destruction I will just say that dear ole Barney must have the heart of a Muslim.

* Something.....and Half of Something

Posted by Wild Thing at August 3, 2006 10:18 AM
---
Comments
Yep, blame the dog, wanna bet the guard was asleep and the dog got bored. My old man used to say that you have to be smarter than the dog in order to train it, he was right.
Posted by: Jack at August 3, 2006 10:58 AM
---
Hahaha he sure was right Jack.
Posted by: Wild Thing at August 3, 2006 11:28 AM
---
Posted by: raz0r at August 3, 2006 01:27 PM
---
Send Barney to Gitmo to guard terrs.
Posted by: TomR at August 3, 2006 03:19 PM
---
That's what happens when you name a dog after a purple dinosaur. I bet it'd piss you off too.
Posted by: TheLogan at August 3, 2006 06:56 PM
---
razOr he sure did. What a mess he made.
Posted by: Wild Thing at August 3, 2006 08:06 PM
---
Tom that is brillant, what a great idea. I love it.
Posted by: Wild Thing at August 3, 2006 08:06 PM
---
TheLogan hahahaha me too.
Posted by: Wild Thing at August 3, 2006 08:07 PM
---