« Italy Reports Seizing US-bound Arms Shipment ~ Grazie | Main | Bin Laden Given 10 Million Killing Cap »
August 23, 2006
America's Most Wanted List for Lack of Brain Cells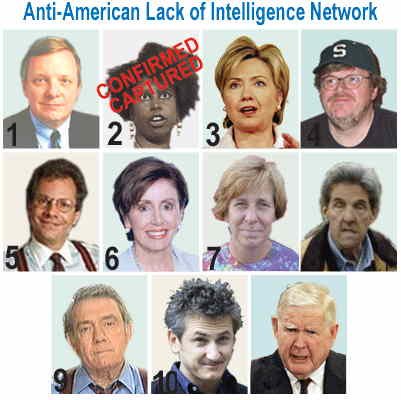 Posted by Wild Thing at August 23, 2006 12:55 AM
---
Comments

Now thats enough to make a person stop drinking!
As for #2, whats Buckwheat doing on the list???
Posted by: Tincan Sailor at August 23, 2006 10:30 AM
---
Wait!!! There's more, many more!!! :)
Posted by: Jack at August 23, 2006 11:18 AM
---
Tincan Sailor hahaha just having some fun.
Posted by: Wild Thing at August 23, 2006 11:26 AM
---
Jack LOL I know hahahaha
The list is huge I would not be able to fit them all in a post.
hahaha
Posted by: Wild Thing at August 23, 2006 11:27 AM
---

I was messing around with my Having fun with
this bunch of fools but then I read this post
over @Mudvill and thought what a worthless bunch
of low-life dirty SOB's they reall are!!!!!

Mr. Robert Stokely: A Last Ride to Take My Boy Home
Mr. Stokely sent this out to us this evening.
The Samurai class of Feudal Japan believed that life was impermanent, short lived and glorious and they lived their life just like that and even chose as their symbol the cherry blossom, beautiful and heart stiring yet fragil and gone in an instant. This is the life Sgt. Mike Stokely lived a purpose driven life that was only there to serve others. Never concerned about his own well being he volunteered to go out on the patrol that night so that another soldier could stay back. He is an American hero doing what others would not do even when he was scared to do so.
There really isn't anything I can add, so I'll let Mr. Stokely tell you in his own words what it was like to take his boy home. There is no hiding this post...no link to a hidden section, its here in all its glory to be shared with others and cried over with friends. But never forget, Sgt Stokely's life is not to be mourned but rather it should be celebrated, for he showed us through his life what it truley means to be selfless and an American Fighting Man.

Mr. Stokely writes:
On August 24, 2005, at approximately 5:00 p.m., I went to Hartsfield Atlanta to meet the most important flight I had ever met. I went alone, wearing a favorite blue blazer, grey pants, and red tie with navy stripes - the same I had worn to a prayer vigil for the Georgia National Guard 48th Brigade held by the Governor at the State Capitol in Atlanta a week earlier. It was an outfit that I felt very comfortable and fit me "good" and respectful dress for the passenger I was meeting.
As I stood in the office of the US Airways air cargo office and watched through the glass office door to the cargo bay, a motor tram pulled forward to the front of the air cargo hanger and stopped. Two Sargeants in dress uniform stepped forward as the cargo cart stopped. One Sargeant had come in on the flight I was meeting and pulled out paperwork and with the other Sargeant started comparing the paperwork with that of the crate on the air cargo tram. Once satisfied, they broke the shipping seals and began to remove the crate, revealing a casket with a box on top.
The two Sargeants carefully removed the contents of the box and as they did, in the best way I knew how to do, having never been properly trained, I came to attention and saluted as they unfolded an American Flag. I remained at attention and full salute, tears streaming down my face as the two Sargeants were ever so meticulous as they drapped the American Flag over the casket. Pain stabbed my heart even as it swelled with pride. An office full of people who were at that moment busy with the typical noise of an office suddenly became quiet and I could feel their eyes watching me. For the next few minutes, not a sound could be heard as the office staff seemingly froze in place with me, tears now dropping off my cheek and onto my shoulders and lapel. Then the flag drapped casket was loaded in a hearse and I crisply ended my salute as the two Sargeants then turned and saw me. Their eyes and nods of approval were reassuring.
I then walked outside to get fresh air, collect myself and called my wife, Retta. As she answered the phone, I said to her, tears welling in my voice, "our boy is home." We sobbed together a few moments. She was worried and asked if I would be o.k., for she loved him as her own and we had never been us without him. She knew I would be, but had to hear me say I would. Then, I got in the hearse to make a thirty plus mile ride to the funeral home, a route taken many days over many years when I took my boy home after visitation weekends, holidays, and summers. Every mile had a memory, and a new welling of tears inside, but I kept them in as the Funeral Home Director drove. While I talked to conceal my heart breaking inside and to keep nervousness at bay, I was thinking of this time or that time with my boy at various points along the route. Too many memories to even begin to share in this writing, but a kings treasure of beautiful memories from a toddler to a grown man just married and about to go off to war.
Then, the ride was over - my last ride taking my boy home. It was time to share him with others. My boy had come home a man's man who was a fallen warrior. He gave as much as he had to give to his GOD, Family, Duty, Honor and especially his Country. In return, he asked for nothing.
Even now, I wince and cry as I think about that August 24th evening. Privileged to say the least to be there and have that time with my boy, and never to forget.
Robert Stokely
proud dad SGT Mike Stokely
KIA by
IED 16 Aug 05 at 2:20 a.m. near Yusufiyah south of Baghdad
A man who lived for a just cause and died just because...John 15:13 no greater
love
To Mr. Stokely, thank you for sharing your son with us, but more importantly thank you for sharing your thoughts and emotions with us all.
To Sgt. Stokely, Godspeed Michael Stokely, Sergeant 19D. Echo Troop 108 Cav. May your star forever lead us on to greater things in the service to our country and our God.
posted by David M at 7:54 PM

Posted by: Tincan Sailor at August 23, 2006 12:06 PM
---
Tincan Sailor thanks for this. Thank you!
Sharing this is very special!! Of course it has me crying but not only sad tears but proud and grateful tears too.
Posted by: Wild Thing at August 23, 2006 02:15 PM
---