« Fireworks Could Be Even More Special...heh heh | Main | New Leftist Hollyweird Diet ~ The Democrat Aider and Abettors Diet »
July 05, 2006
Madeline Albright's Chia Pet Launches Missiles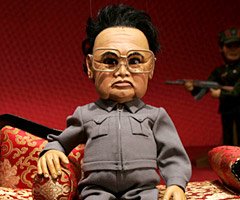 "Missile blow up. Me so sad..."

North Korea fired Taepodong missile which failed
Tue Jul 4, 2006 5:12pm ET
By Jim Wolf
WASHINGTON (Reuters) - North Korea launched a long-range Taepodong-2 missile and two small Scud-type missiles within a two-hour period, but the long-range missile appears to have failed, a diplomatic source told Reuters on Tuesday.

CNN also reported that a Taepodong had been fired.

The Taepodong 2 missile, which had been under intense scrutiny by the United States and other western powers, appeared to have failed in flight, the diplomatic source said.

A Pentagon official told Reuters North Korea appeared also to have launched at least two small Scud-type missiles, but not the intercontinental ballistic missile that has been a focus of international concern.

"This appears not to be the launch of the missile that's been so widely reported of late," said the official, who asked not to named. He referred to the small missiles as "lesser variety" Scud types.

The official spoke before reports that the third, long-range Taepodong missile firing had been reported.

Japan's NHK TV reported the first of the two smaller missiles landed in the Sea of Japan about 375 miles from Japan.

A Japanese government official confirmed the launch but said it was unclear if it was a Taepodong ballistic missile.

Japan's Defense Minister reported separately that a second missile had been fired, according to NHK.

An Air Force facility protecting the nerve center of U.S. homeland defense at Cheyenne Mountain, Colorado, had been on heightened alert, the U.S. military said, amid persistent reports that North Korea may be set to test-fire the long-range missile.

The commander of U.S. Northern Command ordered the Cheyenne Mountain Air Force Station, which rings the bunkered operations center, to take "necessary security precautions commensurate with its missions," said Michael Kucharek, a spokesman for the U.S. Northern Command.
Wild Thing's comment......
The Clinton Administration allowed North Korea to obtain nuclear weapons, so these former Clinton airheads should just shut up.
Posted by Wild Thing at July 5, 2006 12:47 AM
---
Comments
"Missile blow up. Me so sad..."
ROFLMFAO!
Posted by: Delftsman3 at July 5, 2006 01:56 AM
---
Now Mad Maddy is tryin' to pass the buck to the Bush administration. It's a shame most of America will probably believe her. Good thing (bad for her) we have audio and transcripts of her interviews about her visits to North Korea.
Posted by: raz0r at July 5, 2006 10:18 AM
---
Posted by: Wild Thing at July 5, 2006 04:35 PM
---
razOr with the Dems it sure is important to have things on tape.
Posted by: Wild Thing at July 5, 2006 04:44 PM
---