« Pakistani Protesters Using Foot Voodoo on Bush Doll | Main | ~~Happy Birthday Sierrahome ~~ »
July 22, 2006
Iran TV Urges Boycott of 'Zionist' Products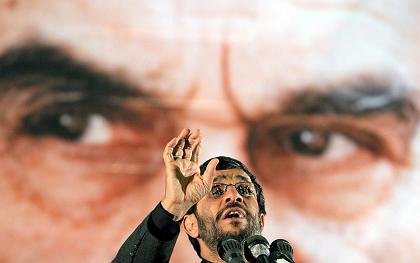 Iran TV urges boycott of 'Zionist' products
TEHRAN (AFP) - Iran has launched a major campaign urging consumers to stop buying "Zionist" products, ranging from Coca-Cola and Pepsi soft drinks, to Calvin Klein clothing and Nestle food products.
"Pepsi stands for 'Pay Each Penny to Save Israel", viewers in the Islamic republic have been warned in an oft-repeated three-minute infomercial on state television, prompted by Israel's ongoing assault against the Palestinian territories and Lebanon.
"Zionists are the biggest shareholders in the soft drinks industry, and each year they make billions of dollars for their colonialist aims," consumers with a thirst for fizz have been told.
Coca-Cola is also not left unscathed by the new twist to the cola wars.
"This firm openly supports Israel and has even said that it is ready to allocate great deal of money to topple the Islamic republic," state television said.
Both Pepsi and Coca-Cola have factories in Iran, although state television gave no indication over whether their operations would be affected.
A popular British high-street retailer, as well as a number of multinational firms, were also singled out for their links to the alleged international Jewish conspiracy to control the world.
"Marks and Spencer has very close relations with the Israeli regime and one its primary aims is to help the development of the Israeli economy," the infomercial claimed.
"Nestle is a Swiss food processing firm which in 2000 announced that it will invest millions of dollars in Israel to build a factory there," it added, while neglecting to mention that Nestle also has a factory in Iran.
The world's largest chip maker Intel was also branded as "one of Israel's biggest supporters".
"Its first overseas branch was set up in Haifa in 1974. In 2000 it employed more that 4,000 Israelis. Its top managers have said that they are going to invest 6.5 billion dollars in Israel," would-be Intel customers have been told.
"McDonalds, Timberland, Revlon, Garnier, Hugo Boss, Tommy Hilfiger, Calvin Klein and L'Oreal are only some of the firms which belong to the Zionist regime," state television said, before taking a swipe at what it said were less vigilant Arab nations.
"Unfortunately most of the streets of Arab nations are filled with commercials which advertise Israeli products. For each purchase, the money is converted into bullets piercing the chests of the Lebanese and Palestinian kids," it fumed.
Iran's hardline Islamic leadership fiercely objects to the very existence of Israel, with President Mahmoud Ahmadinejad calling for the Jewish state to be "wiped off the map" or moved elsewhere on the planet.
The head of Iran's parliament, Gholam Ali Hadad-Adel, on Tuesday also branded Israel a "filthy tumor in the body of the Islamic world".
Tehran has also been accused of providing financial and military support to its fellow Shiites in Lebanon's Hezbollah as well as the Palestinian militant group Hamas.
But the regime continues to insists that it only gives "moral" support, and has in recent days decorated Tehran's streets with huge posters of Hezbollah leader Hassan Nasrallah.
"The Islamic republic of Iran has never interfered in Syrian and Lebanese internal affairs. Our support is only moral," foreign ministry spokesman Hamid Reza Asefi repeated to the ISNA news agency Wednesday.
State television meanwhile announced Iran's Red Crescent was sending its first consignment of humanitarian aid to Lebanon -- a 60-tonne consignment of rice, sugar, beans, date, tents and sleeping bags.
Wild Thing's comment.......
So while I sit here enjoying my Diet Coke, as I finish my yummy hamburger from McDonalds….I try hard not to spill any ketchup on my Calvin Klein jeans and Tommy Hilfiger sweatshirt, being sure to re-apply my ever soooo smooth and silky L'Oreal lip gloss and Revlon lipstick when I am done. I will thank God that all these things were invented and that I don't live in Iran where I would have to wear a Burka over my Victoria Secret lingerie to really look devote, and Nick would be sitting around with a towell on his head holding the channel changer in one hand and an RPG in the other.
Whew! That was a mouth full heh heh
Posted by Wild Thing at July 22, 2006 12:55 AM
---
Comments
Chrissie
You have a really good way of putting things into perspective.Your little discription of you and Nick ergo the Burka and him with a towell on his head a channel changer in one hand an RPG in the other is a grim way to live.No wonder these Islamic assholes are in a bad mood all they have to screw is those ugly hooked nosed broads that cover there faces and bodies till there married and in a room alone then they remove the veil and the baggy covering from the body and the guy sees he has been fucked. He has intent upon being the fucker but he is the Fuckee. So there fore he spends the rest of his life pissed off wanting to kill because he is stuck with Godzilla. No wonder there is a lot of animal sexual abuse in the middle east.
Posted by: Jack Hamilton at July 22, 2006 06:25 AM
---
I have one other question have these ragheads ever heard of a dentist.
Posted by: Jack Hamilton at July 22, 2006 06:27 AM
---
So, when was the last time these people said anything good about anyone who isn't a murderer?
*NEVER*
Posted by: sierrahome at July 22, 2006 10:04 AM
---
I would like to boycott Iranian products but they don't produce anything except splodeydopes and body odor. Their GNP must be in the minus column except for oil.
Posted by: TomR at July 22, 2006 12:05 PM
---
Memo to Almond Dinner Jacket.
Keep yappin your eating hole and Israel might just provide some 'free' products.
Air Delivered. Next day service!
Posted by: Colonel Jerry USMC(ret.) at July 22, 2006 12:38 PM
---
I wonder how "Pay Each Penny etc." is translated in Farsi. In one way it's a good thing to remind these cretins that unless roach-casserole and filtered camel urine is one's idea of a good meal, The West produces everything that matters in a good life.
Posted by: Rhod at July 22, 2006 12:53 PM
---
Good news Wild Thing,
You can keep sipping them starbucks with joy in your heart!
And eat chocolate! Nestle's Chocolate.
Its good to support Israel!
Posted by: LindaSoG at July 22, 2006 07:38 PM
---
Hahahaha Jack H. I have wondered that too. Way too many people with verybad teeth. But I honestly don't think the terrorists even bath often. ugh!
Posted by: Wild Thing at July 23, 2006 04:16 AM
---
Sierrahome, that's right they never do. I don't think they like goodness in any shape or form so to speak. Only evil, that they worship.
Posted by: Wild Thing at July 23, 2006 04:18 AM
---
Tom.......... LMAO oh my gosh and can you imagine..yikes let's now. hahahahaha
Posted by: Wild Thing at July 23, 2006 04:19 AM
---
Colonel Jerry now there ya go and next day too, good one.
Posted by: Wild Thing at July 23, 2006 04:20 AM
---
Rhod....I will never look at a casserole the same way again.
Hahahahahahaha
Posted by: Wild Thing at July 23, 2006 04:23 AM
---
Yippee Linda, I am glad. I sure will too.
Posted by: Wild Thing at July 23, 2006 04:24 AM
---