« U.S. Marines Build Shrine To Islam | Main | Thank You Screaming Eagle's ~ Currahee's! »
June 14, 2006
Welcome Home 2006 in Branson ~ Thank you Vietnam Vets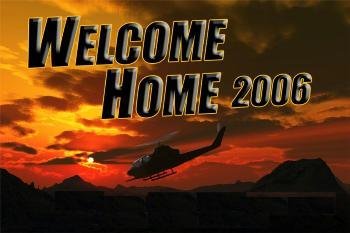 Welcome Home... America's Tribute To Vietnam Veterans

Celebrate our veterans with parades, concerts, and eight days of activity at the Welcome Home Tribute to Vietnam Veterans. This week long procession of thanks invites all who are Vietnam veterans and those who would like to appreciate them to join in the festivities.
Awards will be given, rides on the Huey helicopter, and a Sky Soldiers air assault demonstration will light up the eyes of all visitors. The week will end with a Native American Powwow, veterans luncheons, and a Heartland Benefit concert.
Vietnam era veterans wishing information or to register for the Homecoming may do so by going on-line at:
Welcome Home
or by calling 1-800-335-4587. Tickets for general public go on sale May 11, 2006 at 7:00 am. Tickets available by phone at 1-866-464-2626, or online HERE
Posted by Wild Thing at June 14, 2006 12:47 AM
---
Comments
This looks like a good excuse to go to Branson... thanks for the heads-up :)
Posted by: beth at June 18, 2006 08:57 PM
---
Your welcome Beth, it sure would be fun. They started it last year and it looks like they are going to do it every year. I am so glad.
Posted by: Wild Thing at June 18, 2006 09:19 PM
---