« Terrorists Combat Unit Arrest al-Batawi | Main | Rummy and Doolittle Tokyo Raiders Attend USAF Academy Graduation »
June 02, 2006
Toby Keith USO Tour FOB Marez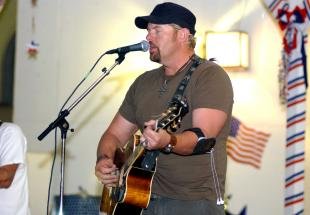 Famous country music star Toby Keith performs a free concert for Soldiers at Freedom Rest in central Baghdad on Memorial Day. Hundreds of Soldiers turned out to watch the performance and to remember the legacy of the nation's fallen heroes.
June 01, 2006
By Master Sgt. Denise Slater - 138th MPAD
MOSUL, IRAQ (May 28, 2006) --Soldiers from Forward Operating Base Marez started lining up three hours in advance to get a good seat for the appearance by Toby Keith on his yearly United Service Organizations tour.
As the temperatures neared 100 degrees, Morale, Welfare and Recreation personnel passed out water to cool the crowd, and pulled out as many folding chairs as they could to make room in the MWR tent.
Contests that were held during the month afforded a lucky few front-row seats for the event. Sgt. Wayne Morey and Staff Sgt. James Sullivan from the 511th Military Police Company, Fort Drum, N.Y., won their front row seats during a volleyball tournament.
"It shows his support for us." Morey said.
Keith arrived by helicopter, and after taking a short break was whisked away for a ride on a Stryker vehicle. Meanwhile, the doors were opened to hundreds of fans who were happy to come inside and take a break from the rising temperatures. Seats filled quickly and isles were taken up by a standing crowd anxiously awaiting his return.
Keith came back to a packed house, and was a big hit with the audience. He played songs new and old but, the biggest hit was the song "American Soldier."
"This is a salute to every one of you sitting here today," he said before he started playing.
The song was interrupted several times by applause from the crowd and ended in a standing ovation.
"This is a labor of love for us, we really appreciate what you guys do over here," Keith said.
Between songs Keith talked about making time in his schedule every year to perform for Soldiers. This tour had Keith performing six concerts at six bases in two days. It was a short engagement at FOB Marez, but there was a big impact on the Soldiers.
"It's a big moral booster," said Spc. Renee McFarland, 47th Combat Support Hospital out of Fort Lewis, Wash.
At the end of the show, Keith was awarded several plaques for his support. It was then announced that he would be sticking around to take some photos with Soldiers. Long lines again formed to wait to see the performer and get some one-on-one time.
"It was awesome of him to come and support the troops," said Spc. Jamie Guillen, 47th CSH out of Fort Lewis, Wash.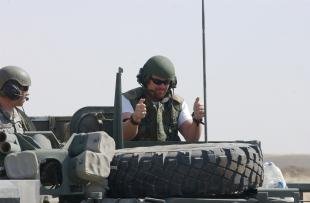 Country singer Toby Keith stands in an air gunners hatch of a Stryker Brigade Combat Vehicle. Keith performs for Soldiers and civilians on Forward Operating base Marez, Mosul, Iraq.
Posted by Wild Thing at June 2, 2006 12:50 AM
---