« Memo:Hamas Cabinet Meetings To Be Held in Cell Blocks | Main | Petition for Oriana Fallaci »
June 30, 2006
Soldier Makes Chopper-style Bicycle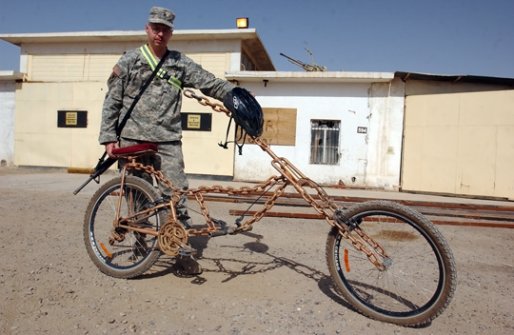 U.S. Army Spc. Keith Jennings, welder with Company B, 4th Support Battalion, 1st Brigade Combat Team, 4th Infantry Division, sports a chopper-style bicycle he made with scraps he found around Camp Taji, Iraq. U.S. Army photo by Sgt. 1st Class Brent Hunt
U.S. Army Spc. Keith Jennings
1st Brigade Combat Team Public Affairs, 4th Infantry Division

CAMP TAJI, Iraq, June 29, 2006 -- As soldiers on Camp Taji move about in their Humvees or bicycles from one place to another, one soldier from Fort Hood, Texas, truly stands out. Spc. Keith Jennings, a welder with Company B, 4th Support Battalion, 1st Brigade Combat Team, 4th Infantry Division, gets a lot of double takes from soldiers on the camp north of Baghdad as he rides around on his custom-made bicycle.
"I like to be creative and it (the bike) was something different," Jennings said. "I like seeing people's heads turn while we are in this stressful situation."
Jennings, originally from Tazewell County, Va., built a custom chopper-style bicycle from materials he found around the camp. The tires and brakes were taken off a previous bike he owned and the frame is made of half-inch thick chain. He arc welded each link of the chain eight times, threw on a coat of bronze paint, and covered the seat with a red, velvet rag he found in a rag box.
The brakes, which were just recently added, are on the pedals with the right foot engaging the rear brake and the left foot engaging the front. The pedals are custom-made just for him, so there is enough clearance between his foot and the rocky roads of Iraq.
"At first I was kind of baffled at what he was doing because I didn't know what he was going to do with it (the materials to make the bike)," said Sgt. Brian Kilough, the senior welder with the Service and Recovery Section, Company B, 4th Support Battalion, and Jennings first-line supervisor.
"When he started making it, I was shocked and I wasn't really sure what it was going to look like when he was done. Now it looks real good and it gave me a lot of ideas for another bike, but I doubt I'll ever have the time to build one of my own."
The bike took about a week to build. Jennings used his lunchtime and after-duty hours to complete the project. This is the third chopper-style bike he has made, but this is the first one he has made of metal.
"This is definitely the heaviest bike I've ever made," Jennings said, who is currently serving his second tour in Iraq in support of Operation Iraqi Freedom. "This bike has made it easier to get around camp, and I have a quicker response time if I need to be somewhere fast. It's great for (physical training).
"Someone stops me at least once a day and asks me about it, and a lot of people take a picture of it," Jennings added. "When it comes time to leave here, I'm going to chop it in half and send it home. Then I'm going to put it back together, fix it up real nice, and I plan to dip it in chrome. Also, I'm probably going to have to make some of these for my three children because they love this kind of stuff."
Posted by Wild Thing at June 30, 2006 01:55 AM
---
Comments
Not a bad job. Not a technical breakthru for a welder, but pretty damn cool.
At my Dad's trucking terminal they once had two wrecked cabs -- the thing that pulls the semi-trailer. They were wrecked on opposite sides. So, he welder cut them in two and welded the good halves into a new cab that was totally undetectable as not being new. THAT was a marvel.
Posted by: OINK at June 30, 2006 09:32 AM
---

WT,
You should get in touch with Jessie James over
at West Coast Choppers in Long Beach Ca. and
give him the photo and story!!

Posted by: Tincan Sailor at June 30, 2006 10:47 AM
---
Tincan Sailor, that is a great idea. Thank you. I found their website and sent off an email to Jesse about this and also blind copied one to you for you to see as well. Thanks again for the great ida.
Posted by: Wild Thing at June 30, 2006 11:58 AM
---
Oink, that is sooo neat what you told me about. How cool is that! Thank you for sharing about it.
Posted by: Wild Thing at June 30, 2006 12:00 PM
---
Thank You, WT. The older I get, the more awed I am by his accomplishment. I couldn't cut two identical, cloned apples in two and get them to fit.
Posted by: OINK at June 30, 2006 03:13 PM
---
American ingenuity!
Oink, I am with you in the klutz department, but it makes projects like Jennings that much neater to those of us with "challenged" artistic abilities.
Posted by: TomR at June 30, 2006 05:38 PM
---

WT
Tonight thru July 9th on the Military ch.
American Chopper Military Salute ,its worth
a look....

Posted by: Tincan Sailor at June 30, 2006 10:55 PM
---
Thank you Tincan Sailor I am going to tape it.
Posted by: Wild Thing at June 30, 2006 11:10 PM
---