« Toby Keith USO Tour FOB Marez | Main | Haditha An Insurgent Citadel Part One »
June 02, 2006
Rummy and Doolittle Tokyo Raiders Attend USAF Academy Graduation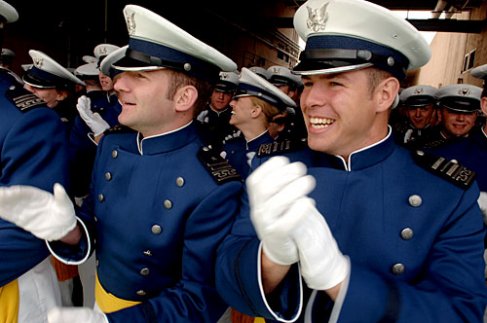 Secretary of Defense Donald H. Rumsfeld delivers his commencement speech to the 2006 graduating class of the U.S. Air Force Academy in Colorado Springs, Colo., May 31. (Photo by Petty Officer 1st Class Chad J. McNeeley, USN)
"Violent extremists are trying to terrorize and intimidate free people into submitting to their will," Rumsfeld told the graduating airmen in Colorado Springs, Colo. "Our country has sent its finest young men and women in defense of the ideal that people, when faced with paths either leading to tyranny or freedom, will forever choose freedom."
He said the graduates are well-prepared to meet the terror threat head on. "Everything you folks have done in your life before, what you've studied, your experience, your accomplishments, has prepared you for this moment," he said.
The war against terror is more than just a struggle between opposing sides. The terrorists' goal is to control or destroy the United States, he said. "These extremists are waging a war against society itself," he said.
"The U.S. armed forces must constantly adapt to meet the terrorist threat, and pointed to operations in Afghanistan as examples, Rumsfeld said.
"From the moment they landed in Afghanistan, our forces began adapting to the circumstances on the ground," he said. "They ended up riding horses that had been conditioned to ride through machine-gun fire."
He said some of those forces operating in Afghanistan were Air Force combat controllers. "And those airmen likely thought they would have sooner found themselves riding jet aircraft rather than horses," he said. "But they joined the American tradition of daring and ingenuity that has defined America for generations."
The United States must continue to transform and streamline its military forces to meet future challenges, he said. People who want change always face resistance, Rumsfeld said, and urged the airmen to challenge inherited assumptions and seek out better approaches.
"I urge you to make that the bedrock of your careers," he said.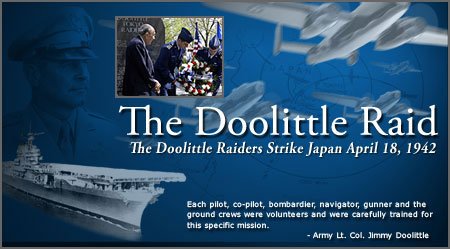 ( Please CLICK above graphic to watch
the presentation of The Doolittle Raid)

Three members of the Doolittle Tokyo Raiders were present for the commencement ceremony. The raiders were volunteer airmen from the Army Air Forces, predecessor of the Air Force, led by then-Army Lt. Col. James H. "Jimmy" Doolittle, who flew a daring mission to bomb Japan just four months after the Japanese attack on Pearl Harbor.
"I remember as a boy the electrifying emotion in our country when America learned what that small band of airmen had done," Rumsfeld said of the raiders. "They inspired our country. They gave the American people the strength to persevere on behalf of human freedom."
Rumsfeld also spoke about the raiders' legacy to today's young airmen.
"That is the force you join today," he said. "A force where the improbable can become the norm, where individuals are dedicated to securing our liberties no matter what the circumstances, no matter what the odds."
Rumsfeld closed his remarks by thanking the graduating airmen, the first class to enter the academy after the terrorist attacks on Sept. 11, 2001, for volunteering to defend America.
"You raise your right hands to say, 'Send me to serve others,'" he said. "So to each of you, I thank you for what you do. I thank you for all you are. Go out and make history."
Posted by Wild Thing at June 2, 2006 12:55 AM
---
Comments
I wish I were there in person to feel the patriotism that must have been so warmly felt & embraced!
Posted by: Greta (Hooah Wife) at June 2, 2006 08:47 AM
---
That was truly great Chrissie. And what great men they were.America can be proud.
Posted by: Jack Hamilton at June 2, 2006 10:39 AM
---
Doolittle's Raiders proved that bombs and bullets can do more against insurmountable odds than libraries of words. Learning about great deeds like this is why history is a more important subject in school than multiculturalism and diversity.
Posted by: TomR at June 2, 2006 11:41 AM
---

TomR Right on target,BRAVO!!!!!
Posted by: Tincan Sailor at June 2, 2006 03:26 PM
---
Hi Greta I agree I would have loved to have been there too.
Posted by: Wild Thing at June 2, 2006 05:18 PM
---
Hi Jack they sure were I am proud of them, and of you too. I sure am!
Posted by: Wild Thing at June 2, 2006 05:19 PM
---
Tom great post! I sure do agree! Well said Tom!
Posted by: Wild Thing at June 2, 2006 05:20 PM
---
If we did this sprt of raid today the libs would call for an inquiry and impeachment..."how many innocent civilians were killed"? BTW note that the raid took plave in mid April...nearly 5 months after Pearl Harbor.
Posted by: sierrahome at June 2, 2006 08:13 PM
---
...I gotta find my glasses!
Posted by: sierrahome at June 2, 2006 08:17 PM
---
Sierrahome you are so right. With or without glasses I love your post.
:)
Posted by: Wild Thing at June 3, 2006 12:23 AM
---