« Night of The Living Dead - Doom and Gloom | Main | Thank You To All Of You »
June 17, 2006
Citgo is Not User Friendly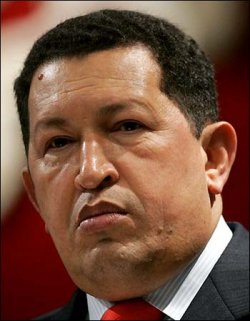 Chavez: Venezuela to Buy 24 Russian Fighter Jets This Year
CARACAS, Venezuela — President Hugo Chavez said Venezuela will purchase 24 new Russian-made Sukhoi fighter jets this year — and may purchase more — while his government moves forward with plans to set up factories to produce Kalashnikov assault rifles under license.
Chavez said Wednesday the SU-30 jets will replace a fleet of U.S.-made F-16s, which Venezuela has had trouble maintaining because the administration of U.S. President George W. Bush has refused to sell Caracas parts.
"First we are going to buy 24 Sukhoi S-30's and we are going to leave open the possibility of a future acquisition" of Sukhoi S-35s, said Chavez, speaking at a packed auditorium in Caracas.
Chavez said he could imagine a Sukhoi fighter jet launching a missile at an invading U.S. aircraft carrier anchored off La Guaira, a seaport located along Venezuela's Caribbean coast, from skies above the central city of Valencia.
"From Valencia, or even farther, a Sukhoi plane can fire at an invading vessel stopped in front of La Guaira, and it doesn't miss my friend," he said.
Speaking to hundreds of soldiers at a military base earlier Wednesday, Chavez said the first shipment of Russian-built jets would arrive in this oil-rich South American country by the end of the year.
Wearing olive green military fatigues and a red paratrooper's beret, Chavez personally handed out newly-acquired Kalashnikov rifles to soldiers after being presented with his own brand new AK-103 assault rifle.
Venezuela "is going to set up the first Kalashnikov factory in South America," said Chavez, whose "revolutionary" government is buying 100,000 Russian-made AK-103 assault rifles along with ammunition and accessories.
Chavez used surging oil revenues to modernize Venezuela's military, signing defense deals worth an estimated US$2.7 billion (euro2 billion) with countries including Russia and Spain.
Despite Washington's objections, Venezuela is purchasing 15 Russian helicopters for US$200 million (euro160 million), and officials say they hope to buy 18 more.
Washington announced last month it was curtailing arms sales to Venezuela, saying the South American nation has failed to cooperate in counterterrorism efforts.
"We are preparing for the defense of sacred land," Chavez said Wednesday after personally distributing new rifles among the soldiers at Fort Tiuna, Venezuela's main military facility.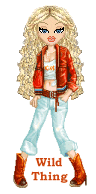 Wild Thing's comment......
These men like Chavez are nuts, they are insane and that to me is what makes them dangerous to the world. How does a person get through to an individual that has no reality of how things truly are. OH wait, the Dems are like that too. (sigh)


* Jack at Conservative Insurgent
Thank you Jack
Posted by Wild Thing at June 17, 2006 10:55 AM
---
Comments
Don`t want to bust the bubble for the Latin version of Charlie Chaplin playing Adolph Hitler, but Russia supplies spare parts for their jets about as reliably as a junk bond! Will be similiar to an F-16 parts supply that has been cut off.... :)
They sell AK-47`s okay cause they don`t break, but 4th generation fighters and complicated stuff is followed by lots of broken promises.
Just ask India, China, Cuba, NorK. Oh Hell--just ask the Russian Air Force............(How`s 25 hours of ANNUAL flight time grab ya Henneralissimo El Supremo Permanente?)
Pena Coladas made fm vodka, like, soooooo totally suuuk....
Posted by: Colonel Jerry USMC(ret.) at June 17, 2006 05:44 PM
---
Col.Jerry, thanks, ugh made with vodka.
Posted by: Wild Thing at June 17, 2006 06:07 PM
---
Thanks for posting this WT, most folks don't know that Venezuela owns refineries, asphalt plants and gas stations that refine and sell only Venezuelan oil in this country, these are all located in the U.S. and have franchised 7-Eleven stores. Buying from them is supporting this maniac in his agenda.
Posted by: Jack at June 17, 2006 07:06 PM
---
Jack I am so glad you sent this to me. The company I used to work for gives Citgo cards to their employees and this is just one company with about 30 people having a Citgo card. I can just imagine there must be tons of other companies doing this too.
I agree buying from them sure does support this sickos agenda.
Posted by: Wild Thing at June 17, 2006 07:12 PM
---