« Howard Dean: The Gift Who Keeps On Giving | Main | Bolton Kicks Ass »
May 03, 2006
The War Tapes


Straight from the front lines in Iraq, The War Tapes is dedicated to the men of Charlie Company, 3/172nd Mountain Infantry, AND to the troops who have served, or are serving, in support of Operation Enduring Freedom and Operation Iraqi Freedom.
.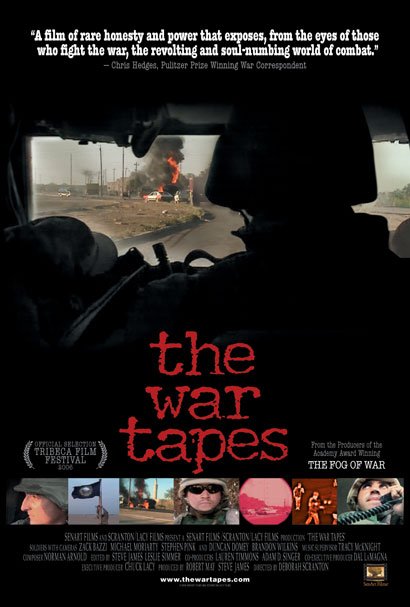 .

Director Deborah Scranton has ramped the idea of citizen journalism up a few notches with her film, The War Tapes. Rather than embed with a unit, Deborah went outside the box and came up with the idea of supplying soldiers with video cameras, a revolutionary concept.
Soldiers from a New Hampshire National Guard Unit agreed to work with Deborah. During their deployment to Iraq, they captured the war in all its glory, and all its horror. What you see is what you get and one can hardly refute raw footage from the front lines, something which lends great legitimacy to this film.
The War Tapes is a film about war, soldiers and the women they left behind when they deployed to Fallujah -- once the armpit of hell -- in 2004. The viewer follows three soldiers from their departure for Iraq to their return home, and beyond.
This is NOT a political film. The main characters in this film; Sgt. Steve Pink, Specialist Mike Moriarty and Sgt. Zack Bazzi do not shy away from their political views. But for the most part, to its credit, the film leaves the political world far behind.
The War Tapes takes us to the front lines. It's a film everyone should see, especially military members and their families.
Funnier, spicier, and more gut wrenching than any news report, this is Operation Iraqi Freedom as filmed by Sergeant Steve Pink, Sergeant Zack Bazzi and Specialist Mike Moriarty. Steve is a wisecracking carpenter who aspires to be a writer. Zack is a Lebanese-American university student who loves to travel and is fluent in Arabic. Mike is a father who seeks honor and redemption. Each leaves a woman behind – a girlfriend, a mother and a wife.
These soldiers are hysterically funny, articulate, intelligent, compassionate and loyal to their mission and their brothers-in-arms. Some may not agree with our premise for being in Iraq, but that doesn't stop them from doing their jobs with great integrity and courage.
This is not Hollywood's version of war - this IS war. Raw, unedited, painful and truthful. Through their candid footage, these men open their hearts and take us on an unforgettable journey, capturing camaraderie and humor along with the brutal and terrifying experiences they face.

These soldiers got the story that 2,700 embedded reporters never could.
Click HERE to see Video clips

God bless our troops and keep them all safe......Wild Thing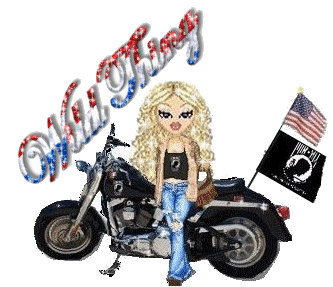 Posted by Wild Thing at May 3, 2006 02:07 AM
---
Comments
I will get this as soon as Amazon offers it. I clicked on your link to Andis World and he had agreat review. Oh, I bet the media and hollywood hate this film!
Posted by: TomR at May 3, 2006 09:50 AM
---
Tom you know what, I can just imagine how they are steaming in Hollywood and hoping this film flops big time.
Posted by: Wild Thing at May 3, 2006 10:13 AM
---
Thanks so much for the shoutout, we are relying on a grassroots effort to get the word out about THE WAR TAPES! Each and everyone can make the difference in these soldiers' and soldiers families' stories being heard by spreading the word. If you go to our website and join we'll send you updates and clips.
We will be in theaters nationwide this summer.
Thanks again!
all the best,
Deborah Scranton
Director
THE WAR TAPES

Posted by: Deborah Scranton at May 3, 2006 03:29 PM
---
Deborah it is so nice to meet you. Thank you for all you have done and do. I am really looking forward to see this film and taking others to it as well. Thanks again.
Posted by: Wild Thing at May 3, 2006 07:46 PM
---