« More Are Speaking Out For Marines | Main | Lawyer: Haditha Marines Were Fired On »
May 31, 2006
No Leniency for Supporting Terrorists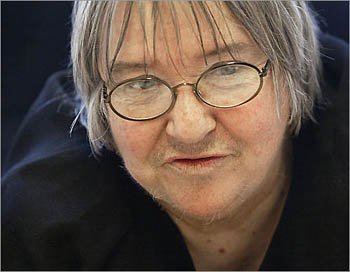 BACKGROUND:
Throughout her legal career, Lynne Stewart has represented terrorists, both domestic and international. From the notorious Weatherman of the 1960s to the islamic terrorists who bombed the World Trade Center in the 1990s, Lynne Stewart has made a career out of representing and supporting those who are sworn to destroy our Country.
On February 10, 2005, Lynne Stewart was convicted of helping terrorists by smuggling messages of violence from one of her imprisoned clients -- a radical Egyptian sheik -- to his terrorist disciples on the outside.
Lynne Stewart was convicted of providing material support, through a press conference and allowing access by her translator, to a terrorist conspiracy to kill persons outside of the United States and conspiring to defraud the U.S. government when acting as counsel to Sheikh Omar Abdel Rahman, the blind Egyptian cleric who was convicted in 1996 of plotting terrorist attacks against various sites in the New York City area. Finally caught in the snares of justice, Lynne Stewart is now facing sentencing for her crimes, and your help is needed to be sure she receives the maximum sentence allowable by law.
This woman is truly an enemy of America.
In her own words:
"I don't have any problem with Mao or Stalin or the Vietnamese leaders or certainly Fidel locking up people they see as dangerous. Because so often, dissidence has been used by the greater powers to undermine a people's revolution." Lynne Stewart
"I don't believe in anarchistic violence, but in directed violence. That would be violence directed at the institutions which perpetuate capitalism, racism, and sexism, and the people who are the appointed guardians of those institutions, and accompanied by popular support." Lynne Stewart
NO LENIENCY - LOCK HER UP AND LOCK HER DOWN!
ON SEPTEMBER 25, 2006, LYNNE STEWART WILL BE SENTENCED AND YOU CAN HELP LYNNE RECEIVE THE MAXIMUM SENTENCE ALLOWED FOR HER CRIMES AGAINST AMERICA.
The sentencing is now set for September 25, 2006 and we can help lock Lynne up for life by writing the Judge and asking him to show no leniency to Lynne Stewart for her crimes and asking him to impose the maximum sentence allowed for plotting with terrorists.
The Judge's address is:
Honorable John G. Koeltl
United States District Judge
Southern District of New York
United States Courthouse
500 Pearl Street
New York, New York 10007
Also you can send a copy of your letter to the lawyers who prosecuted Lynn, so they can present them all to the Judge at sentencing time, they will have the maximum impact as he considers the matter:
Joseph E. Bianco, Esq.
Christopher T. Morvillo, Esq.
Assistant United States Attorneys
Southern District of New York
United States Attorney's Office
One St. Andrews Plaza
New York, NY 10007


* Something....and Half of Something

Posted by Wild Thing at May 31, 2006 02:55 AM
---
Comments
My eyes, my eyes!!!!!!!!!
My gosh, she even makes Cindy Sheehan look good.
She needs to learn how to use a razor.
Posted by: BobF at May 31, 2006 07:33 AM
---
hahahaha She is very scary, and very ugly on the inside too where it counts.
Posted by: Wild Thing at May 31, 2006 09:45 AM
---

Correct me if I'm wrong but its May 31st. not
October 31st. Mabey she is testing a new
HALLOWEEN mask to see if it will sell...
Posted by: Tincan Sailor at May 31, 2006 10:23 AM
---
Tincan Sailor heh heh
I hope they give her the death penalty.
Posted by: Wild Thing at May 31, 2006 11:30 AM
---
Put her away in lifetime solitary with Massoui and tell him he has 71 more virgins coming.
Posted by: TomR at May 31, 2006 09:41 PM
---
OMG Tom, you are hilarious!!!! I love it!
Posted by: Wild Thing at June 1, 2006 01:13 AM
---