« Galloway Says Murder of Tony Blair Would Be Justified | Main | Pegasus Marines Continues With Same Aircraft »
May 26, 2006
"Hezbollah, Hezbollah," Chanted The Iranian Crowd of Suicide Bombers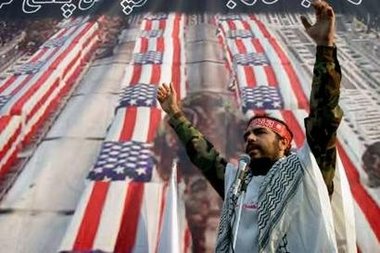 Leader of a group of Iranian suicide bomber volunteers, Mohammad Ali Samadi, shouts anti-U.S. and Israel slogans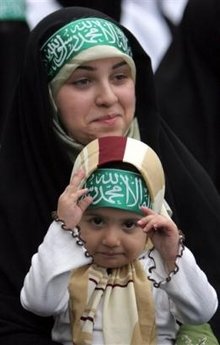 An Iranian woman and her daughter wearing headbands reading 'there is no God but Allah, and Muhammad is his prophet' as they attend a suicide bombers gathering in southern Tehran
.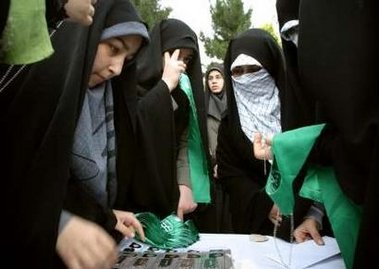 Women sign up to volunteer as suicide bombers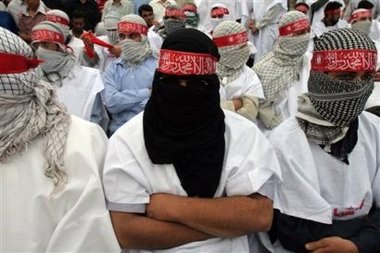 Iranian men wear white shrouds to indicate their willingness to give their lives to defend their country and Islam, during a gathering in Tehran on Thursday, May 25, 2006

Iranians Pledge to Become Suicide Bombers
05.25.2006
Under a banner showing coffins draped with American, British and Israeli flags, more than 100 Iranian men and women pledged Thursday to become suicide bombers - if necessary - to defend their country and Islam.
The event, held in a burial area for war dead and martyrs, was similar to others in recent years, with Islamic chants and songs and volunteers donning white coverings to symbolize their willingness to die.
But this gathering - coming at a time when many Iranians worry their country could come under attack by the United States or Israel - was tailored to send a message of defiance against any possible military action over Iran's nuclear program.
The threats from America have swelled our ranks and given us added conviction," said 27-year-old Margess, who like the other volunteers would only give her first name and used a scarf to cover all but her eyes. "We will stand up against them with our lives."
No weapons or explosives were displayed, but the ceremony was organized by a shadowy group believed to have links to the Basiji paramilitary group that is backed by Iran's Islamic regime.
A huge banner used as a backdrop showed flag-covered coffins. And a message - in English - promised to "damage the U.S. worldwide" in retaliation for any attack on Iran.
"If asked by Iran's leaders, we will fight anywhere," said Hussein, 56, a volunteer with a wife and four children. "The world should know that Iranians embrace martyrdom."
One of the organizers - from a group calling itself the Headquarters for Commemorating Martyrs of the Global Islamic Movement - shouted out names and handed out silver dog tags.
Volunteers mingled around monuments to attackers, including a Palestinian suicide bomber, an Iranian militiaman killed by the U.S. forces in Iraq and two commandos who helped carry out the 1983 blast at Marine barracks in Beirut that killed 241 U.S. servicemen. An almost simultaneous bombing killed 56 French peacekeepers.
Hezbollah, Hezbollah," the crowd chanted as a singing group supported by the Lebanese guerrilla group began songs calling for Islamic resistance. Iran is one of the key backers of the Shiite Muslim Hezbollah.
The volunteer bombers waved Qurans, the Muslim holy book, and one held up a placard paraphrasing Ayatollah Ruhollah Khomeini, leader of the 1979 Islamic Revolution: "Our nation is the first to prove that America can't do anything."
"We are here to prove that Muslims - that Iranians - have solidarity and we will willingly shed our blood," said Azadeh, a 20-year-old volunteer who wore a postcard of Khomeini and his successor, Ayatollah Ali Khamenei, pinned to her white cloak.
On each postcard a message was stenciled: "Those who are ready to die."
"I only have one son and he's volunteered as a martyr," said Marium Nematzadeh, 56. "I have deep belief in my religion and my leaders. I would even become a bomber if asked."
Posted by Wild Thing at May 26, 2006 01:55 AM
---
Comments
My sarcastic "nuke the lot" comment is becoming more appealing every day :)
Posted by: Suricou Raven at May 26, 2006 08:15 AM
---
Suricou Raven..ah brother I know your pain.... but first we have got to throw our might in with those that would choose to do it themselves,there are those that aren`t aligned with Ineedajob..if they can "remove",ie kill ok that works for me,him then we can finish draining this swamp..
http://thespiritofman.blogspot.com/2006/05/protests-in-tehran.html
..wt hope you dont mind I posted some of your stuff here..
http://rednecktexan.blogspot.com/
..pop in and say hello...we tend to let our emotion get the best of us sometimes..guess its just the times we are living in..but we are of like minds...Rob...
Posted by: Rob_NC at May 26, 2006 09:45 AM
---
"The object of war is not to die for your country, but to make the other bastard die for his."
General George S. Patton

Big deal, the Iranians have people signed up who are willing to give their lives for their country and Islam. I don't see what their bragging about? We have the same here in America. It's called the Armed Forces of the United States. Every Enlisted member and Officer knows they may have to pay the ultimate sacrifice if necessary. But, the main objective of every one of these men and women is to strictly adhere to the wisdom of General Patton.

Posted by: BobF at May 26, 2006 10:09 AM
---
BobF:
Terrific point, and straight to the heart of the matter. The goal to kill the enemy, and stay alive and continue doing it.
Suicide bombing is derangement, depravity and weakness at the same time. As religion doctrine it also seems like a business deal, where killing others by killing yourself is a transaction ending in a place in heaven. What bullshit.
Suricou, you insist upon describing your nuke comment as "sarcastic" or "tongue in cheek", but you keep making the same point. Maybe you have a place here with all of us "extremists". You keep coming back. Maybe we have something in common.
Posted by: Rhod at May 26, 2006 10:45 AM
---
Bob I love your post! I agree!!!
Thank You!
Posted by: Wild Thing at May 26, 2006 12:24 PM
---
Posted by: Wild Thing at May 26, 2006 12:26 PM
---
Suricou Raven you have earned a " Oh pleazzze."
Posted by: Wild Thing at May 26, 2006 12:27 PM
---
I also hope there will be an uprise from within. It is not not any fear I have of the Iranian military that worrys me, it is the fear of our own left wingers disrupting our own effort. The same Senate that just voted to make us all Mexicans would probably do all it could to dilute an American military effort in Iran.
The Israelis are the best at this. Maybe they are working with dissident groups within Iran to replace that government.
Posted by: TomR at May 26, 2006 03:57 PM
---
Rob thank you I sure will. Thank you for the links too.
Posted by: Wild Thing at May 26, 2006 04:57 PM
---
Tom I agree, the Israeli's are awesome at defense I just wish they had a better leader. I wouldn't want the USA or Israel mad at me, that's for sure.
Posted by: Wild Thing at May 26, 2006 04:59 PM
---