« Guard the Borders Blogburst | Main | More Are Speaking Out For Marines »
May 30, 2006
Hamas Enforcer Rails Against U.S. Gov't ~ Hey Hamas, Back at 'ya!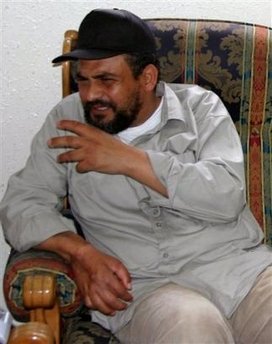 In a back-alley interview, the top Hamas enforcer in the Gaza Strip railed against the U.S. government, said he's happy whenever American soldiers are killed and vowed not to take Hamas' 3,000-strong militia off the streets.
Jamal Abu Samhadana, a 43-year-old explosives expert, is a key target for Israel and moves stealthily, switching cars and hideouts, despite his promotion to security chief by the Hamas-led government.
In an interview Monday with The Associated Press, Abu Samhadana called the U.S. and Israeli-led boycott of the Hamas-run Palestinian Authority "cheap extortion" and said it will only serve "to make our people more attached to the government."
"The American government and people will pay a dear price for this aggressive and criminal policy against the Arab and Muslim people," he said.
It was some of the toughest rhetoric from any Palestinian official since the Islamic Hamas movement took power in March. And it came at a time when the Palestinian government is struggling to stave off a humanitarian disaster resulting from the international aid boycott.
The interview took place in a small room on the second floor of a backstreet building in the Gaza Strip town of Rafah. Abu Samhadana's men led an AP reporting team there after a long labyrinthine drive that included various stops and an order to remove a "press" sign from a vehicle.
Sitting before a photo of an Islamic Jihad militant killed by Israel, the black-bearded Samhadana, himself one of the most renowned militants in the Palestinian territories, denied old allegations he was behind a deadly 2003 bombing of a U.S. Embassy convoy in Gaza that killed three American security guards.
Still, he saved his harshest words for the U.S. and President Bush.
"We are happy when any American soldier is killed anywhere in the world, because the American Army is an aggressor against all the people in the world, particularly the Arab and Muslim worlds," he said. "The American people are known to be peaceful, so they are asked to move to bring down this terrorist government in Washington, so that the American people are safe from any attacks or retaliation."
Abu Samhadana, No. 2 on Israel's wanted list, wore a loose-fitting shirt and a baseball cap instead of his trademark guerrilla-style, black-belted uniform. His right hand and arm were burned and mangled in an explosion during what he said was an attack against Israel five years ago.
He spoke softly and at times cracked jokes, making eye contact only rarely with an American reporter. Aides served hot tea and roasted pumpkin seeds.
Abu Samhadana's appointment as director general of the Hamas-led Interior Ministry infuriated both Israel and Hamas' Fatah rivals, led by Palestinian President Mahmoud Abbas. It helped set the stage for recent Hamas-Fatah violence that has killed 10 people and raised the specter of all-out civil war.
In the interview, Abu Samhadana accused Israel and the U.S. of fomenting unrest among the Palestinians, but predicted new talks among the Palestinian factions would succeed in calming the situation.
"We are certain that there are American and Israeli plans to provoke a civil war here like what is happening in Iraq," he said.
After Hamas' victory in Jan. 25 legislative elections, the moderate Abbas — who was elected separately — moved to take control of most of the Palestinian security forces. In response, Hamas deployed its 3,000-strong militia, whose rifle-toting black-clad members guard streets throughout Gaza, at times staring down Fatah rivals on opposite corners.
Abu Samhadana said the force, which Fatah activists refer to as the "black militia," will remain in place despite criticism by Hamas' detractors that it's a major source of friction and instability.
Unlike Fatah-led forces, which have occasionally acceded to Israeli and international demands to crack down on militants, the Hamas force will not move to prevent attacks against Israel unless the Jewish state withdraws from all land it captured in the 1967 Mideast War, Abu Samhadana said.
"The previous government's first mission was to protect Israel and not protect the Palestinian people. Through my work in this government, I will protect my people," he said, adding that a top policy goal is to move against Palestinians who collaborate with Israel.
Abu Samhadana graduated from a military school in then-communist East Germany in 1988. He was loyal to Fatah and Yasser Arafat for many years, but was later expelled from Fatah.
Abu Samhadana formed the Popular Resistance Committees, a violent group consisting of militants from various factions, after the latest Palestinian uprising broke out in 2000.
He said this background puts him in a position to help bridge the differences between the battling sides. At the same time, however, he blasted two senior Fatah security chiefs, saying they "are supported by America, implementing an American agenda and not a Palestinian agenda."
Posted by Wild Thing at May 30, 2006 07:55 PM
---