« My Gift to our Veterans and Our Troops On This Memorial Day | Main | John Kerry Watched Apocolypse Now One Too Many Times »
May 29, 2006
Can You Give One Day For Them?
In Honor of all our Veterans and our troops serving today.
This post will remain at the top until sunset on Memorial Day.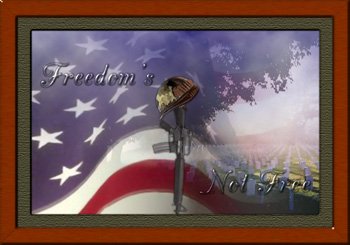 I want to take you to a place,
the weather is hot, beyond hot and sticky.
It is like wearing a scuba suit and
pouring hot Karo syrup down inside of it.
You give up wiping the sweat off your face and arms
because it does not do any good.
You learn to own it, the heat and humidity, the stickiness.
Own it and become it. Then it is bearable.............almost.

A boy really but a man because of the war
is laying in a hospital in a bed.
Not a hospital like we know, this is make shift .
He has his right leg gone, pieces of it left in the jungle.
His other leg missing just above the knee.
His right hand gone as well.
His shoulder a huge chunk gone so even with bandages
the deformity is obvious. His face, he may have been a great
looking heartthrob in the past, maybe a girl kissed his tender cheek on
a date and his soft lips lingering for just one more kiss at the door.
But now it was like mashed potatoes. The only thing noticeable
.................his eyes.

The thousand yard stare was there, but behind them the clear sharp
sight of what had happened. And the doubt of what his future held
for him if anything.

You take his hand and sit for hours, just being.
Trying to let him know you care.
The touch is all the words that need to be said. Then you start to
hum a song softly and the hand in yours tightens a little for approval.
Then the words of the song , and ever so gently you sing,
music from your heart right into his.

He is a Hero just as the soldier at the desk at the base is a hero. All
willing to serve their country and keep their land the land of the free.
--- Wild Thing
This soldier's name was Michael and I was the girl that was honored to get the chance to sit with him and sing to him. To hold his hand and let our hearts and souls speak of better times. A few days later Michael died. But Michael lives on with every breath in freedom that we take each day. His name will never be forgotten nor will he.
I am not in any way writing about this experience I had in Nam to compare Iraq and Vietnam. To me they are very different and should never be compared. But this is an experience that I will live in my heart and soul forever and it expresses best why we should never let one moment in time pass by without thanking our troops, and our Veterans. You may only get one chance and that moment will last a lifetime. They deserve more then a thank you but when those two words come from your heart they carry the weight of a proud and grateful Nation.
In a few days it will be MEMORIAL DAY. A day where the people of the United States pledge to remember those who gave their all. A day that had been set aside to remember all the sacrifice....and all the pain...and all the death that has kept this Nation safe. Please honor the sacrifices of our servicemen and women, they work so hard and take all the risks and live in tremendous danger 24/7 for our freedom, for our security.

It is NOT about a three day weekend.
It is NOT about picnic's and barbecue's.
It IS about this Nation keeping it's word.
It IS about remembering the Michael's in our past who gave up their future so everyone could be Free.
I guess the question is...can YOU give up one day for them????
Also I invite you to visit my Vietnam Page where I pay tribute to our Vietnam Veterans.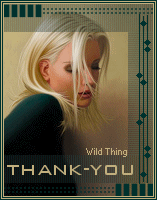 There is an awesome video titled' Until Then". I have ordered from this place, I hope you do to. They truly support our troops and are also grateful to our Veterans.
If you would like to get this and other videos on DVD you can contact GCS distributing
gcs@gcsdistributing.com
I have had email contact with a very kind lady, Elaine Clegg of GCS Distributing and she is very helpful.
Posted by Wild Thing at May 29, 2006 02:55 AM
---
Comments
Thanks Wild Thing for your support then and now and always. You are a true Patriot.
Posted by: TomR at May 26, 2006 07:02 PM
---
Posted by: Rhod at May 26, 2006 08:31 PM
---
Thank You All...
I thank you,
My wife thanks you,
And our kids thank you.
And thanks to W/T for all she does...and fer havin a cute doggie :-)
Posted by: Sierrahome at May 26, 2006 09:58 PM
---
Thanks to all the vets. God bless you and your families for all that you give and have given to us and this country. Thanks to you to you Chrissie for all the support you have given and continue to give to our military.
Posted by: raz0r at May 26, 2006 10:15 PM
---
Posted by: Sierrahome at May 26, 2006 10:33 PM
---
Thank you WT, for being there then and for the wonderful job you are doing now.

Thank you to all the veterans and active duty soldiers out there. No Veterans - No America
Take in a Memorial Service, cherish and enjoy your families, relish the freedom and if the chance prevails. Thank A Veteran!!!
Posted by: Jack at May 26, 2006 10:54 PM
---
Sierrahome (giggle) so cute. You made Sebastian wink. I love it, thank you! What a wonderful surprise.
Posted by: Wild Thing at May 26, 2006 10:55 PM
---
Reason and rationale can be parsed until it puts one to sleep.
Ruff men don`t require much attention but they always feel grateful when they get it.
Unsaid anywhere, however, is the inexplicable glow, charms, nurture, mystery, and love of women just like you and the precious children they bring forth has its effect, as nothing else possibly can.
Not eloquent, but us men, with same habits and smell of a horse would charge Hell with a bucket of water to protect the serenity that you and yours create out of whole cloth.....even as we have no clue how you so do...........
Posted by: Colonel Jerry USMC(ret.) at May 27, 2006 12:33 AM
---
Thank you Michael, for giving your all in pursuit of Freedom, for protecting us and our way of life.
To all our Veterans, thank you.
Thank you Chrissie, for being there.
Posted by: LindaSoG at May 27, 2006 08:57 AM
---
..we fight to keep you safe ,you fight to keep us sane,together we fight to travel this time that's ours..
..to my comrades that have gone before me, I salute you and hold you dear...
Posted by: Rob_NC at May 27, 2006 10:05 AM
---
You will never know how much we appreciate you. Sorry that I missed seeing you.
Cu Chi 66'-67'
Posted by: DickB at May 27, 2006 03:47 PM
---
Thank you to each one of you for my freedom.
I love you all.
Chrissie
( Wild Thing )
Posted by: Wild Thing at May 28, 2006 12:04 AM
---
Wild Thing,
I have spent this day reviewing dozens of sites and ALL of them, including yours, exude a genuine appreciation of our young men and women serving this nation as guards against harm. As always, they risk life and limb without question.
Frankly, this support from you and yours is as valuable as a dozen George Pattons or Chesty Pullers to those on the point! Further, it has caused old veterans, like me, to rethink a little of the perception that standing guard was not particularly appreciated in the recent past.
It is you that I should thank for that healing... In reality you have always been there but now, in spite of the media, you have a way to be heard. There have always been the "Copperheads" but you overwhelm them and their utopian notions with heartfelt facts.
This is the best Memorial Day. Thank you. Thank all of you.
Posted by: Colonel Jerry USMC(ret.) at May 28, 2006 01:55 AM
---
Jack you are so right, if there were no Veterans there would be no America.
Posted by: Wild Thing at May 28, 2006 02:32 AM
---
Rob, I like this..."we fight to keep you safe ,you fight to keep us sane"
Thank you.
Posted by: Wild Thing at May 28, 2006 02:33 AM
---
Dick B it is so nice to meet you. Thank you, thank you with all my heart for my freedom.
Welcome Home!
Posted by: Wild Thing at May 28, 2006 02:35 AM
---
Colonel Jerry you write so beautifully thank you for sharing, and for your kindness and friendship.
Posted by: Wild Thing at May 28, 2006 02:42 AM
---
Chrissie, I have said this to you before, but I must say it again. Thank You for all you have done and still do for our troops. John 5 VN 69-70
Posted by: John 5 at May 28, 2006 08:52 PM
---
John it is always so good to see you. Especially on this special weekend. Thank you.
Posted by: Wild Thing at May 29, 2006 12:29 AM
---
Thanks Wild Thing for your support of the men and women in the Armed Forces.
John 15:13 - Greater love hath no man than this, that a man lay down his life for his friends
Posted by: BobF at May 29, 2006 01:14 PM
---
This is the toughest day of every year. Thank you, WT, for all of us here, one from the 25th (Cu Chi 66-67), two in the 101st in Iraq and one with the 10th Mountain in Afghanistan.
Posted by: Rhod at May 29, 2006 04:38 PM
---
You are my adopted family Rhod.
Posted by: Wild Thing at May 29, 2006 07:16 PM
---
I wrote you from SPAIN, and I wish to express my thanks from EUROPE, to all american soldiers, for their efforts and sacrifices for freedom in this generation, and in the past. Because without the people of their kind, for sure that I wouldn't be free to do and think what i want, instead of have to do and think what other people said my to do and think... in german or russian. And thats the perfect proof for all those leftish, protesters and STALIN lovers, that if your country is an empire, IT´S AN EMPIRE OF FREEDOM.
I wish you enjoy the memorial day, and thanks to all of you from the bottom of my heart.
Posted by: CharlesCalthrop at May 30, 2006 05:19 AM
---
CharlesCalthrop nice to meet you. Thank you
Posted by: Wild Thing at May 30, 2006 11:00 AM
---
Charles:
Thank you. We're in this together, and your thoughts are very much appreciated.
Posted by: Rhod at May 30, 2006 11:36 AM
---