« Hanoi Kerry Says It Is Hard To Have a View On CIA Officer | Main | The Enemy Within Is Attacking Michelle Malkin »
April 24, 2006
Wrong Number Great Deal For Our Troops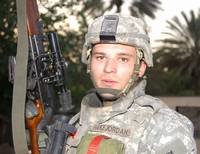 Wrong number: Interpreter answers cell phone, dupes insurgents
Mideast edition
IBRAHIM AL MARKHUR, Iraq — One misplaced cell phone and one savvy interpreter equaled one dead insurgent, several pieces of intelligence and a whole lot of captured weapons.
On a routine patrol, U.S. troops with 1st Battalion, 68th Armor came upon a house in the midst of dense greenery and at the end of a dusty country road.
Staff Sgt. Matthew Nicodemus, 33, said he immediately noticed that no Iraqi men were around.
Suddenly, a cell phone inside the home rang, said Nicodemus, of Altoona, Pa.
"The interpreter went in and answered the phone, and on the other end of the phone the person said, in Arabic, 'Hey, coalition forces are here, go ahead and run away,' and he specifically said, 'Go and run into the palm groves all around here,' " Nicodemus said.
The troops then fanned out into the palm groves and found several weapons including several rocket-propelled grenades and hand grenades, two AK-47s and a new sniper's rifle, Nicodemus said.
They also found a hand-written map of a U.S. military base, diagrams on how to build rockets and a CD-ROM with several thousand files written in Arabic, said Sgt. 1st Class Michael Greer, 35, of San Luis Obispo, Calif.
If that weren't enough, the insurgent kept calling the interpreter back to ask what the Americans were doing.
The interpreter kept the act going.
"He's basically acting like, you know, he's watching us ... making sure everything is fine," Nicodemus said.
The U.S. troops knew the insurgents were coming back and decided to lie in wait for them.
Many troops said they were psyched by the prospect of killing the person on the other end of the phone.
"I love this expletive," said Sgt. Nicholas Hake-Jordan, 23, of Springfield, Ore.
The troops didn't have to wait long.
Shortly after U.S. troops set up, the insurgents called the interpreter and said they would be by in about 10 minutes to attack the Americans, said Staff Sgt. Art Hoffman, 30.
When seven insurgents got to the house, they ran into a wall of U.S. fire, said Hoffman, of Baltimore.
"The first guy that came in the door just dropped like a rock. The other two guys behind him got hit pretty hard, too. The rest grabbed their wounded and just ran back off," said Hoffman.
One insurgent was confirmed killed in the fighting and the other two were in bad shape, he said.
Afterward, the battalion commander, Lt. Col. Thomas Fisher, 42, praised his soldiers' actions.
"The initiative demonstrated at the platoon level is exactly how you win this fight," said Fisher, of Sioux Falls, S.D.
Posted by Wild Thing at April 24, 2006 12:27 AM
---
Comments
I bet now the Democrats are going to call for an investigation into the troops supposedly illegally monitoring insurgent communications. They'll probably want our troops investigated for Fraud because they impersonated an insurgent while talking on the phone. As soon as Kerry hears about this, he'll find or make up something wrong they did.
Posted by: BobF at April 24, 2006 08:12 AM
---
Bob they sure would love to turn this into something negative. They have such hate for our military.
Posted by: Wild Thing at April 24, 2006 09:15 AM
---
Excellent!!! Too bad that some got away, we need to talk to those Israeli's about making soft point bullets, two of those shot survived their death wish.
Next you'll hear charges of entrapment from the left and calls for an Iraqi Brady bill, maybe Cindy will head on over to grieve for her fallen heroes.
Posted by: Jack at April 24, 2006 11:00 AM
---
Isn't that just the most beautiful case of poetic justice you have ever seen?
*s*m*i*l*e*
of course, all attempts will be made to make our troops look like mud, which is just sickening.
Posted by: SouthernDoll at April 24, 2006 06:02 PM
---
Jack I had not thought of that but I sure wouldn't put it past Cindy.
Posted by: Wild Thing at April 24, 2006 06:46 PM
---
SouthernDoll I agree I just love stories like this.
Posted by: Wild Thing at April 24, 2006 06:47 PM
---