« The Rise Of The Islamist Axis ~ We Are At War With Islam | Main | Afghanistan ~ Coalition Forces Destroy Insurgent Headquarters »
April 08, 2006
Right Here In Sarasota ~ Democrats Call Off Rally McKinney Was To Attend
Democrats call off rally McKinney was to attend
Sarasota Herald Tribune
By JEREMY WALLACE
jeremy.wallace@heraldtribune.com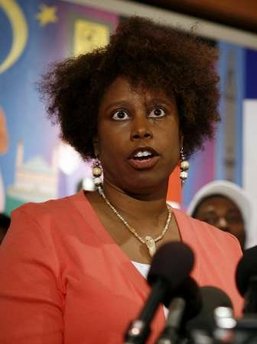 Days ago, Cynthia McKinney was a heroine to local Democrats because she was standing up for disenfranchised voters everywhere.

The controversial congresswoman from Georgia was even worthy of taking center stage at a rally at one of area's most identifiable events: the Sarasota Film Festival.

But that was before McKinney was accused of striking a Capitol police officer and became this week's target for late-night comedians.

Now, Democrats are doing everything they can to distance themselves from McKinney, including canceling the rally.

It wasn't public pressure that caused the cancellation, said Democratic Party Chairman Henry Bright. It was the fact that McKinney was becoming too much of a distraction from the original reason they put on the rally: fair elections.

McKinney is in town to promote "American Blackout," a movie she stars in that accuses Longboat Key Republican Katherine Harris of helping Republicans steal the 2000 presidential election for President George W. Bush.

But the message of the movie was going to be overshadowed by McKinney's recent troubles, Bright said.

Since March 29, McKinney has been defending herself for striking a police officer who tried to prevent her from walking past a security checkpoint. Members of Congress usually don't pass through the checkpoints, but McKinney wasn't wearing an identification pin that members of Congress are issued.

McKinney called a press conference after the event in which she said she was a victim of racial profiling. McKinney is black.

"This whole incident was instigated by the inappropriate touching and stopping of me -- a female, black congresswoman," she said at a press conference.

Federal prosecutors are investigating the encounter.

On Thursday, McKinney took to the floor of the House to apologize for the incident.

"I am sorry that this misunderstanding happened at all, and I regret its escalation," McKinney said.

But the latest apology wasn't enough to stop Bright from canceling Saturday's rally.

Bright also said earlier press releases that called McKinney a heroine and included her name in big bold print didn't mean the rally was going to be all about her. It was the message of the movie she was involved in that was being celebrated, he said.

Republican Party Chairman Bob Waechter said he was disappointed that Democrats were canceling their event with McKinney.

" The Democrats choose odd heroes, and those heroes always seem to energize Republicans," Waechter said.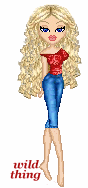 Wild Thing's comment.....
OMG Please.... she is NOT wanted here! I about died when Nick saw this article in the paper this morning. That she even came here with her agenda makes my air less clean.
And then looking back she gets reactions like this as well. LMAO She is sooooo NOT right in the head. haha
More than two-thirds of the state House walked out of the chamber in protest today as Rep. Cynthia McKinney (D-Atlanta) spoke against the U.S. attack on Iraq and declared that President Bush "ought to be ashamed of himself."

Ms. McKinney, speaking from the well on a point of personal privilege just 16 hours after the war began, called the U.S. attack the "most inane use of American will that I have witnessed in a long time."

A dozen legislators immediately rose and left. They were followed by a steady stream of others, leaving less than 50 of the 180 seats occupied in the unusually quiet chamber.

"She's in there talking trash," said Rep. Fred Aiken (R-Smyrna) as he reached the hallway.

"George Bush ought to be ashamed of himself," Ms. McKinney said. "I for one am not convinced that this is the most effective and productive use of American resolve and American will. I will not be led to the slaughterhouse for any one of George Bush's reasons."

After the 15-minute speech, Rep. Tyrone Brooks (D-Atlanta) hugged Ms. McKinney in an anteroom. She said she had not expected the walkout but was not surprised.

--Atlanta Journal-Constitution, Jan. 17, 1991

Let's review, then, what we know about the McKinneys:
~ When black people disagree with Billy Tauzin (her father) , they're "Uncle Toms."
~ When Cynthia McKinney disagrees with U.S. foreign policy, she gets up and starts ranting about how the president is leading us to the "slaughterhouse."
~ During Cynthia McKinney's 1996 campaign, her father calls her opponent a "racist Jew."
~ When Cynthia McKinney loses loses her seat in Congress in 2002 because she took money from pro-terrorist donors, Billy Tauzin blames it on Jews.
When asked to explain his daughter's political difficulties, he responded: "J-E-W-S."
~ Cynthia McKinney then takes even more money from pro-terrorist donors to win back her seat in 2004.
~ When she (allegedly) evades security at the Capitol and then (allegedly) disobeys a policeman's order to stop, Cynthia McKinney is entitled to hit the policeman -- and then portray herself as a "victim."
She's worried about Haiti, she's worried about Tupac Shakur, she's worried about the Palestinians, she's signing petitions for Mumia and Tookie, she's blamed Bush for 9/11 and took campaign contributions from radical Muslims, she gets 3/4 of her campaign contributions from out-of-state donors -- hey, Cynthia, have you ever thought of worrying about people in Georgia for a change?
Posted by Wild Thing at April 8, 2006 11:55 AM
---
Comments
Why is it that woman in the Democrat party seem so ugly? Look at this Bozo, who looks like Buckwheat, and then look at Cindy Sheehan, Helen Thomas, Hillary, etc. Now, Conservative Republican woman are a complete contrast. To prove it, you can check out our hostess at her website and you can also go here: http://jerseygop.com/R_babes/index.html
Posted by: BobF at April 8, 2006 02:33 PM
---
My theory, and I had it before Limbaugh, is that leftism in all its varieties is a magnet for the unattractive. For one thing, leftism has almost no parameters, so the "moralities" that attend it are unrestrained, allowing almost anyone to find a casual mate or a one-night stand, especially the old farts.
Watch video from any lefty rally or protest for any cause, and you'll find effeminate men, masculine women, decrepit middle-agers who still wear their hair like Mary Travers (the men), and have sideburns, handlebars and pony tails (the women), and youngsters who never threw a ball, washed their faces or competed for anything in their lives. Leftism, like disco long ago, is about sex for those unable to find it in conventional ways.
Why blacks - or African-Americans (a large percentage of her constituency) if you prefer, elect a wretched dimwit like McKinney over and over is a mystery, but even she has a purpose. I think it's a good thing, but it has less to do with real politics than it does with the self-generating hatred her voters have for life itself. She has no influence other than shock appeal, she makes her constituents look like the morons they are. You get the leaders you deserve. She actually doesn't bother me that much. She's a yammering jackass; everyone knows it.
Posted by: Rhod at April 8, 2006 05:00 PM
---
Cynthia McKinney spent about $1,000 of taxpayer's money to fly singer Isaac Hayes to Georgia to help dedicate a new office in Atlanta, paying for Hayes'airline ticket and hotel expenses from a fund for office supplies. Didn't Newt Gingrich get the axe for something similar? I'd call that embezzlement but that must only apply to non-congressional employees, just like assaulting a police officer.

Posted by: Jack at April 8, 2006 05:08 PM
---
She sure did, Jack. The silence from Democrats on McKinney's crookedness is also deafening. She'll get away with it, because they're scared shi*less of the Black Caucus.
Posted by: Rhod at April 8, 2006 07:23 PM
---

She and her scumbag ol' man are two dumb fucking racist niggers. Yeah I said it. The father once threatened to "cut" someone that disagreed with him while in Congress.
For what it's worth I have NEVER used that word in public in my entire life. BUT I am well past the point of being fed up with these racist scum getting away with their crap time and again. If it was some poor white guy he'd be 1. behind bars or 2. hounded out of office. Possibly both. Is time to start calling a spade a spade. No pun intended!
Posted by: SparkS at April 8, 2006 08:13 PM
---
Hi Bob, that is an excellent link. Thanks for posting it. Some of them I had heard they were Republcian and some I never knew about.
Thank you.
Posted by: Wild Thing at April 8, 2006 11:26 PM
---
Hi Rhod I agree completely. I was laughing so hard at how upset she must be at being told no by her own party. heh heh
Thanks Rhod for your input on this.
Posted by: Wild Thing at April 8, 2006 11:31 PM
---
wow Jack I didn't know that. Yes you are right Newt did get in trouble for something like that if I remember right.
Thanks for commenting.
Posted by: Wild Thing at April 8, 2006 11:32 PM
---
Seems like all the democrap elected Black women are like her. Maxine Waters and Shelia Jackson Lee come to mind as also the former Senator Carole Mosley Brown. They are attitudinal, vile, nasty, hate mongering, racist/sexist and very self serving-self important. And pretty damn ineffective, even within their own party's domain.
I also think Congressman should go thru security. Wasn't it under Carter that the democraps stated they were not going to exempt themselves any more from laws/rules they enact for the rest of us.
Posted by: TomR at April 9, 2006 12:43 AM
---
I agree Tom, rules are rules and should apply to everyone. They gave them an easy way to handle it by wearing the pin they mentioned. Thanks for commenting.
Posted by: Wild Thing at April 9, 2006 01:41 AM
---
I think Cynthia McKinney is sort of a Petri dish filled with the virus (RU-4-US-SCREWIN-U). Although it is found rampant throughout both Houses it seems to be most prominent in liberal members with a chip on their shoulder. This Chip (Cradle to Heaven Income Provided)causes a weakened immune system, weakened value system, it causes a very loud mouth and in Cynthia's case it has caused bad taste in hairstyle.
Posted by: Sierrahome at April 9, 2006 10:34 AM
---
Sierrahome haha you are so funny. "caused bad taste in hairstyle."
Posted by: Wild Thing at April 9, 2006 11:49 AM
---

I heard recently that the epitome of Lie-beralism,
KKK Byrd, always goes thru the security checkpoints.
Maybe there's hope for the old racist yet.
Can't believe I would ever say something nice about that bum but I'm not afraid to learn sumpin new.
Posted by: SparkS at April 9, 2006 06:40 PM
---
Uh, his name is Billy Tauzin, not Billy McKinney.
Posted by: A. Nonymous at April 9, 2006 07:30 PM
---
A. Nonymous yikes thank you for letting me know. I will correct it right away.
Posted by: Wild Thing at April 10, 2006 12:32 AM
---