« NYC anti-war Rally ~ Democrats Of Course | Main | Thousands Of Illegal Alien Predators Target Children »
April 30, 2006
McCain Gives Speech to Brussels Forum
.
EU and US strike different tones on Iran
BRUSSELS (Reuters) - The United States and the European Union struck different tones on Saturday on how to respond to Iran's nuclear defiance while insisting they were in full agreement.

Speaking at a transatlantic conference, EU foreign policy chief Javier Solana said no one was considering military action over Tehran's refusal to halt uranium enrichment and Europe did not want to join a "coalition of the willing" against Iran.

Influential U.S. Senator John McCain told the Brussels Forum in a speech on Friday night: "There is only one thing worse than military action, and that is a nuclear-armed Iran."

He said the United States would not stand by and let Iran wipe out Israel, as Iranian President Mahmoud Ahmadinejad had called for.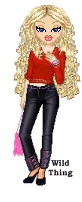 Wild Thing's comment.......
Let's see, he is against military action and he is against bombing Iran. So if we do have a sit down with Iran.....well let's just say I would not believe anything Iran's President says or the promises he makes. So McCain how do you want to take care of Iran and the many threats their leadershihp makes to Israel and America?
Posted by Wild Thing at April 30, 2006 02:47 AM
---
Comments
Chrissie
You cant believe a thing McCain says but you know that. He is nuts
Posted by: Jack Hamilton at April 30, 2006 05:11 AM
---
The Demmican speaks, now, will the real Russel Feingold please stand up!!!
Posted by: Jack at April 30, 2006 09:26 AM
---
Hi Jack H. I know and I never do believe him like you said. He just pisses me off though.
Thank you for commenting.
Posted by: Wild Thing at April 30, 2006 10:47 AM
---
Hi Jack, he sure is a Demmican and I am sick and tired of the RHINOs and kiss ass Rep. wanna be Dems.
Thank you for commenting.
Posted by: Wild Thing at April 30, 2006 10:48 AM
---
McCain is a political party of his own. The man is nuts. I wish Arizoneans would replace him. He is an example of extreme vanity gone amok.
Posted by: TomR at April 30, 2006 05:11 PM
---
He sure is Tom, great way to describe him......vanity gone amok. Good one!
Posted by: Wild Thing at April 30, 2006 05:58 PM
---