« Happy Easter To Everyone | Main | Street Posters In Tehran »
April 17, 2006
Hamas Fund Raiser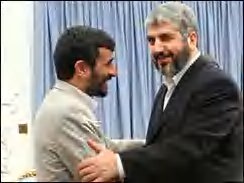 Iran's President Mahmoud Ahmadinejad, left, shakes hands with exiled Palestinian Hamas leader Khaled Mashaal, in Tehran, Iran, Sunday, April, 16, 2006. Iran has pledged $50 million to the Palestinian Authority

Hamas Gets $50 M Boost From Iran
Iran on Sunday said it would give the Palestinian Authority $50 million in aid, moving in as the United States and Europe have withheld funding to the Hamas-led government.
Israel, the United States and the European Union require Hamas, which they consider a terrorist organization, to renounce violence and recognize the Jewish state to obtain funding.
But Hamas' political leader Khaled Mashaal reiterated the group's refusal to meet those demands, saying Saturday in Tehran that his government would "never recognize Israel."
Wild Thing's comment......
Let's see who else is helping out Hamas:
Kuwait, Saudi Arabia and the United Arab Emirates have pledged $80m in aid to the Hamas-led Palestinian government, finance minister Omar Abdelrazek said yesterday.
"We have received pledges from the Arab world that will help us operate for several months," the minister said on the website of Hamas. "In all, $20m from Saudi Arabia, $40m from Kuwait and $20m from the UAE are to be transferred," he said. "We will not collapse despite the war being waged against us by the racist Zionists, by the United States and the European Union," he said.
Russia has also pledged aid to Hamas. Russia, breaking with a US-led boycott campaign, promised on Saturday, April 15, to offer aid to the cash-strapped Palestinian Authority, which appealed to Arab countries to honor their aid pledges.
Washington has also barred American citizens and organizations from business dealings with the PA.
Former US president Jimmy Carter cautioned on February 20, the United States and Israel against punishing the Palestinian people for electing the resistance group.
Posted by Wild Thing at April 17, 2006 12:01 AM
---