« News Radio Links At Theodore's World | Main | Chinese Man Tries to Import 200 Shoulder-fired Missiles to U.S. »
April 20, 2006
Genocide President Hu Jintao Meets With President Bush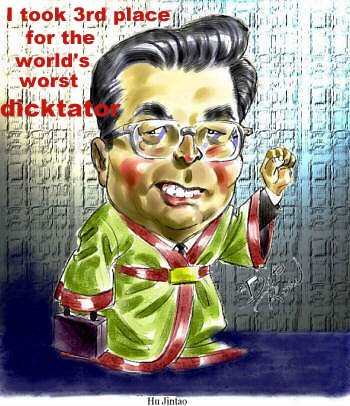 .
Wild Thing's comment's with articles below................
As we all know China does not believe in free speech. But this is America so let's look at what happened with ole Hu Jintao visit so far today. A Falun Gong protester broke through security cordons to heckle Mr Hu during his opening speech, saying that his "days are numbered".
Hu Jintao is a lover of genocide and running labour camps. Communist China has yet to read the writing on the wall, and is barrelling ahead with atrocities that should be the stuff of history or fiction, not 21st century fact.
In Parade magazine..........Hu Jintao, China #3 worst dictators in the world.
WHAT????? Are there GOOD dictators?
Hu Jintao, China. Age 61. In power since 2002. LAST YEAR'S RANK: DISHONORABLE MENTION.
Hu spent 38 years moving up the Communist Party hierarchy, proving himself efficient and willing to do whatever was necessary to advance himself. Now, as president and general secretary of the party, Hu is the leader of an unusually repressive regime. Apologists point to China's economic liberalization and say its human-rights situation "is better than it used to be." However, the party still controls all media and uses 30,000 "Internet security agents" to monitor online use. More than 300,000 Chinese are serving "re-education" sentences in labor camps. China carries out in excess of 4000 executions a year, more than all other nations combined.
Torture and killing of Christians in China:
WASHINGTON Jan 14, 2002 Two Christians have been killed in the Chinese government's crackdown on pastor Gong Shengliang and his South China Church in central Hubei Province, according to a letter from members of the underground church revealing graphic details and new information about the persecution.

Gong was sentenced to death Dec. 5 on charges of operating an "evil cult" and on the seemingly trumped-up charges of rape and assault. The month-long period for deciding his appeal was extended Jan. 5 by a Hubei court following sharp international protest.

The letter, written by two underground Christian women, Li Ailian and Wang Yue, reports that in efforts to find and apprehend Gong and suppress the South China Church, police arrested and severely beat at least 25 Christians, killing two of them, while torturing others with electric prods.
China's Christians suffer for their faith
"They hung me up across an iron gate, then they yanked open the gate and my whole body lifted until my chest nearly split in two. I hung like that for four hours."

Mr. Peter Xu Yongze, 61, is not the only Chinese Christian to suffer for his faith. Both Catholics and Protestants have long complained of persecution by the Communist authorities, and human rights groups claim the problem is getting worse.

According to the Jubilee Campaign, an interdenominational lobby group, about 300 Christians are in detention in China at any one time, and that number is set to rise.

"A Christian was praying, so a jailer made other prisoners lift him up to the ceiling and drop him to the ground many times until he died ."---Peter Xu Yongze

Here is the Video of Hu Jintao's arrival today and the Chinese heckler disrupting HU Jintao's speech.

There are many things that bother me tremendously about China.Including this fact, I can not beleive that in 2008 the Olympics will be in China. Hu Jintao had 400,000 residents of Beijing FORCIBLY evicted from there homes just to have the Olympic games.

Posted by Wild Thing at April 20, 2006 04:47 PM
---
Comments
Hu Jintao had 400,000 residents of Beijing FORCIBLY evicted from there homes just to have the Olympic games.
And I though eminent domain abuse was bad in the USA.

Posted by: Van Helsing at April 20, 2006 05:27 PM
---
Hi Van Helsing, very true, how right you are. Thank you.
Posted by: Wild Thing at April 20, 2006 07:28 PM
---
He represents the finest that the United Nations has to offer mankind, Communism. He has a great teacher with bloody hands Mao.
Posted by: Jack at April 20, 2006 09:45 PM
---
Hi Jack I agree, it does give a person that warm and fuzzy feeling.Not
I could never be President not would I want to be. But one reason is I would never allow people like Hu Jintao to come for a visit. haha
Posted by: Wild Thing at April 20, 2006 11:20 PM
---
He's going to be nearby at Yale today, along with a couple Taliban. Yale is a festering sore on the ass of Connecticut.
Posted by: Rhod at April 21, 2006 08:52 AM
---
Oh wow they are going to Yale? UGH!
I love Connecticut and hate to see them going there.
Posted by: Wild Thing at April 21, 2006 10:03 AM
---