« Islamazoids Whine Vintage 2006 | Main | Construction Begins on Freedom Tower »
April 28, 2006
Al Qaeda link In Utah?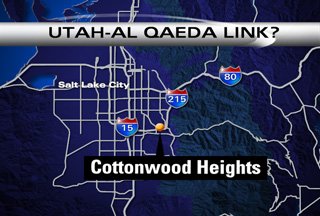 .
According to a copyrighted article in the Salt Lake Tribune, counterterrorist agents arrested five men on Wednesday. One of the men was aprehended in the Cottonwood Heights area of Salt Lake, and the other for men were arrested in California.
The men were arrested and idicted as part of an investigation into the U.S. connections of a suspected senior al-Qaida operative imprisoned in Iraq, according to the Tribune article.
For now, the federal indictments against the men - all of whom have ties to Utah and all of whom are related to accused terrorist Shawqi Omar - involve only fraud and money laundering. But FBI agents say that some of the money alleged to have been stolen in various schemes wound up in Jordan. And now they want to know whether that cash has ended up in the hands of terrorists.
According to an FBI agent working with the Terrorism Task Force in Utah, the Omar family has extensive ties in Jordan, where Shawqi Omar moved his family in 1995 and where he now stands accused of helping terrorist mastermind Abu Masab al-Zarqawi plot a chemical attack.
Posted by Wild Thing at April 28, 2006 12:14 AM
---
Comments
Be patient, I think they're on dial up in Utah.
Billy
Posted by: Billy at April 28, 2006 11:53 PM
---