« When Are The Lefties and Democrats Going to Put A Stop To This! | Main | Islamazoids Whine Vintage 2006 »
April 27, 2006
Congresswoman's Son Sentenced For Slashing GOP Tires
Congresswoman's son sentenced for slashing GOP tires
MILWAUKEE, WI (AP) -- A congresswoman's son and three Democratic campaign workers were sentenced Wednesday to four to six months in jail for slashing tires outside a Bush-Cheney campaign office on Election Day 2004.

The men pleaded no contest in January to misdemeanor property damage. A fifth worker was found not guilty.

"This case had to be a public example of what can happen when you interfere with voters' rights," said Milwaukee County Circuit Judge Michael Brennan, who rejected prosecutors' recommendation of probation for the four men.

The state Republican Party had rented more than 100 vehicles to give rides to voters and poll monitors on November 2, 2004. The cars were parked outside a GOP campaign office when the tires were punctured. The vandalism left the drivers scrambling for new vehicles.

Among those sentenced Wednesday were Sowande A. Omokunde, the son of Rep. Gwen Moore, D-Wisconsin, and Michael Pratt, the son of former acting Milwaukee Mayor Marvin Pratt.

"I love my son very much. I'm very proud of him," Moore said. "He's accepted responsibility."

Omokunde was sentenced to four months in jail; Pratt and Lewis Caldwell of Milwaukee were sentenced to six months; and Lavelle Mohammad of Milwaukee was sentenced to five months. All were granted work-release privileges.

Brennan also ordered them to pay a $1,000 fine each, in addition to the $5,317 in total restitution ordered earlier.

The four could have faced up to nine months in jail term and fines of $10,000.

Wisconsin's 10 electoral votes in the 2004 election ended up going to Democrat John Kerry.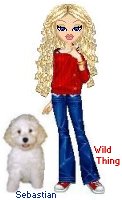 Wild Thing's comment......

The 'Rats are beyond disgusting - ALL of them.
Should not the congresswoman say how disappointed she is in her son for taking part in such an act of thuggery? I'm sure most tires are registered to vote Democrat, and their turnout on election is nearly 110%.
"nine months in jail term".......wow pigs really do fly.
Hmmmmm Tires have party affiliation:
GOP tires are B.F. Goodrich, Goodyear & Uniroyal.
Dem tires are Bridgestone / Firestone
Pinko-Commie tires are Dunlop
One World Globalist tires are Michelin & Yokahama
Greens don't use tires
Posted by Wild Thing at April 27, 2006 08:30 PM
---
Comments
You just cracked me up with the break down of the tires. You are a hoot girl.
Posted by: Jack Hamilton at April 28, 2006 05:03 AM
---
Jack is right Chrissie.
That comment you put on Sondra's post this AM about the ages of the "islamic martyr's" virgins cracked me up.
Posted by: TomR at April 28, 2006 12:51 PM
---
Jack (giggle) glad you like it. Thank you
Posted by: Wild Thing at April 28, 2006 03:26 PM
---
Tom heh heh thank you so much.
Posted by: Wild Thing at April 28, 2006 03:31 PM
---