« UNC-Chapel Hill SUV-Attack Jihadi's Suicide Letter | Main | Reporting From The 506th Infantry Regiment »
March 27, 2006
Welcome To The New Home For Theodore's World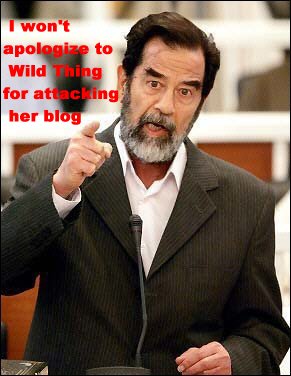 Wild Thing's reply to the attacker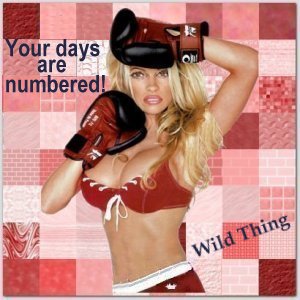 Wild Thing's comment......
Hi everyone, it has been three days of frustration and lots of patience. Not to mention tons of hard work by Linda helping me to do this Blog transfer but it is all done. Theodore's World is finally in a new hosting home. There might just be a few things that need tweaking but it is back up and running. Yippee!
There is one big change and that is that now when you comment you do not have to wait for me to OK it. After you click POST it will show up. I will continue to send you a comment when it is made to one of you specifically but the wait time to see your post up is immediate. tah dah!
Thank you Linda for all you have done, it was superhuman!
Thank you too to all of you that have been so supportive, your kindness and friendship.
Posted by Wild Thing at March 27, 2006 12:35 AM
---
Trackback Pings
TrackBack URL for this entry:
http://www.theodoresworld.net/mt/mt-tb.cgi/879
Comments
Glad to see you back WT, yes, a big thank you Linda. I'm away from my abode converting a Mac user to the real world.
I owned two Apple products and one Apple clone until Apple deserted me 20 years ago with their overpriced product. Same with this one, it's less than a year old and can't compete in the Microsoft world because it's incompatable with the web based MLS software used for real estate. Like your previous host, they wouldn't help bridge the gap, but a new HP Pavillion does the trick just nicely and for a hell of a lot less than the splints and bandages from Apple. I installed "Open Office" for her too.

Posted by: Jack at March 26, 2006 09:13 PM
---
Thanks Linda and Wild Thing for getting this site back up for our enjoyment. Hope this new host works out perfectly for you, and your blog continues to grow. And I hope I remember to preview each time so my spelling and grammer have fewer errors.
Posted by: TomR at March 26, 2006 09:30 PM
---
Hi Jack that is so nice of you to do that. I bet the Mac user will love what you have done.
HP is wonderful I had one for a long time it was fantastic.
Posted by: Wild Thing at March 26, 2006 11:17 PM
---
Hi Tom giggle, I don't worry about spelling and grammer in posts. I know some blogs do but I am just grateful to have your wonderful comments.
Here is something funny for you. Today Linda was looking at one of my doll graphics and asked me to peek at it. I had spelled Wild Thing like this......... Wld Thign. It was so funny, we both laughed so hard.
Posted by: Wild Thing at March 26, 2006 11:21 PM
---
bad speling meens you you didnt pay atenshun in skool. I shud instal a spel cheker so we dont get embarased about our edjumakashuns.
Posted by: LindaSoG at March 27, 2006 06:36 AM
---
Whew! I am glad you are back in action. I missed my daily dose!!!
I am often remiss in commenting but now that you are back I am not going to miss the opportunities!
Spelling! I vent tooo yell and I kant spelll. :-)
Posted by: Washington at March 27, 2006 06:40 AM
---
Welcome back Wild Thing
I know it had to be a pain. But it is over now and we dont have to worry about you being attacked so much I hope.
Posted by: Jack Hamilton at March 27, 2006 07:36 AM
---
Linda hahahahaha love it.
Posted by: Wild Thing at March 27, 2006 07:56 AM
---
Hi Washington, hahaha thank you.
Posted by: Wild Thing at March 27, 2006 07:57 AM
---
Hi Jack H. thank you, yes fingers crossed here.
Posted by: Wild Thing at March 27, 2006 08:00 AM
---
I use Firefox and the new Blog doesn't have any sidebar. The posts are in large print and go completely across the screen. All the sidebar stuff is now at the bottom. Am I having a problem with Firefox or is this the way it's suppose to look.
In Internet Explorer all is the same as before.

Posted by: BobF at March 27, 2006 09:27 AM
---
House warming party for Wild Thing. Glad you're back up.
BTW, I can confirm with BobF about the sidebars and Firefox. It also occurs in Konqueror (KHTML like Safari).
Posted by: raz0r at March 27, 2006 12:51 PM
---
Hi Bob this stuff is so over omy head. I honestly could not have changed my host if Linda had not helped me.

I know HTML code, that is easy and I have done it for many years. But it can react differently if the program it is used with does not accept it for some reason. I wonder why it is doing that Bob. One time I used the exact samr html code at a place and it looked like it was squished or something and all the letters looked like Russian writing....really weird.

I wish I had an answer about Firefox but I don't know anything about it.
I use Internet Explorer and love it so much. And like you say, things can look great in IE then different in some other things. Gosh there is so much to know about all this stuff.

Posted by: Wild Thing at March 27, 2006 02:54 PM
---
Hi razOr thank you.
You all know more then I do about this stuff, I never even heard of Konqueror. wow!
Posted by: Wild Thing at March 27, 2006 02:55 PM
---
Guys like me who just drop by and ramble, give little thought to the host or hostess until something bad happens. Maintaining a blog up to these standards, with new articles every day and responding commentary has to be hard work...then there's the expense.
I don't even BMOB here, just come by and the door's always open with the air conditioner on and the buffet all set. Thanks, WT, and you too Girlchick Jewish Mom Linda. Now if we could find the bastards who attacked the blog, everything could be set right.
Posted by: Rhod at March 27, 2006 08:28 PM
---
Hi guys!
In response to your questions about how the blog looks in other browsers, all I can say is that it is the browser's fault. Foxfire and other browsers have their own way of looking at things, and there is just no way for us to get around it.
I am so sorry.
Posted by: LindaSoG at March 27, 2006 08:52 PM
---
Hey Rhod,
Maintaining a blog is hard work, but it is a labor of love. Your presence, and others like you, make it all worth while.
As for whoever attacked, well, we moved to what should be a safer place, so all that trouble this weekend should be worth it.
I am moving my blog next. augh!
Posted by: LindaSoG at March 27, 2006 08:55 PM
---
Hi Rhod standards I have standards ? hahahahhaha
Just kidding I love having a blog and it has been great to cyber meet you, cyber Rhod. (giggle)
Posted by: Wild Thing at March 27, 2006 11:32 PM
---
I use a web browser called Galeon on my Linux PC, same issues as those using Firefox and Konqueror. Galeon is based on the gecko engine as Firefox, Mozilla and I believe Konqueror is too. All open source browsers. I've submitted a bug report to Mozilla and KDE.
No problem as I will switch to IE on my other PC just for this blog.
Posted by: RightToCarry at March 28, 2006 06:12 AM
---
Well, after not being able to figure out why Firefox won't format the new Blog properly, I've decided to use my superior mental powers and technical abilities to find a solution to the problem. Using deductive reasoning and analytical problem solving, I've come to the conclusion to use Internet Explorer while reading and commenting here. I'm so bright at times, I amaze myself…LOL.
Posted by: BobF at March 28, 2006 12:21 PM
---
Hi RTC, I am sorry you have to switch like that. I really have no idea why that happens. I am always glad to see you.
Posted by: Wild Thing at March 28, 2006 01:44 PM
---
Bob lmao you are sooooo funny. I love your superior mental powers and technical abilities tah dah! I wish you did not have to change it just to come here I truly am sorry. This all is such a surprise to me I never had this happen before.
I promise you don't have to change clothes to come here, it is come as you are even if you want to wear black tie and tuxedo. giggle
Posted by: Wild Thing at March 28, 2006 01:47 PM
---
Wild Thing, it's not problem at all to switch between the two browsers; just a click of the mouse.
It's not a problem with the Blog but with my browser. I'm having a few other problems with Firefox in other areas. If I can't get them figured out, I'm just going back to IE.

Posted by: BobF at March 28, 2006 02:22 PM
---
Post a comment