« Company C Soldiers Seek Out Enemy Forces | Main | Police Close Temple Mount to Jews »
March 26, 2006
The Religion Of Beheading
The Iraqi army is investigating a report that 30 beheaded corpses have been found north of Baghdad.

The commander of the Iraqi Army Second Battalion says the remains are reported in a village 35 miles north of Baghdad. It's a Saddam Hussein stronghold. Residents reported the discovery.

Iraq has seen a flurry of sectarian killings among Sunnis and Shiites since last month's bombing of a Shiite shrine in Samarra, a predominantly Sunni city.
Politicians from Iraq's Shi'ite majority accused U.S. troops of massacring 20 worshippers at a Baghdad mosque on Sunday but police and residents said many died in clashes between Shi'ite militia fighters and Americans.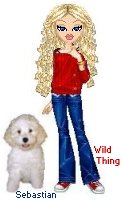 Wild Thing's comment....
Sure blame our troops you asshole Shiite's. Oh no wait, Bush probably did it right?

Posted by Wild Thing at March 26, 2006 06:07 PM
---
Trackback Pings
TrackBack URL for this entry:
http://www.theodoresworld.net/mt/mt-tb.cgi/880
Comments
Post a comment