« Abdul Rahman Might Be A Man Without A Country | Main | What About The Laws We Already Have?! »
March 28, 2006
So Like Are McCain and Feingold A Couple Now?
The gridlock kings are telling the Iraqis to work together. Or shall we call it a photo op for McCain and Hillary. UGH!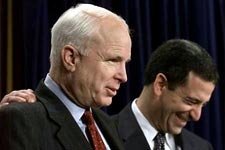 Feingold and John McCain, talk to the media after a meeting with Iraqi Prime Minister Ibrahim Jaafari,in Baghdad. McCain said that all Americans wanted the democratic experiment in Iraq to succeed and hoped politicians here would quickly form a new government. McCain and Feingold might as well have told the enemy that we are about to throw in the towel.
WABC radio also reporting that McCain made it a point to praise the media's reporting on Iraq. As opposed to the President's suggestion that they only report bad news.
But see there is more to this...................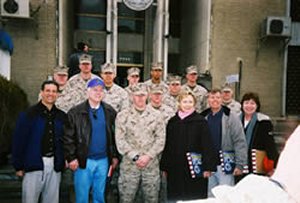 Senator Feingold and Senators John McCain, Hillary Rodham Clinton, Lindsey Graham and Susan Collins with US servicemen and women in Baghdad.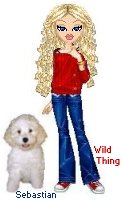 More of Wild Thing's comment's ............
I can hear some Iraqi politico now: "Geezin' Jihad Omar, we gotta get this government set up and working! One more visit from these pushy, psycho, publicity hound, loudmouths from Washington and I'm gonna run to a police bunker outside the gates of this Green Zone and yell "I'm gonna pull the cord! I'm gonna pull the cord!"
Posted by Wild Thing at March 28, 2006 01:07 AM
---
Trackback Pings
TrackBack URL for this entry:
http://www.theodoresworld.net/mt/mt-tb.cgi/887
Comments
Some egos know no limit. These are a group so vain, no one else could begin to admire them as much as they self adore.
Posted by: TomR at March 28, 2006 10:12 AM
---
Hi Tom,it really angers me when they USE the military like this. I hate them for this more then anything.
Thanks for commenting.
Posted by: Wild Thing at March 28, 2006 10:53 AM
---
Talk about a "Rent-a-Crowd". That's what we used to call it when we were ordered to send people to gatherings or formations to make some politician or VIP feel important.
Posted by: BobF at March 28, 2006 04:03 PM
---
Bob you're right it sure does look like that.Good one.
Posted by: Wild Thing at March 28, 2006 04:18 PM
---
Post a comment