« Thank you for your patience | Main | Another Photo ~ Operation Swarmer Going After Insurgents »
March 16, 2006
Operation Swarmer LOVE it! & Other Photos Of Our Awesome Troops!
101st Airborne Division stand ready with a staged row of Blackhawk helicopters in preparation for Operation Swarmer, in Remagen, Iraq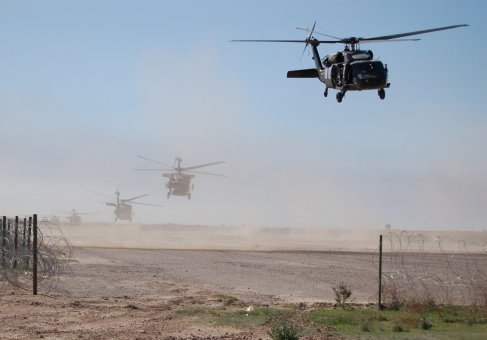 BAGHDAD, Iraq (AP) — U.S. forces joined by Iraqi troops on Thursday launched the largest air assault since the 2003 U.S.-led invasion, targeting insurgent strongholds north of the capital, the military said.
The U.S. military said the air- and ground-offensive dubbed Operation Swarmer was aimed at clearing "a suspected insurgent operating area" northeast of Samarra and was expected to continue over several days.
Residents in the targeted area said there was a heavy U.S. and Iraqi troop presence in the area and large explosions could be heard in the distance. It was unclear if the blasts were due to fighting.
The military termed the operation the largest air assault since the invasion nearly three years ago, but it was not clear if any U.S. aircraft opened fire during the operation or if there had been any insurgent resistance.
"More than 1,500 Iraqi and Coalition troops, over 200 tactical vehicles, and more than 50 aircraft participated in the operation," the military statement said.
The U.S. command in Baghdad said it was the largest number of aircraft used to insert troops and the largest number of troops inserted by air, although larger numbers of troops overall have been involved in previous operations.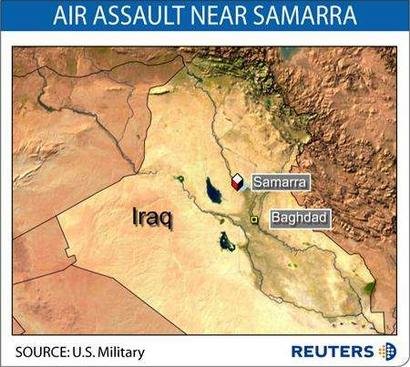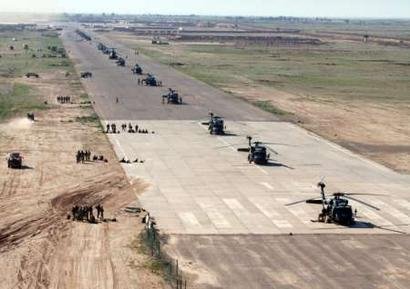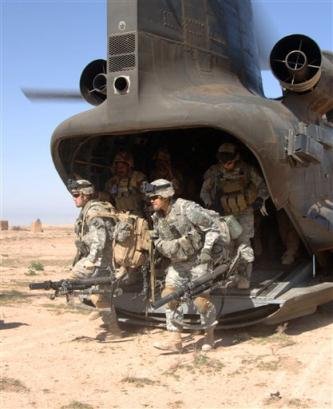 Operating Base Remagen, with Operation Swarmer on March 16th, American heroes in helicopters take off with Iraqi and Coalition forces to wipe out terrorists northeast of Samarra in the largest air assault since the U.S.-led liberation of Iraq.
North of Baghdad., under a massive airborne operation involving over 50 aircraft and 1,500 heroic American and Iraqi troops.
North of Baghdad., Iraqi soldiers secure a bridge during curfew as the Iraqi parliament convened for the first time with pressure against it from Iran, al Qaeda and the American MSM. The targets are terrorist rebels, including those of Abu Musab al-Zarqawi.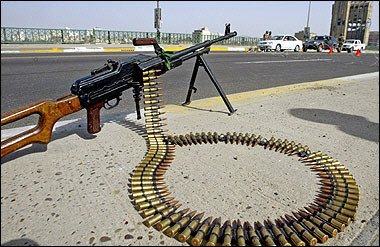 In Basra, Iraq, at the market of military equipment, where terrorists have repeatedly put on military uniforms to carry out terrorist murders.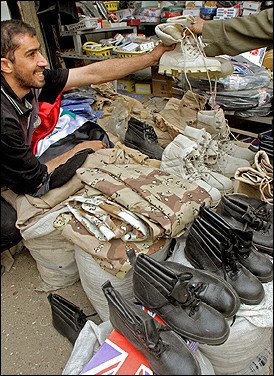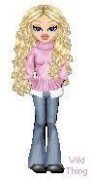 Wild Thing's comment......
I am so proud of our troops!

* BIG DOG says Let Allah Sort Them Out
Posted by Wild Thing at March 16, 2006 08:07 PM
---
Comments
Our troops at their best. Let's hope the Iraqi troops perform well. That will be an indicator of how soon our guys and gals can come back to the US(and maybe start securing the American border). Jack's old outfit, the 101st leading the way in this air assault.
Posted by: TomR at March 17, 2006 12:25 AM
---
Hi Tom,this morning at work someone said, turn up the volume on the TV. And there was the news of what was happening in Iraq. I was so happy and so proud of our troops.
I agree it would be the best thing to realy secure our borders,big time, that is a great disappointment of mine that we do not take great care about that. Very scary and is causing all kinds of problems.
Posted by: Wild Thing at March 17, 2006 12:35 AM
---
This is fantastic on so many levels...first our troops are performing wonderfully. Second the Iraqi troops are taking a major roll and their performance here is a barometer for the future. The Bush Administration has the fortitude to stay away from polls and focus groups and do the job that needs to be done.
Posted by: sierrahome at March 17, 2006 07:10 AM
---
Tomr is right when it is time for the metal to meet the meat you find the 502nd 101 and we never retreat. Thats my old outfit kicking ass. Go Baby.
Posted by: Jack Hamilton at March 17, 2006 07:10 AM
---
HI Sierrahome I agree so much, thank you. I am very grateful that Bush and his admin. do not wait to breath with every poll. They do what has to be done in this war and I pray that never changes. This Operation Swarmer felt like a middle finger too to the Dems. heh heh I loved it.
Thank you so much for commenting.
Posted by: Wild Thing at March 17, 2006 10:19 AM
---