« Al-Qaeda Undercover Soldier Makes Threats | Main | Ex-NFL Lineman Trades Jersey For Utilities »
March 14, 2006
Miss USA Visits The Marines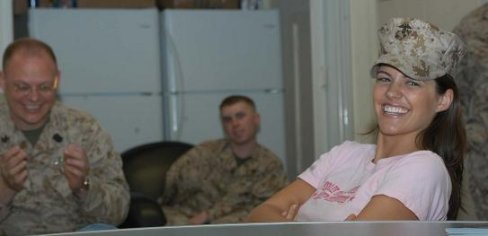 MARINE CORPS BASE CAMP LEJEUNE, N.C. -- Miss USA, Chelsea Cooley, wore a Marine desert cover, shared personal stories and laughed with wounded warriors to show her support for Marines at the Injured Support Barracks Monday. Cooley, who is from Charlotte, N.C., said she has always wanted to come back to North Carolina and visit with the troops. Although it is not part of Miss USA obligations, Cooley volunteers regularly with the United Service Organizations and speaks with service members all over the world.
Photo by: Lance Cpl. Ryan M. Blaich
Wild Thing's comment.....
I am so glad she did this and I hope she does this a lot. Our troops could use a lot of this kind of support and from many others as well.
Posted by Wild Thing at March 14, 2006 12:27 AM
---
Comments
I've never got to see a USO Show. When you deploy in the Air Force with the "Heavies" you're usually a long way from where the action is or you're someplace that needs to be kept low key. I would have loved to seen Bob Hope show. When I was stationed at Norton AFB, CA, he once flew in on a C-141 with his entourage. All the VIP's were there to meet him but when he walked off the plane, he first walked around to all the lower ranking ground crew members and shook their hands. He shook hands with grease covered Airman before he shook hands with the Wing Commander.
Posted by: BobF at March 14, 2006 05:01 PM
---
Hi Bob thanks for sharing about Bob Hope's visit in Ca. He truly cared for our troops and when he walked off the stage, each time he always had tears in his eyes. Tears of respect and gratitude for our troops.
Thanks again Bob, that is so neat.
Posted by: Wild Thing at March 14, 2006 11:50 PM
---