« Thanks For Telling Us Where It Is | Main | Troll Sighting At Slaglerocks ~ Troll Is For Flag Burning! »
March 12, 2006
Marines Carry Six-Pack Attack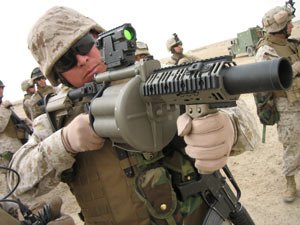 Staff Sgt. James C. Sanchez aims in with the M-32 Multiple shot Grenade Launcher, an experimental six-barreled weapon that can deliver six 40 mm grenades in under three seconds. Marines are fielding the new rapid-fire weapon to troops to boost small-team capabilities to deliver greater indirect firepower. (Photo by: Gunnery Sgt. Mark Oliva)

Lance Cpl. Joshua A. Oldman, a 20-year-old from Ethete, Wyo., tries his hand at handling the M-32 Multiple shot Grenade Launcher at a range near Fallujah, Iraq. Marines practiced handling the weapons before stepping to the firing line. Marines from Regimental Combat Team 5 are carrying the new experimental weapons deisigned to deliver more indirect firepower at the small-team level. (Photo by: Gunnery Sgt. Mark Oliva)

Arnold Schwarzenegger is going to want one.
Marines with Regimental Combat Team 5, based in Camp Fallujah, test-fired the latest in the Corps' arsenal of weapons' improvement, the M-32 Multiple shot Grenade Launcher. It's a six-barreled, 40 mm beast of weapon that has just about enough attitude for Marines.
"I thought it was pretty bad the first time I saw it," said Cpl. Jason H. Flanery, a 23-year-old mortarman from St. Louis, Mo., assigned to RCT-5's Personnel Security Detachment.
The M-32 MGL looks like something straight out of an action movie or a weapon ginned up by designers of futuristic video combat games. It's a bare-bones, shoulder-fired weapon with a bulging six-barreled cylinder. There's no bones about it. This thing's all business when the trade is knocking out bad-guys at a distance.
"You can put six rounds on target in under three seconds," Flanery said. "I thought this thing was sick."
Sick might be right for the insurgent on the other end of the sight. The M-32 MGL is step up from the M-203 grenade launcher Marines have used since post-Vietnam days. It fires similar 40 mm grenades and at similar distances. It just puts more rounds on the bad guys faster.
"The '203 has been around since the '60s," explained CWO4 Gene A. Bridgman, the regiment's gunner, or weapons expert. "It keeps improving. This is a progression in the weapons system."
Flanery put the comparison of the two similar weapons in more simple terms.
"It makes it obsolete," he said. "It's that much better."
The idea to bring M-32 was the brainchild of Marine gunners across the Corps, explained Bridgman, a 43-year-old from Garden City, Kan. During an annual symposium, they decided an improvement was needed over the M-203. One option was to bring back a rifle-grenade. The M-32, won out, however, and now each Marine battalion will field them as an experimental weapon.
Bridgman added the M-32 isn't a new idea altogether, though. Brazilian, Italian and South African military have carried them in the field for years. Marines, though, took it one step further.
A fore-grip was added and a scope was mounted to the top, eliminating the old leaf sights like that of the M-203. The scope allows a Marine to follow the grenade to the target and immediately adjust and follow up with a lethal volley of indirect fire.
"The '203 was on shot at time," Bridgman said. "The '203 became a signal weapon. This is more of an offensive weapon. With this, you shoot, adjust and fire for effect."
The average Marine said it's just about that easy to shoot. Lance Cpl. Alexandro R. Raymundo, a 20-year-old from Rancho Cucamonga, Calif., isn't an infantryman. He's a network administrator by trade. He shot the M-203 before during initial training, but this was his first time picking up the M-32 MGL.
"I thought it might be like the '203," Raymundo said. "But is shoots more rounds, faster. It's really simple. I had 'hands-on' once. I picked it up really quickly."
As far as how it felt shooting it, Raymundo said the weapon was about as beefy as it looks.
"I felt like there's more recoil than the '203 and the trigger's a lot heavier" he explained. "It's heftier than the '203."
His likes about the weapon included the small scope added to the rail-mount system on top of the weapon.
"The optic was nice," he added. "It's a lot easier to sight in."
Of course, there's the part about lots of things going "boom" downrange too.
"My favorite part was being able to fire out so many grenades and not have to reload between each shot."
Sgt. David G. Redford, a 35-year-old from Kennebunkport, Me., has more practical experience when it comes to what grunts like in the field. He's an infantryman by trade and has logged in his own hours carrying the M-203.
"I didn't know what to think about it before we came out here, but it's nice," Redford said. "It's easier to shoot. You don't have to constantly load. If you run into something, you're already loaded."
Redford predicted that most infantry Marines will welcome the addition of the six-pack attack weapon.
That's exactly the reaction Bridgman wants to see. Adding the M-32 MGL could realign the way Marines operate at the small-team level. Fire teams could become more lethal, more mobile and more independent. The idea of a dedicated grenadier might just be reborn.
"Now you have your own indirect fire support right in the fire team," Bridgman explained. "You have someone who can lay down (high explosive rounds) against someone in a trench. It would be used against enemy in fighting holes or behind cars, because of the indirect nature of the weapon. It's the only weapon aside from mortars," at the small team's disposal.
Still, Bridgman stressed the weapon is only experimental. Marines will be gathering data about its' effectiveness and durability from experiences on the streets of Fallujah.
For Flanery, though, the M-32 is already welcome.
"I think it's one of the most simple and effective weapons systems," he said. "I just want buckshot rounds."
Posted by Wild Thing at March 12, 2006 01:07 AM
---
Comments
Don't know why they refer to it as 6 barreled. Actually it it single barrel, six cylinder. Still, a lot of firepower. If the sights help with first round hit, then it will be a nice weapon.
Posted by: TomR at March 12, 2006 08:11 AM
---
Close only counts in horseshoes, hand grenades, and atom bombs. With a weapon like this, close counts.
Posted by: BobF at March 12, 2006 11:25 AM
---
Posted by: Rhod at March 12, 2006 05:08 PM
---
HI Tom (giggle) I was thinking you might like it for your collection.
:)
Posted by: Wild Thing at March 13, 2006 12:58 AM
---
Hi Bob, it sure does. When I saw it I was interested because I never saw anything like this before.
Posted by: Wild Thing at March 13, 2006 12:59 AM
---
Hi Rhod,it is one wild weapon. It looked like something out of a action figure book or something.
Posted by: Wild Thing at March 13, 2006 01:01 AM
---