« Dichotomies | Main | The Free Jack Idema Blogburst »
March 15, 2006
Iranian Students Burning Posters Of Khamenei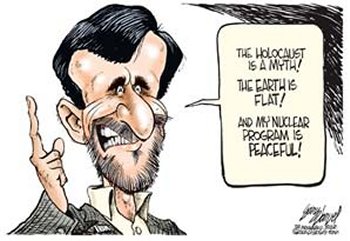 .


Iran's Khamenei attacks Bush, rules out "any retreat" on nukes
Iran's Supreme Leader Ayatollah Ali Khamenei told the country's foreign minister and diplomats on Tuesday that any retreat on the nuclear issue would "break" the Islamic Republic's independence and would entail "a huge cost" for the Iranian people.

"The Islamic Republic of Iran believes that any retreat over the nuclear issue, which is the great demand of the nation and the natural right of our people, as breaking the country's independence, and this would entail a huge cost for the Iranian nation", the official news agency IRNA quoted Ayatollah Khamenei as telling members of Iran's diplomatic service.

"Any retreat will, under the present circumstances, bring with it an unending chain of pressures and more retreats. It is therefore clear that this path is irreversible and our foreign policy establishment must courageously defend this right", Khamenei said.

Iran's Supreme Leader reacted sharply to recent remarks by U.S. President George W. Bush, who expressed support for Iranians who seek to bring democracy to their country.

"If there a place with no democracy, it's America", the ayatollah said. "A small minority of capitalists, who are mainly Zionist, pull all the strings in elections and the people's vote has no impact".

"This Mr. George W. Bush himself has been elected through fraud", Khamenei said, while attacking Bush for "his illegal acts, including his orders for tapping the telephone conversations of Americans, his weak standing in the opinion polls in America, and the censorship of news in that country".

Khamenei repeated the charge that "there are indications and intelligence showing that the intelligence services of America and the Zionist regime are behind the assassinations and bombings in Iraq".

"As for America and some of the countries that tow the American line, their principal motive in trying to prevent Iran's acquisition of its natural and scientific right is that they are frightened that Iran would reach the pinnacle of scientific power", he added.

Khamenei's comments once again backed those of President Mahmoud Ahmadinejad, who has repeatedly vowed to reject international pressure to accept the demands of the International Atomic Energy Agency.

In the meeting with Foreign Minister Manouchehr Mottaki, senior Foreign Ministry officials, and members of the country's diplomatic service, Ayatollah Khamenei said, "Those who represent the Islamic Republic of Iran abroad must ensure that our national rights are safeguarded and that they truly embody the steadfastness, dignity, and wisdom of the Iranian nation".

"The fact that the Muslim world is now feeling a sense of identity and Islamic dignity is attributable to the victory of the Islamic revolution, and one of the most important elements of Iran's national power. This must be emphatically noted in Iran's international relations", the ayatollah said.

Khamenei ridiculed "those who make propaganda and say that Iran was hiding [its nuclear project], because no country declares its scientific work while it's at the research stage".

In August 2002, the Iranian opposition National Council of Resistance of Iran exposed, for the first time, key nuclear sites that Iran had built secretly in Natanz and Arak. The revelation led to the international scrutiny that finally culminated in Iran's nuclear dossier being sent to the UN Security Council for a decision.

Iran's Supreme Leader said Western governments "were put to shame by remaining silent when the Zionist regime threatened to assassinate the head of the elected government of the Palestinian people".

Knowledgeable sources in Tehran said the government has summoned its ambassadors and envoys from across the world to brief them on a fresh diplomatic offensive to "counter the poisonous Western propaganda" against Iran.

Students, security forces clash in Iran capital
Tehran, Iran, Mar. 14 – Police fired tear-gas and used force on Monday to disperse protesting students at Sharif University of Technology in Tehran, eye-witnesses reported.

The disturbances broke out after hundreds of students tried to prevent the burial of three "unidentified martyrs" on the university campus. The students, many of them women, carried placards against the takeover of universities by Islamist groups affiliated to the Revolutionary Guards.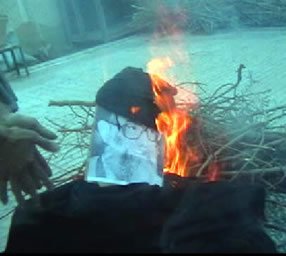 Martial law imposed in volatile Iran cities
Iranian authorities have imposed a de facto martial law in several volatile cities in the north-western province of Kurdistan as restive youths used the occasion of Iran's traditional "fire festival" to hold anti-government protests, residents told Iran Focus by telephone on Tuesday.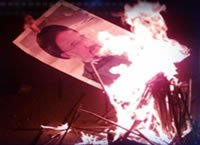 Youths set fire to posters of Khamenei in Iran capital
Tehran, Iran, Mar. 14 – Young people set fire to pictures of Iran's Supreme Leader Ayatollah Ali Khamenei and former leader Ayatollah Ruhollah Khomeini in Tehran, according to dissidents in the Iranian capital.

Protestors gathered and burned down posters of Iranian leaders hung on lampposts in Mirdamad Street in Tehran.

Despite a massive crackdown to prevent this year's "fire festival" from turning into scenes of anti-governments protests, young people have taken to the streets across Iran to defy the government ban and celebrate the last Tuesday of the Persian year with a big bang.

During the festival, known as 'chaharshanbeh souri' – literally, Feast of Wednesday – people jump over bonfires to "drive away evil". Since the 1979 Islamic Revolution, however, Iran's theocratic leaders have made strenuous efforts to stamp out the festivities, but to no avail. In recent years, there have been extensive clashes between festive crowds and the security forces deployed to prevent street celebrations. This year the event falls on March 14.

Iran's main opposition group, the Mojahedin-e Khalq (MeK), has issued an appeal to people across the country to take part in the celebrations on the night and turn it into an anti-government protest.

Already steps have been taken to prevent widespread protests from flaring during the traditional Persian festival celebrated by Iranians for over 2,500 years.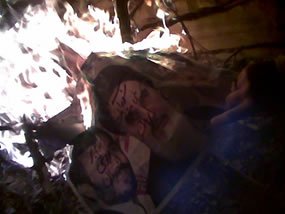 Posters of officials set fire to in Iran
Furious people set on fire posters of hard-line Iranian President Mahmoud Ahmadinejad and former Iranian leader Ayatollah Ruhollah Khomeini during extensive demonstrations in the western city of Khorramabad as "fire" festivals across the country continued well into the night.

Effigies of Iran's Supreme Leader set on fire in demos
Anti-government demonstrations erupted across the Iranian capital as well as in towns and cities across the country as young people used the annual Persian "fire festival" to ignite fireworks and set cars belonging to the State Security Forces (SSF) on fire, dissidents told Iran Focus.
In the south-western city of Ahwaz protestors constructed an effigy of Iran's Supreme Leader Ayatollah Ali Khamenei and set it on fire.
Posted by Wild Thing at March 15, 2006 01:47 AM
---
Comments
I hate to say this but I fear that nuclear weapons will have to be used in Iran to stop there devolopment of an Islamic bomb. I do not believe that conventional weapons will get the job done I say this because I know there is a very large antigovernment movement there that wants good relations with the US.When President Bush wanted to make some smaller nuclear bombs the democrats blocked him. Smaller bombs would be a great helpin this situation.What damn good are democrats?
Posted by: Jack Hamilton at March 15, 2006 06:59 AM
---
Let's hope there is enough of those young Iranians to cause another revolution in Iran, a democratic Western oriented revolution. And, that America has the fortitude to support that revolution 100%.
Posted by: TomR at March 15, 2006 07:51 AM
---
Hi Jack, that is interesting, I never knew that about the smaller nuclear bombs.
I agree with what you said about Democrats too.
Posted by: Wild Thing at March 15, 2006 10:25 AM
---
Tom, we are so lucky here in America. Even under the vile communist Clinton regime we at least knew he could only be in office two terms. That was bad enough and he did enough damage to almost destroy America in his two terms.
The Iranians do not have that option. He could even do like Saddam did........vote for me or you are dead. sheesh
Posted by: Wild Thing at March 15, 2006 10:28 AM
---
Most if not all of the misinformation the Iranian or for that matter all of the Middle East has about the United States of America and it's people can be laid at the feet of the US media and the Democrats. They have successfully maligned the people and this nation in their quest to bring down the presidency and destroy our freedom. This is demonstrated nearly each day by past Presidents, Senators and Representatives that go abroad and spew anti-americanism where it gets full unabridged coverage by their henchmen in the MSM. Worse yet we the people tolerate it!!!
Posted by: Jack at March 15, 2006 12:19 PM
---
Jack you sure are right, they have been a success at it too just like you stated.
Posted by: Wild Thing at March 15, 2006 02:32 PM
---