« Troll Sighting At Slaglerocks ~ Troll Is For Flag Burning! | Main | Political Correctness Strikes Out At Mother Goose »
March 13, 2006
In Country With Our Troops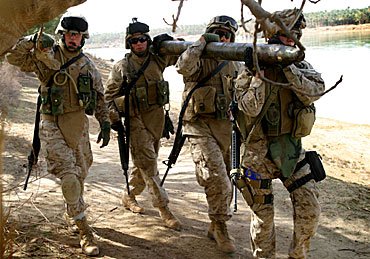 ROCKET FIND — U.S. Marines assigned to India Company, 3rd Battalion, 1st Marine Regiment carry a nine-foot rocket with a 122mm warhead that they found while excavating the area for weapons and ammunition storage points in Baghdaddi, Iraq, March 3, 2006. (U.S. Marine Corps photo by Cpl. Michael R. McMaugh)

Zeko is part of the Soldiers of 1st Battalion, 327th Infantry Regiment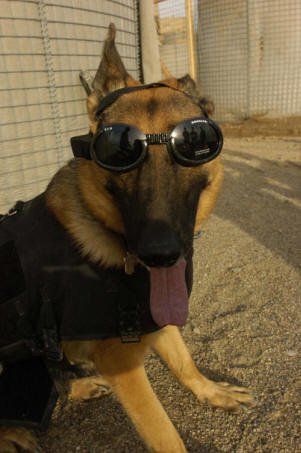 Zeko, an explosive detection Canine, takes a breather, after his handler puts his specially made balistic "doggles" on for his daily training at the newly built training course at Forward Operating Base McHenry, Iraq. (U.S. Army Photo By: Spc. Barbara Ospina, 1st BCT Public Affairs)
Zeko's real workout starts when shouts echo through the air, followed by yelping. Silberman holds Zeko tightly, while a volunteer Soldier wearing a protective sleeve runs. Then, at the right moment Silberman releases the now vicious dog. Zeko sprints after the man, leaping into the air and locking his jaw on the Soldier's protected arm. Attempts to shake him off fail as Zeko just bites harder. Then with a single command from his handler, Zeko releases the Soldier returning to sit next to Silberman. A few seconds later, Zeko is rewarded with playful hugs and praises.
Not only does this furry four-legged Soldier pull his weight in the fight against terrorism, he has become very protective of his new Bastogne comrades.
"We get to spend a lot of time with [Soldiers], he's really close, and really protective of them," Silberman commented. "When we are taking rounds, he's watching and really alert of his Soldiers, so he's got a pretty good rapport with those guys."
It isn't all work and no play for Zeko though. His kisses may be sloppy, and he has doggy breath, but Zeko has become well-known and loved among the Soldiers at FOB McHenry. During a simple strut down the gravel walk-ways, Zeko receives many playful pettings, and sometimes even a rowdy play session.
With loyalty being an Army Value this fury friend strongly possesses, many consider him the FOB pet, and even part of the 1st Battalion team.
.
Posted by Wild Thing at March 13, 2006 12:04 AM
---
Comments
I like those sunglasses. After a night of tornado's, that picture really made me laugh.
Posted by: BobF at March 13, 2006 09:32 AM
---
Hi Bob I am so glad to hear from you. I was not sure who lived near the tornado's.

Glad you had a laugh from the cute photo of Zeko.
Posted by: Wild Thing at March 13, 2006 10:54 AM
---
I'm right smack middle in the center of Tornado Alley. The sirens started late yesterday afternoon and continued into the night.
Posted by: BobF at March 13, 2006 11:37 AM
---
OH wow Bob! Thank God you are OK.
Posted by: Wild Thing at March 13, 2006 12:20 PM
---