« Happy St. Patricks Day | Main | Army National Guard Recreate Photo Before Going To Iraq »
March 18, 2006
G. Gordon Liddy and Other Talk Show Host Visit Iraq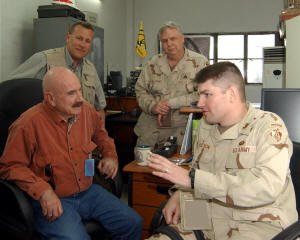 G. Gordon Liddy chats with MAJ John Hudson of the U.S. Army Corps of Engineers, Gulf Region Central as Erich Langer and Joe McClammy of the Gulf Region Division/Project and Contracting Office Public Affairs Office enjoy the exchange.
BAGHDAD, Iraq -- National Talk Show host, G. Gordon Liddy and five other regionally well known, stateside, radio talk show hosts are presently in Iraq visiting with Soldiers and Civilians in Iraq.
One of the sites visited by this group was the Alwaiya Children's Hospital in the U.S. Army Corps of Engineers, Gulf Region South (USACE-GRC) Karada District. When completed, this 155 bed facility will provide full spectrum medical care for newborn to six year old children from a population of more than a million Iraqis. Additionally, the hospital will provide limited adult emergency support as well as being used by three medical schools for medical internships.
The resident officer-in-charge for this project has been MAJ John Hudson from Colorado Springs, CO, with Jana Tanner, from Jacksonville, FL, serving as the resident engineer. The project engineering and quality assurance has been effectively handled by Iraqi engineers - a superlative example of Capacity Development teamsmanship in the turning over of such work to Iraqis themselves.
In addition, the group visited the recently completed Hay Al Amel Youth Center comprised of various recreational support functions, wrestling/gymnastics mats, basketball court and soccer facilities, where they talked with numerous young Iraqis enjoying the facility - and clearly appreciative of the faiclity.
While in the area, each of the journalists received one-on-one interview time with several of the USACE-Gulf Region Division leadership. Among those visited with were the Commanding General, BG(P) William McCoy, retired Marine colonel and now Director of Logistic Jack Holly, and David Leach, Director of Capacity Development.
In addition to Liddy, the visiting broadcast journalists included: Jon Grayson of KMOX in St. Louis who is listened to by not only those in his home community but in audience markets in 44 other states;
~ Steffan Tubbs - co-host of Colorado's Morning News" - of KOA in Denver CO
~ Jack Rice from WCCO in Minneapolis/St. Paul MN
~ Bill LuMaye of WPTF in Raleigh, NC
~ Monica Delta who hosts "Speaking Seriously" for the Washington, D.C. Maryland and Virginia markets.
Following the visit with USACE-GRD personnel, the journalists traveled further around the country visiting Multi-National Forces- Iraq activities.
Tom Clarkson is a member of the U.S. Corps of Engineers, Gulf Region Division/Project and Contracting Office public affairs team in Iraq.
Posted by Wild Thing at March 18, 2006 12:01 AM
---