« But...But You Wouldn't Lie To Us Would You Ahmadinejad?? | Main | Hanoi Jane Encounter »
March 16, 2006
Feel The Love Ahmadinejad ~ Not!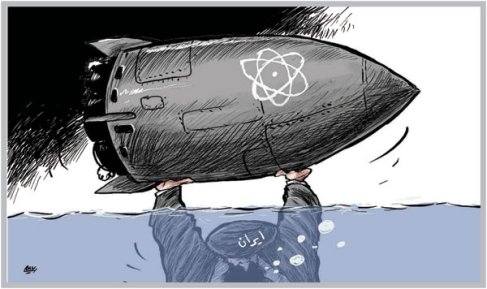 Iran-nuclear-cartoon: The price of a Iran's nuclear weapon

The following cartoon appeared in Friday's edition of the London-based Arabic daily Asharq al-Awsat. The word "Iran" is written on the cleric's turban.

Iran says will not abide by Security Council demands
Iran will not abide by likely demands from the United Nations Security Council to suspend its uranium enrichment activities, Foreign Ministry spokesman Hamid-Reza Asefi told reporters on Wednesday.
Posted by Wild Thing at March 16, 2006 02:04 AM
---
Comments
Many think that Iran is just bluffing. Much of the Muslim culture involves loud talk and bluff--just try to buy something at a Turkish bazaar--and then when someone calls the bluff and blows hell out of them they cry foul. Tehran is going to wind up a pile of 10,000 year half life of dangerous glass. And all because the sumbitch talked loud and someone called his bluff.
Posted by: GUYK at March 16, 2006 10:00 AM
---
It's no surprise that they won't abide by the UN Security Council. It proves how impotent the UN is in the face of any threats.
Unless there are diplomats with extraordinary skill involved it seems headed for a showdown militarily.
Posted by: Washington at March 16, 2006 11:07 AM
---
Hi Guy, very true, when I experienced the exact thing in a Turkish bazaar. We were looking at rugs, I had no intention of buying one but the photographer we all were with wanted one and that is exactly what happened to him. I could hardly wait to get out of there, the guy selling the rugs was a total jerk.
Thanks for commenting.
Posted by: Wild Thing at March 16, 2006 03:02 PM
---
Hi Washingtion, absolutely! They are not going to listen to anyone at the UN well if there freaken allah was there or their criminal sick Muhammad or something.
Thanks for responding.
Posted by: Wild Thing at March 16, 2006 03:04 PM
---