« Operation Swarmer LOVE it! & Other Photos Of Our Awesome Troops! | Main | Oriana Fallaci's Book Now In English »
March 17, 2006
Another Photo ~ Operation Swarmer Going After Insurgents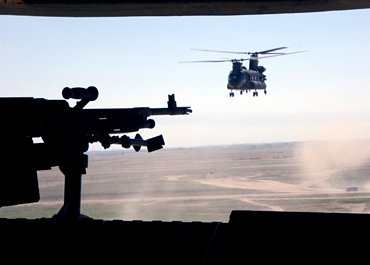 OPERATION SWARMER — A U.S. Army CH-47 Chinook helicopter transports U.S. Army soldiers of the 101st Airborne Division's Company C, 3rd Battalion, 187th Infantry Regiment and Iraqi army soldiers during Operation Swarmer in Brassfield-Mora, Iraq, March 16, 2006. Operation Swarmer is a combined air assault operation to clear the area northeast of Samarra of suspected insurgents. (U.S. Navy Photo by Petty Officer 3rd Class Shawn Hussong)

Posted by Wild Thing at March 17, 2006 12:04 AM
---
Comments
These guys are The Rakassans. Not the 506th (my son) or Jack's outfit, the Five-Oh-Two. They cordoned off a ten-mile square area and have gone lookin' for the bad guys.
Posted by: Rhod at March 17, 2006 12:23 PM
---
OH wow Rhod thank you so much for telling me. Here it is Friday night and I am still so thrilled at what they all did, so proud of all of them.
Prayers and safety wishes for your both your sons Rhod. They are making history.
Posted by: Wild Thing at March 17, 2006 11:02 PM
---