« Welcome To Rhod As One Of Theodore's World Authors | Main | Photos From Hubble Telescope »
February 23, 2006
USS Ronald Reagan In Middle East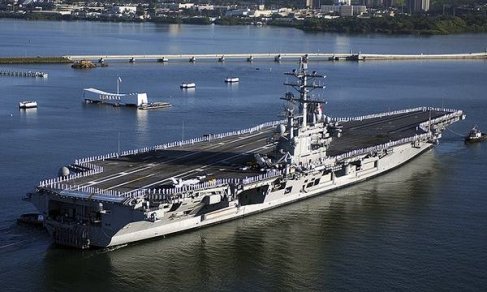 USS Ronald Reagan (File photo, Pearl Harbor)
Feb. 22, 2006
The Navy's newest aircraft carrier, the USS Ronald Reagan, has replaced the USS Theodore Roosevelt in the Middle East as the nuclear-powered carrier marks its maiden operational deployment, Navy officials said.
The San Diego-based carrier, which leads Carrier Strike Group 7, arrived in the Navy's 5th Fleet area of operations Saturday, and is there to support U.S. military missions in Iraq and Afghanistan.
"Our past nine months of training have been in preparation to support our troops on the ground in Iraq and carry out maritime security operations," Rear Adm. Michael Miller, strike group commander, said in a Navy news release.
Aboard the $4.5 billion carrier is Carrier Air Wing 14, with about 85 fixed-wing aircraft and helicopters. The Reagan left its home port Jan. 4 for an expected six-month deployment to the western Pacific Ocean and Persian Gulf.
More than 6,000 sailors are assigned to the carrier strike group, which includes Destroyer Squadron 7, the guided-missile cruiser USS Lake Champlain, the guided-missile destroyers USS McCampbell and USS Decatur, the fast combat support ship USS Rainer, and Explosives Ordnance Disposal Unit 11, Detachment 15.
The aircraft squadrons include Strike Fighter Squadron (VFA) 22, VFA-25, VFA-113, VFA-115, Airborne Early Warning Squadron 113, Tactical Electronic Warfare Squadron 139, Carrier Logistics Support 30, and Helicopter Anti-Submarine Squadron 4.
Commissioned in July 2003, the Reagan is the Navy's ninth nuclear-powered Nimitz-class aircraft carrier.
The departing Theodore Roosevelt Carrier Strike Group made history on its deployment when a pair of the Navy's retiring F-14 Tomcats marked the jet's final mission Feb. 8.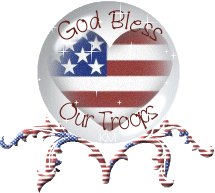 Posted by Wild Thing at February 23, 2006 12:07 AM
---
Comments
You know what's amazing, the price of the carrier, 4.5 billion, is the price of two B-2 Stealth bombers.
Posted by: BobF at February 23, 2006 08:46 AM
---
Hi Bob oh my gosh amazing is right.
Posted by: Wild Thing at February 23, 2006 09:25 AM
---
I'm fascinated by large Naval Vessels; Battleships and Carriers. One of my goals is to visit an Iowa Class Battleship;I spent a career in the Air Force...go figure
Posted by: BobF at February 23, 2006 11:53 AM
---
Any weapons system, or ship named after Ronald Reagan is going to be a favorite of mine.
Posted by: TomR at February 23, 2006 12:37 PM
---
Great photo of the USS Ronald Reagan and Pearl Harbor, if you've never been to the Arizona Memorial it's worth the time to honor those unfortunate sailors lost there. As a prior Army member I have nothing but respect for those who serve on the ships, they have no place to hide when the battle hits or bad weather is on them, and God help them if there is a fire.
Posted by: Jack at February 23, 2006 01:17 PM
---
Bob it is awesome.
Angry Old Salt was on a carrier, man oh man the stories he has. haha
One day he promised to write them down and I can share some of them on here.
Posted by: Wild Thing at February 23, 2006 02:31 PM
---
Tom yesss gosh I loved Reagan I am so glad he was President in my lifetime.
Posted by: Wild Thing at February 23, 2006 02:32 PM
---
Thanks Jack, the Arizona Memorial is so moving. Both my husband and myself shed a lot of tears when we were there.
Posted by: Wild Thing at February 23, 2006 02:42 PM
---
Posted by: BobF at February 23, 2006 04:55 PM
---

She's a grand lady helping to protect the greatest nation ever. I have a feeling her crew will do her well.
Jack: You bring up some very valid points. The skipper of my first ship had a small sign hanging
in his cabin. "A fire at sea can ruin your entire day." Being an ammunition ship the danger was probably more than normal but she had a good crew and did her job with pride. My father, a career Army man, once told me this when I told him I was joining the USN. Aboard ship you'll always have a hot meal and a warm bunk to sleep in. So I imagine it sort of evens out in the end.
WT: Ask AOS if they ever sent him for a bucket of steam. Or a can of relative bearing grease. Or if he ever stood a 'mail buoy watch'. Sailors can be
mercilous with the FNGs. GGGGGGGGGGG Gotta make your own fun when in the military!
BobF: I'm with you re the Tomcat. They looked like they were going 250 MPH just sitting on the flight deck. I imagine the higher ups feel
precision guided missiles can do the job. But, there's nothing like the ol' Mark I eyeball scoping out a potential target prior to attacking it.
Posted by: SparkS at February 23, 2006 05:41 PM
---
WoW Bob great videos!!!
I wonder why they want to retire it, the F-14 Tomcat is still the superior fighter because it is able to reach a longer distance and engage multiple targets and destroy them simultaneously.
I love that movie "Top Gun".
The F-14 is tried and true!
I want to do a post about this and repost your links. Thank you so muxh Bob.
Posted by: Wild Thing at February 23, 2006 05:46 PM
---
SparkS, hahaha
He just said they tried to send him for SKY Hooks, and he asked them what kind did they want......" Right handed ones or left handed ones?" Because he knew they were kidding.
heh heh
Posted by: Wild Thing at February 23, 2006 06:33 PM
---
Thanks Sparks, being on an Ammo carrier couldn't have been that much fun, with the potential for fires. Fire scares the hell out of me, I spent some time in Armor, M60A1's. Once on a mission we had just fully rearmed and were moving off the arming revetment when the bitch caught fire inside the turret, as the TC I hit the ground first and my crew was throwing HE, HEP and Sabot at me as fast as I could catch it and lay it down, we got the fire out just as the 30 cal stuff started cooking off, I had grabbed the 50 cal as I left the tank. But setting amongst all those munitions with other tanks fueling and arming while your fully loaded tank was burning is one hell of a sobering experience.
Posted by: Jack at February 23, 2006 08:07 PM
---

Jack: WOW! I'm sure you have since then been thankful a million times for surviving that. One of the first things I was told when I went aboard the USS Diamond Head (AE-19) was if she ever 'went up' she would destroy everything in a 20 mile radius. I don't remember ever thinking about surviving a bad accident. I'll never know but I always felt that the crew was extra careful knowing the possible consequences of an accident. I still marvel at having watched us pass over everything from .45 ACP to stuff I still cannot talk about via high line to ships steaming alongside us. Sometimes replenishing ships on both sides at the same time. Every inch of our deck covered with bombs. Since the radio shack was right behind the bridge I got to watch a lot of UNREPS (underway replenishment), never ever got tired of it. An amazing thing to see! Night or day. Sorry, beginning to sound like a Navy recruiting ad!
Posted by: SparkS at February 23, 2006 09:51 PM
---