« Putin Wants To Cozy Up To The Hamas & Says They Are NOT A Terrorists Group ~ UGH! | Main | Islam the Death Cult Member Offers Reward To Kill Cartoon Artist »
February 09, 2006
The Sick Celebration Of Ashoura Day by Muslims ~ This is NOT Red Paint!
Knowing your enemy takes on a new meaning when one sees how they celebrate a holiday called
Ashoura Day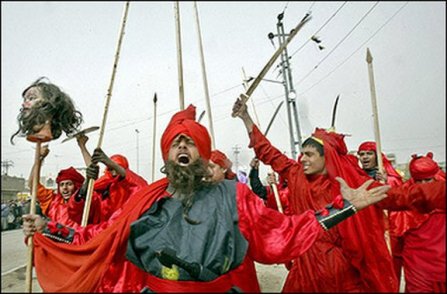 Iraqi Muslim Shiites re-enacts the martyrdom death of Imam al-Hussein, grandson of Prophet Mohammed, during the Ashura ritual ceremony in Baghdad's poor neighborhood of Sadr City. More than a million Shiites, many beating their heads with knives, marked the mourning ceremony of Ashura amid heavy Iraqi security presence to prevent stampedes and attacks.(AFP/Ali al-Saadi)

An Iraqi Shi'ite devotee gashes his head with a knife during an Ashura ritual ceremony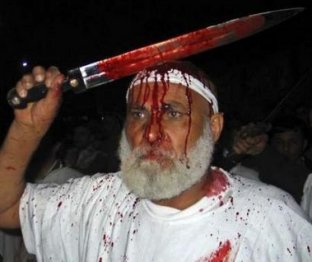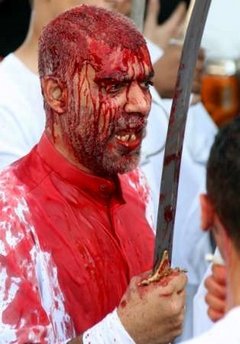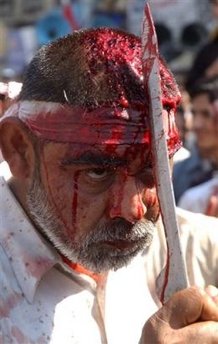 Men wearing white shrouds and waving swords above their heads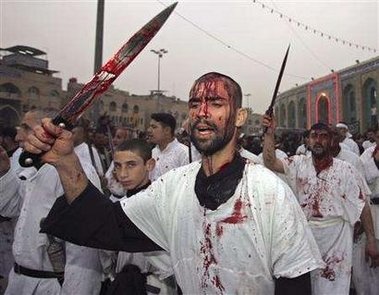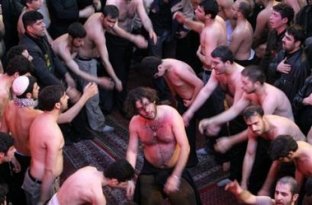 Some slapped chains across their backs until their clothes were soaked with blood, while others beat their heads with the flat side of long swords and knives until blood ran freely in a ritual of grief.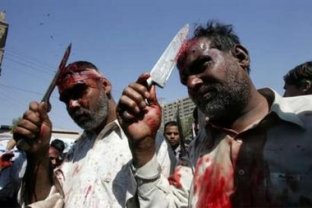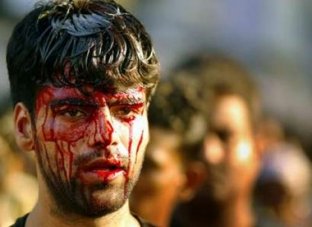 Some sliced their foreheads with the edge of a sword in a practice known as "al-Tatbeer" — meaning "sword" in Arabic — and beat themselves while chanting "Haider, Haider," a name by which Hussein's father, Ali, is known.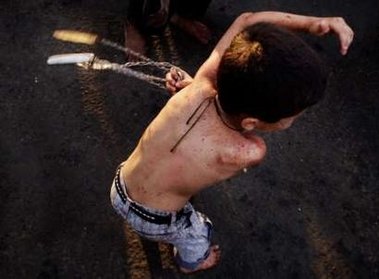 "Although it is a sad day, I am very happy because I took part in these head-beating processions," said 10-year-old Haider Abbas Salim, whose face was covered in blood. "Imam Hussein's martyrdom teaches us manhood and that we shouldn't fear anything."

Wild Thing's comment.......
Please feel free to visit my Terrorists Page at my website.
Posted by Wild Thing at February 9, 2006 05:18 PM
---
Trackback Pings
TrackBack URL for this entry:
http://www.theodoresworld.net/mt/mt-tb.cgi/300
Comments
Over at Six Meat Buffer, Preston has published photos of children with their foreheads slashed, too. Maybe the kids each get a map of Israel and an exploding tricycle as a reward.
Except for the kids, we ought to encourage this kind of ritual. They'll be too weak to fight with us.
Posted by: Rhod at February 9, 2006 06:54 PM
---
...and, WT, this just might be a MoveOn.Org tailgate party.
Posted by: Rhod at February 9, 2006 06:57 PM
---
Love your posts about this. Thank you Rhod so much for your contributions here.
"MoveOn.Org tailgate party"....great line.
Posted by: Wild Thing at February 9, 2006 07:11 PM
---
Post a comment