« Saturday Cartoon Starring da' Muslims | Main | I Thought I Had Heard It All ~ But Look At Al Qaeda's by-laws »
February 19, 2006
Suicide Bomber Recruitment Drive In Tehran
.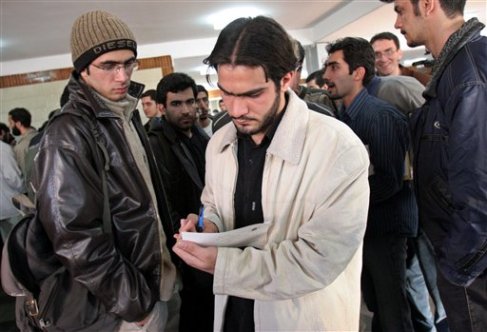 An Iranian student, fills in the papers of a registration form indicating his readiness for martyrdom, or to carry out suicide attacks, in Tehran, Iran, Saturday, Feb. 18, 2006. A gathering of Iranians who claim they are dedicated to becoming suicide bombers warned the United States and Britain on Saturday of attacks on coalition military bases in Iraq if there were a strike against Tehran's nuclear facilities. (AP Photo/Hasan Sarbakhshian)
.
Iran group stages new suicide bomber recruitment drive
TEHRAN (AFP) - A small hardline Iranian group launched a fresh suicide bomber recruitment drive, hoping to lure volunteers ready to die in the fight against Israel, Salman Rushdie or foreign invaders.

"The most important martyrdom-seeking operations that we call on people to register for is to defend the country in case of an attack," explained Mohammad Samadi, spokesman for the "Committee for the Glorification of Martyrs of the Global Islamic Movement."

"We feel a serious threat by America," he told AFP at the event, held in a Tehran university building and attended by around 100 people.

After some three hours of speeches and films on Palestinian bombers, just a few dozen people stuck around to sign a form with three options: target the "occupiers of Qods (Jerusalem)", the "apostate Salman Rushdie" or "invaders."

Samadi said that over the past year, 1,000 people have registered to die and 300 of them had entered training courses including "theory and practice."

Iran's previous reformist government had distanced itself from the group. It asserted that this was merely a symbolic way for people to express their anger against Israel or Rushdie -- sentenced to death by Iran's revolutionary leader Ayatollah Ruhollah Khomeini in 1989 over his book "The Satanic Verses."

But radicals have been given a new lease of life with last June's election of President Mahmoud Ahmadinejad, who has labelled Israel a "tumour" that "must be wiped off the map" and branded the Holocaust a "myth."

"The average age range of participants is between 18 and 25, but we also get 80-year-old applicants," Samadi said. "This is a way to give chance to people who have potential to show their capability to fight against invaders."

One of those signing up was Hamidreza Shahnazari, a bearded 24-year-old electrical student.

"I registered to prove that Iranian youth are not only those on the street with the latest fashions. There are many young people that dream about martyrdom every night," he said.

"It does not matter where or when; if there is a possibility for me to fight I will definitely dedicate my life to it.

Arezou, a 21-year-old Spanish language student, added: "I think the only choice is martyrdom. Israel is the main and biggest problem that we have to fight against it by martyrdom-seeking actions."

Iran insists it only gives "moral support" to militant groups such as Hamas, Hezbollah or Islamic Jihad, but is accused by the United States as being the leading sponsor of international terrorism.
Wild Thing's comment.....
Hey fellas you might not have the promised virgins!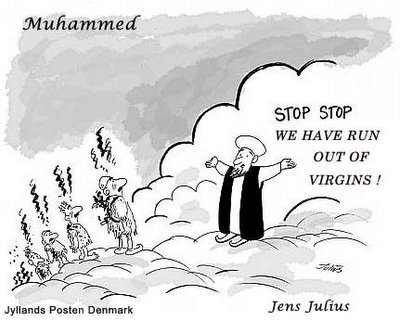 Posted by Wild Thing at February 19, 2006 01:17 AM
---
Trackback Pings
TrackBack URL for this entry:
http://www.theodoresworld.net/mt/mt-tb.cgi/340
Comments
I guess were supposed to be scared because their signing up to be suicide bombers.
As if they really got the means to get out of Iran and blow people up. Face it, if the US was really determined we could bottle that country up tighter than a drum. AWACS patrolling the skies and fighters standing by ready to attack anything approaching the borders.
You know, rounding up the Japanese and putting them in internment camps during WWII has gone down in history as a terrible thing. I feel bad that so many good loyal citizens of Japanese descent were forced into these camps and lost everything they owned. But fortunately, what will never appear in history books is the number of factories, power plants, water supplies, and food producers who were bombed or sabotaged during the war. There is no way to ever know how many acts of sabotage were averted and how many peoples lives were saved because these actions; we were at war and FDR did what he believed had to be done.
We are in a war that is more threatening than when we were attacked during WWII. Maybe it's time to take the necessary steps to start defending this nation and protecting its people.
http://www.restoringamerica.org/archive/war/oceans_of_blood.html

Posted by: BobF at February 19, 2006 02:51 PM
---
I would place odds that when it came down to it, most of these shitty little punks would fold like cheap Iranian suitcases. The young aren't known for good sense; if they think that they can find passage to Iraq after an American attack, it will probably be through the air in pieces.
The death and human sacrifice cult called Islam has 37 million adherents in Iran. 1000 suicide bombers isn't a very stellar gathering. You could probably find that many in a single block in San Francisco who would be willing to die for a pine tree...even without financial incentives.
In any case, the more mad killers we can kill between the breeding ages of 18 and 25, either at our hands or their own, the better.
Posted by: Rhod at February 19, 2006 03:29 PM
---
Hi Bob thanks for the link I never saw nor heard about that before. I agree if the USA wanted to do something the bad guys wouldn't have a chance (good).
Thank you so much for commenting.
Posted by: Wild Thing at February 19, 2006 04:21 PM
---
Hi Rhod, I agree and I forget what show it was on TV but they showed a video of how they actually gave some of the bombers drugs before hand to give them nerve to do the sucide bombings. I guess the pull of the 72 virgins was just not strong enough. haha
Thank you so much for commenting.
Posted by: Wild Thing at February 19, 2006 04:23 PM
---
WT:
That 72 virgins thing is really troubling. The average Arab male who desires such a thing is less confident than the average, neurotic, 14-year old Mama's boy, porn freak who is afraid that, someday, his love object will have something to compare him to.
What kind of men ARE they, and what kind of culture produces such men? This is not to say that any of us, men or women, want a high-mileage mate, but Arab boys must be nuts.
Morever, what about female martyrs. Do they get 72 virgins too? That would be hell.

Posted by: Rhod at February 19, 2006 06:06 PM
---
Post a comment