« Very Baghdad Bob-ish | Main | Iran's Khamenei: The Danish Cartoons Are a Zionist Plot »
February 07, 2006
Operation Iraqi Freedom Watches Super Bowl XL
U.S. Air Force airmen deployed in support of Operation Iraqi Freedom watch Super Bowl XL, which aired at Ali Base, Iraq, Feb. 6, 2006. The airmen are assigned to the 407th Air Expeditionary Group. U.S. Air Force photo by Staff Sgt. Valerie Smith
A U.S. Air Force KC-135 Stratotanker crew at Manas Air Base, Kyrgyzstan, disagrees with the referees after the Pittsburgh Steeler's first touchdown during Super Bowl XL, in which the Steelers played against the Seattle Seahawks. Airmen here said they were disappointed to miss the Super Bowl parties at home, but glad to be on the ground for the game. The crew is assigned to the 4th Airlift Squadron, McChord Air Force Base, Wash. U.S. Air Force photo by Staff Sgt. Lara Gale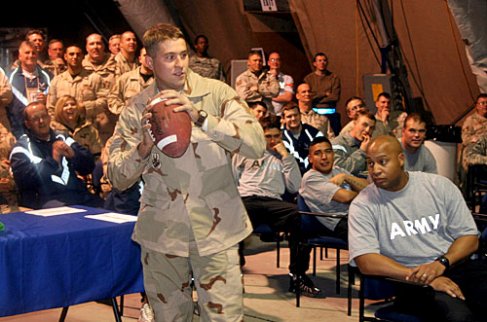 U..S. Air Force airmen and U.S. Army soldiers deployed to Manas Air Base, Kyrgyzstan, take turns in a football toss contest during Super Bowl XL halftime, Feb. 6, 2006, racking up points for the big prize -- a portable DVD player. The airmen are assigned to the 376th Air Expeditionary Wing. U.S. Air Force photo Staff Sgt. Lara Gale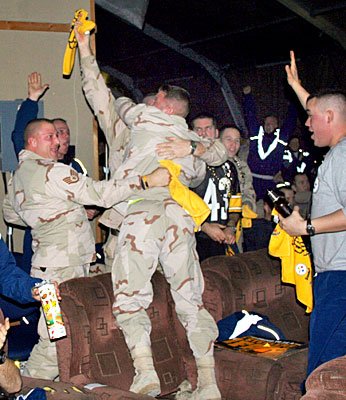 Deployed U.S. Air Force Reservists assigned to the 911th Airlift Wing, Pittsburgh, celebrate the Pittsburgh Steelers victory over the Seattle Seahawks during Super Bowl XL, Feb. 6, 2006, at Manas Air Base, Kyrgyzstan. U.S. Air Force photo by Staff Sgt. Lara Gale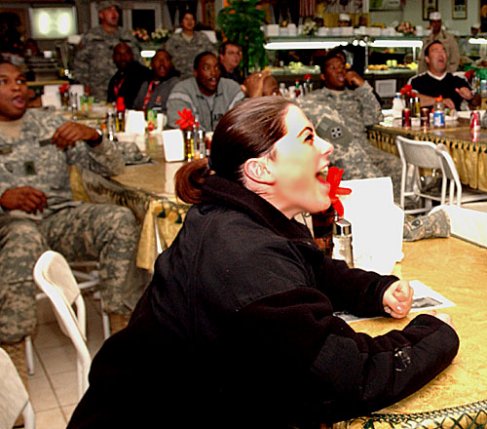 U.S. Army Spc. Andrea Hicks (front), a member of the Maine Army National Guard and currently attached to the 152nd Maintenance Company, 1st Brigade Combat Team, 10th Mountain Division, cheers her team on as the Pittsburgh Steelers roll to a 21-20 victory over the Seattle Seahawks at Super Bowl XL in Detroit, Mich. Soldiers gathered at 2:30 a.m. Feb 6, 2006, to watch the live telecast at the 4th Infantry Division's dining facility at Camp Liberty, Iraq. U.S. Army photo by Sgt. 1st Class Mary Mott
As the clock ticks a few minutes past 4 a.m. in Iraq, Feb 6, 2006, dedicated football fan U.S. Army Spc. John Danko cheers on the Pittsburgh Steelers as they wear down the Seattle Seahawks on their way to a 21-10 victory in Superbowl XL in Detroit, Mich. Danko, a native of Uniontown, Pa., is serving in Iraq with the 4th Infantry Division's Headquarters and Headquarters Company, Special Troops Battalion. Troops were able to view the game from the Camp Liberty dining facility. U.S. Army photo by Sgt. 1st Class Mary Mott

Wild Thing's comment......
I love these photos and I am thrilled that some of our troops got to see the Superbowl! I was disappointed though because I thought that maybe, just maybe during half time someone would say something like HI we are linked to Iraq and Thank you Troops!!! So we can do it here.
Thank you Troops and all our Military! We owe you big time!
Stay safe and know there are millions of us that appreciate all you do!....
from everyone here at Theodore's World blog
and all that are here too.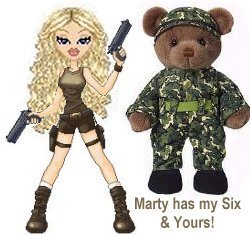 Posted by Wild Thing at February 7, 2006 12:04 AM
---
Comments
Boy, we never got TV's like that when we deployed.
Your right, it sure would have been nice if during the game they would have acknowledged the troops watching the game from the other side of the world. Their's no reason they couldn't have had cameras set up to show a couple shots of the troops watching the game.
Posted by: BobF at February 7, 2006 07:52 AM
---
Hi Bob I agree, it sure would have meant a lot to their families too.
Posted by: Wild Thing at February 7, 2006 09:45 AM
---