« Local Marine Designs Facial Armor for Troops in Iraq | Main | Putin Wants To Cozy Up To The Hamas & Says They Are NOT A Terrorists Group ~ UGH! »
February 09, 2006
Muslims Only Using Cartoons to Riot ~ "Muslim Newspaper Ran Cartoons 4 Months Ago"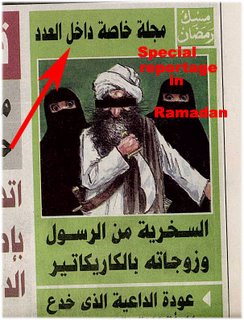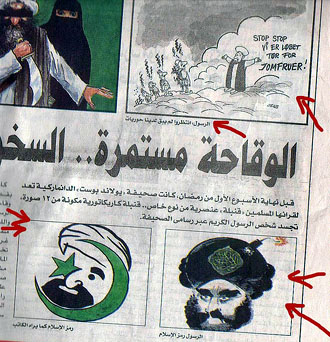 from WND

While Muslims across the world have rioted in the past week against countries whose newspapers have published cartoons of the prophet Muhammad, there was no uproar when the same caricatures were prominently displayed in an Islamic newspaper four months ago.

The images originating in Denmark's Jyllands-Posten in September were reportedly featured on the cover and inside pages of Egypt's al-Fagr (the Dawn) in October, during the holy month of Ramadan.

According to the Freedom for Egyptians blog, al-Fagr included the cartoons on the front cover and page 17 of its edition dated Oct. 17. The headline, when translated, is said to read: "Continued Boldness. Mocking the Prophet and his wife by Caricature."

To date, at least 10 people have been killed in Afghanistan alone from Muslim riots in connection with the cartoons, though protests have been taking place in many countries throughout Europe and the Mideast. Some 4,000 angry Muslims took to the streets of the Egyptian capital of Cairo this week, though there were no protests when al-Fagr published the images during Ramadan in October.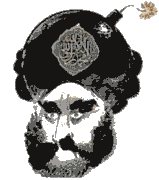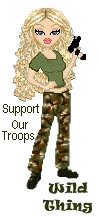 Wild Thing's comment..........
Every time a suicide bomber kills innocent people, the cartoon of the head and the bomb should be included with the story. IMO The world needs to stop making excuses for these freakazoids and the thnigs they do and want to do. There needs to be an IN YOUR FACE 24/7 with these Islamists.
Posted by Wild Thing at February 9, 2006 11:45 AM
---
Trackback Pings
TrackBack URL for this entry:
http://www.theodoresworld.net/mt/mt-tb.cgi/298
Comments
Post a comment