« The Free Jack Idema Blogburst | Main | Muslims Only Using Cartoons to Riot ~ "Muslim Newspaper Ran Cartoons 4 Months Ago" »
February 09, 2006
Local Marine Designs Facial Armor for Troops in Iraq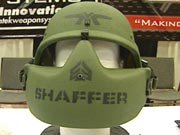 ........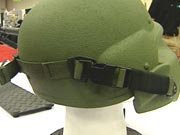 There's nothing else like it on the market currently. A local Marine who served in Iraq has designed a new facial armor system that could save lives. The equipment is already being tested in combat.
"There are a lot of facial injuries. I've had friends currently over there who have been injured in the face," said Ben Mahan, Mtek Weapon Systems.
Mahan is a Marine who served in Operation Iraqi Freedom. "After I got back from Iraq in 2003 I noticed we were lacking face protection. So I went out and tried to find facial armor or something I could take because I had to return back with my unit. I wasn't able to find anything," he said.
Since Mahan returned home, he's been working to design a facial armor system that would protect servicemen and women in combat. "I want to save lives. That's my goal," he said.
The "Predator" is a facial armor system made of Kevlar, the same material used in bulletproof vests. Mahan has spent the better part of two years perfecting it.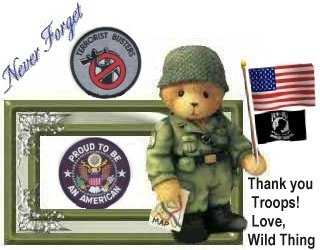 Wild Thing's comment.....
In VN I was told men would wear a flak jacket sometimes with ceramic plates.It was heavy as heck,but it was always possible it could save your butt. Kevlar,must be a tremendous improvement over steel. Most tank drivers drive with their head popped out of the tank. An M1 and it's crew was lost in Bagdad when it's driver was shot dead -- the tank drove off of a bridge an the other crew members died.
I am for anythig that will protect our troops and they do get a lot of head injuries. I wonder about wearing them in the tremendous heat in Iraq.It gets to 120 there in the wrm months.
He went to the manufacturer of the helmet. They wanted an exorbitant amount of money to even make molds and lay it up and stuff like that," said Vanch Mahan, Ben's dad and business manager at Mtek.
Mahan took the idea to Mark Scott at Prototype Development, a company that concentrates on developing ideas, not for the military, but for racecars.
"We get a lot of e-mails, a lot of ideas, and this one really jumped out as being something special," said Mark Scott, Prototype Development.
"Of course our background is in motor sports so we have years of experience crashing cars into the wall at Indianapolis and other places. So we've tried to take our motor sports approach into the body armor field with some very different ideas," said Scott.
"It's not saying that you're totally protected and aren't going to get injured but it's going to keep a lot of shrapnel from tearing off the lower extremities of your face," said Vance Mahan. "We've shot this with a 12-gauge shot gun from point-blank range which is about a meter or three feet. It stopped that. We've shot it with a 44-magnum point-blank range. It stopped that. We shot it with a .357 at point blank range and it stopped all of it."
The mask will attach to any existing government-issued military helmet. Mtek has already sent one over to Iraq. They've also designed a bulletproof visor. Now the trick is getting the government to see the same need they do.
Posted by Wild Thing at February 9, 2006 12:45 AM
---
Comments
Leave it to a GI to come up with a solution. Now the Pentagon will have to study the design, evaluate its merits, and test it. After spending 4.3 million on the process, they will finally approve it for production and distribution to the troops.
I'm just wondering one thing? With all this body armor and equipment our guys are required to wear and carry, how are they going to move with any agility? And then, their's the extreme heat?
Posted by: BobF at February 9, 2006 10:05 AM
---
Bob, I was wondering the same thing. Thank you for commenting.
Posted by: Wild Thing at February 9, 2006 10:22 AM
---