« U.S. Soliders Take to Water to Combat Terrorists | Main | Countries Line Up With Hamas (Terrorists) »
February 23, 2006
Last Of A Line Of Great Grumman Fighters~ F-14 Tomcat
Thank you Bob for telling us about this.
.
A chapter in naval aviation history drew to a close aboard USS Theodore Roosevelt (CVN 71) with the last recovery of an F-14 Tomcat from a combat mission.
.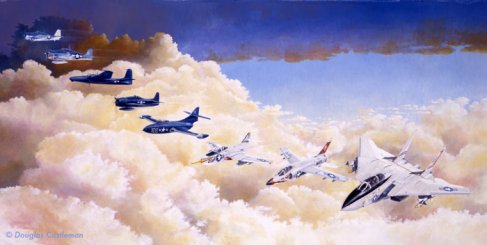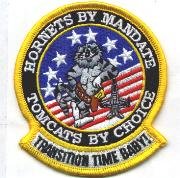 .
Piloted by Capt. William G. Sizemore II, commander, Carrier Air Wing (CVW) 8, Fighter Squadron (VF) 213's aircraft 204, was trapped at 12:35 a.m. February 8, and marked one of the final stages of the Navy's transition from the F-14 to F/A-18 E/F Super Hornet.
"It's the end of an era and it just kind of worked out that I was the last trap," said Sizemore. "This is one of the best airplanes ever built, and it's sad to see it go away. It's just a beautiful airplane. It's powerful, it has presence, and it just looks like the ultimate fighter."

Lt. Bill Frank, a VF-31 pilot, also took part in the last mission, and is credited with being the last pilot to ever drop a bomb from an F-14 Tomcat.

The decision to incorporate the Super Hornet and decommission the F-14 is mainly due to high amount of maintenance required to keep the Tomcats operational. On average, an F-14 requires nearly 50 maintenance hours for every flight hour, while the Super Hornet requires five to ten maintenance hours for every flight hour.

The F-14 entered operational service with Navy fighter squadrons VF-1 Wolfpack and VF-2 Bounty Hunters onboard USS Enterprise (CVN 65) in September 1974. The Tomcat's purpose was to serve as a fighter interceptor and it eventually replaced the F-4 Phantom II Fighter which was phased out in 1986.

From its initial combat air patrol mission during the 1975 U.S. Embassy evacuation in Vietnam, to its recent missions in support of Operation Iraqi Freedom and Maritime Security Operations in the Arabian Gulf with VF 31 and 213 of CVW-8 the F-14 Tomcat has played a vital role with the Navy for 32 years.

During its first 17 years of operational service in the Navy, the Tomcat played a vital role as an interceptor with its air-to-air capabilities. However, during the 1991 Persian Gulf War, the need for the Tomcat's air-to air-capabilities diminished as air-to-ground capabilities proved to be more effective.

Shortly following the Persian Gulf War, Navy leaders decided to devise removable bomb racks for the Tomcat's to allow them to carry MK-80 "dumb" bombs. With its new upgrades the Tomcat's were soon dubbed as the "Bombcats."

Shortly following the addition of bomb racks, Tomcats were equipped with Low-Altitude Navigation and Targeting Infrared for Night (LANTIRN) targeting system to allow for delivery of laser-guided bombs. During the proceeding years the F-14s took on a new, more effective role as a fighter-bomber.

"I will never forget flying a 'Show of Force' over a city in Iraq where our troops were taking fire from insurgents," said Lt. Cmdr. Gregory Knepper, a VF-31 pilot referring to a recent Tomcat mission.

"After making a high speed/low altitude pass over the shoot-out, the insurgents fled and hopefully we saved the lives of some of our soldiers."

In keeping with its history of being adaptable to new challenges, the Tomcat soared to a new level during its last deployment when it became the first Navy aircraft to make use of the Remotely Operated Video Enhanced Receivers (ROVER) system in December of last year.

The system allows for ground forces to view video via laptop computers which gives them the ability to view their surroundings from the aircrafts' point of view in real time, and ultimately provides better reconnaissance and target identification, which are essential to combat air support missions in Iraq.

Previously ROVER had been used by the Air Force, and with a few modifications from personnel of Naval Air Station Oceana, Va., and members from NADEP Jacksonville, Fla.; it became one of the last great modifications to the Tomcat.

VF-213 pilots who are making the transition to the Super Hornet will begin F/A-18F (double seat) training in April, and the squadron will be operational, or "safe for flight," in September. VF-31 pilots who are making the transition will begin F/A-18E (single seat) training in October, and the squadron will be safe for flight in April 2007. This will make VF-31 the last official Tomcat squadron in the Navy.
.
Wild Thing's comment.....
Remember when Ronald Reagan challenged the idiot of Libya by sending the Carrier Nimitz into the Gulf of Sidra in August 1981.
Two F-14s on patrol were attacked by two Fitters from Libya. One Fitter shot a short range missile at the F-14s, who were immediately cleared to return fire. The F-14s fired two sidewinder shots and made two kills.
Beautiful. The F-14 is still the baddest-ass looking plane ever made. Sleek waving design lines, broad wings, and arrogantly showing off it's array of armament.
And from BobF..........
I can't believe the Navy is going to retire the F-14…where is Tom Cruise when you need him. As far as today's fighters go, I consider the F-14 and F-15 the heavyweights. The F-16 and F-18 are nice, fast, and sleek but when you have to kick some serious butt, send in the heavyweights.
F-14 Supersonic Flyby video
http://www.alexisparkinn.com/photogallery/Videos/SuperSonicFly_by.wmv
http://www.alexisparkinn.com/photogallery/Videos/Supersonic%20F14%20flyby.mpeg
http://www.alexisparkinn.com/photogallery/Videos/SupersonicF14_2.mpeg
Posted by Wild Thing at February 23, 2006 06:08 PM
---
Trackback Pings
TrackBack URL for this entry:
http://www.theodoresworld.net/mt/mt-tb.cgi/362
Comments
Awsome videos, thanks. I remember a popular underground song during that era, something about "I'm a Libyan on a jet plane, don't know when I'll be back again", it's sad to see such a fine aircraft be retired.
Posted by: Jack at February 23, 2006 08:14 PM
---

I cracked up when I read ".........and it just kind of worked out that I was the last trap," said Sizemore." What he said in real speak was "I'm CAG (Commander Air Group)and I'm flying the last trap. Any questions?"
GGGGGGGGGGGG RHIP!
I must admit to being kind of partial to the ol' F4 Phantom. Now that's one BAD looking aircraft. If not mistaken she still holds the high altitude
record for her class, least she did for many many years.
Next I'll get into my fav recips. GGGGGG (hint: starts and ends with DC.)
Posted by: SparkS at February 23, 2006 10:17 PM
---
Another page turns in aviation history. I'm surprised that the plug has been pulled on the Tomcat. Designed as a carrier based aircraft, the F-14 has been the most adaptable airframe the US Navy has ever had.
By the way, there were two incidents with Libyan aircraft. August 19th 1981, two Libyan Sukoi Su-22 fighter jets shot down by USN F-14's. January 15th, 1986. Libya sent two MiG-23 Floggers to test the American military and find out how far they could push the US. The MiG's vectored on two A-6 Intruder's, after which the A-6's turned away, and two F-14 Tomcat's on CAP were sent to meet the MiG's head-on. Previous encounters with the Libyan Air Force resulted with the Libyan aircraft turning tail, and returning back to Libyan airspace. This encounter did not end so easily. What is probably the most publicized air-combat sequence took place and lasted over 6 minutes, an eternity to the pilots and RIO's flying the two Tomcat's involved in this battle. The end result was still the same, however. US-4, Libya-0. Also the USN won't be getting the FA-22 any time soon.
The Raptor just reached its initial operational capability in December. It has only been deployed to 27th USAF Fighter Squadron. The first operational mission, (live ordnance), started in support of Operation Noble Eagle Jan. 21 and 22.
Operation Noble Eagle provides air defense over the United States and Canada. Since the Sept. 11, 2001, attacks on the nation, North American Aerospace Defense Command fighters have responded to more than 2,000 air events over the two countries. Aircraft have flown more than 40,000 sorties supporting Noble Eagle .
Posted by: RightToCarry at February 24, 2006 06:22 AM
---
Hi Jack, it sure is I am really disappointed.
Thanks for commenting.
Posted by: Wild Thing at February 24, 2006 12:02 PM
---
Hi RightToCarry that is interesting, thank you for telling about the Libyan aircraft's other incident.
Posted by: Wild Thing at February 24, 2006 12:06 PM
---
Post a comment