« The Sick Celebration Of Ashoura Day by Muslims ~ This is NOT Red Paint! | Main | Hizbullah Leader Nasrallah Tells Bush To Shut Up »
February 09, 2006
Islam the Death Cult Member Offers Reward To Kill Cartoon Artist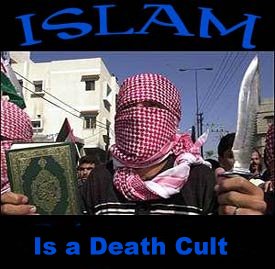 Taliban offer 100kg gold for killing cartoonist
Thursday, February 09, 2006
Afghan Islamic Press
ISLAMABAD: A top Taliban commander on Wednesday offered a reward of 100 kilogrammes of gold to anyone who kills the artist responsible for cartoons of the Prophet Muhammad (peace be upon him), the Afghan Islamic Press (AIP) reported.
If someone killed the cartoonist responsible for the cartoons in Denmark, the "Taliban will give 100 kilogrammes of gold," Mullah Dadullah said in a telephone call to AIP from an unknown location.

Dadullah also said that the Taliban would give five kilogrammes of gold to anyone who killed a Danish, Norwegian or German soldier, AIP said. AIP said that Dadullah was operating as chief commander of the Taliban waging an anti-government insurgency in Afghanistan. The agency quoted Dadullah as saying that the Taliban's list of would-be suicide bombers had grown since the publication of the cartoons.
And this from ABC News online
Thursday, February 9, 2006
100 enlist for suicide attacks over cartoons, says Taliban
One hundred militants have enlisted to become suicide bombers in Afghanistan since the appearance of "blasphemous" cartoons of Prophet Mohammed, a top Taliban commander today.

Mullah Dadullah, one of the Taliban's most senior military commanders, said his Islamic extremist group had also offered a reward of 100 kilograms of gold to anyone who killed people responsible for the drawings.

"More than 100 mujahedin (holy warriors) have enlisted to carry out suicide attacks," the fugitive Dadullah told AFP by telephone from an unknown location.

The targets would be "infidels", said the commander, who is believed to be close to the Taliban's wanted leader Mullah Omar.

Dadullah said that the Taliban militia, which has been waging an insurgency in Afghanistan for the past four years, had strong support from the Al Qaeda network and good ties with militants in Iraq.

"We do have relations with Al Qaeda. We're one body. Al Qaeda funds our fightings. We're one body, brothers, and we've one common enemy," he said.

"We've good relations with Iraqi mujahedin and Al Qaeda mujahedin," he said, calling on other Muslims to join the fight against Western countries which he said had invaded the Islamic world.

The Taliban was in government between 1996 and 2001 before being ousted in an operation launched by the United States following the September 11, 2001 attacks.

Dadullah claimed the Taliban had defeated the US-backed Government of President Hamid Karzai on several fronts and was in control of several southern Afghanistan districts, which he did not name.

The militants have carried out regular attacks on foreign and pro-government targets, mainly in the south and east, despite the presence of nearly 30,000 foreign troops, two-thirds of them US-led forces tasked with hunting down militants.

Dadullah said some of the attackers involved in a spate of recent suicide blasts over recent months were foreigners but most of the insurgents were Afghans.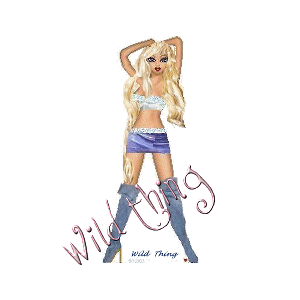 Wild Thing's comment.........
Burka Free Zone! Bite Me Dadullah!
Hey Dadullah your allah was a moon god!
Who is Muhammed that leads these sheep on? The man that started the cult of pedophilia, murder and theft ?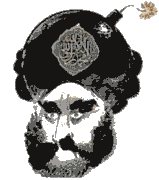 He was an immoral, criminal, and violent . The five oldest and most trusted Islamic sources don't portray Muhammad as a
great and godly man. They reveal that he was a thief, liar, assassin, mass murderer, terrorist, warmonger, and an unrestrained sexual pervert engaged in pedophilia, incest, and rape. He authorized deception, assassinations, torture, slavery, and genocide. He was a pirate, not a prophet. According to the Hadith and the Qur'an, Muhammad and his henchmen plundered their way to power and prosperity.
And by putting the Qur'an in chronological order and correlating it with the context of Muhammad's life as it was reported in the Sira, Sunnah and Hadith, we also find that Allah mirrored his prophet's character. Muhammad's god condoned immoral and criminal behavior. Allah boasts about being a terrorist.
He claims to have deceived men, to have stolen their property, to have enslaved women and children, to having committed
acts of murder, genocide, and sadistic tortures.
Islam a religion of Peace? I think NOT!
Posted by Wild Thing at February 9, 2006 07:57 PM
---
Trackback Pings
TrackBack URL for this entry:
http://www.theodoresworld.net/mt/mt-tb.cgi/301
Comments
Post a comment