« Well This Would Be Fine With Me | Main | I Just Love This ~ Numa Numa »
February 20, 2006
In Country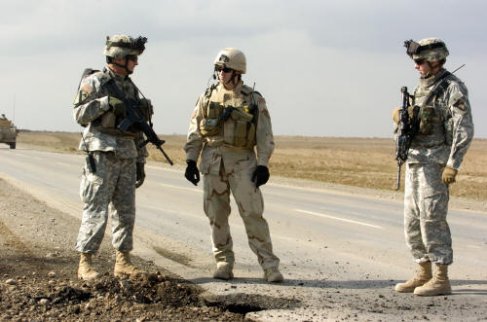 Combat Engineers from Company A, 1st Special Troops Battalion, 1st Brigade Combat Team, 101st Airborne Division, an a member of the explosive ordinance disposal, examiname an improvised explosive device pot hole. (U.S. Army Photo By: Spc. Barbara Ospina, 1st BCT Public Affairs)
Forward Operating Base (FOB) Warrior, Iraq -- The Combat Engineers of Company A, 1st Special Troops Battalion, 1st Brigade Combat Team, travel the roads of Iraq to try and prevent life threatening explosions by finding and detonating improvised explosive devices (IED).

"Our primary mission is route clearance," commented Sgt. John Nickolaides, a team leader for 1st Platoon, Company A.

With unique training on specialized equipment before deployment, the combat engineers use their eyes, instincts and technology in support of the fight against terrorism.

Driving ahead of another convoy in support of their IED hunting mission may seem dangerous to some, but to the combat engineers they are confident in their abilities and are watchful in their job.
.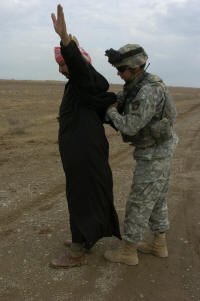 A Soldier from Company A, 1st Special Troops Battalion, 1st Brigade Combat Team, 101st Airborne Division, searches an Iraqi man while another Soldier searches the man's vehicle. (U.S. Army Photo By: Spc. Barbara Ospina, 1st BCT Public Affairs)
We definitely find more IEDs than actually blow up," said Pvt. 1st Class Heath Crawford, a Soldier in 1st Platoon, Company A.

Crawford commented that during their training to be a combat engineer, they were taught about demolition, breaching, and many other special skill sets. Route clearance may not be in their job title, but it is what they know.

Combat engineers learn many different jobs and specialties during their advanced individual training following basic combat training, but in Iraq their job is to clear the path for fellow Soldiers traveling the roads in the Kirkuk Province.

According to Nickolaides, they are not specifically tasked for 1st BCT convoys only; they will clear for any unit requesting their assistance.

Some route clearance missions last only a few hours, but the engineers always prepare for long days and nights.

"The length of our mission is dependent on what we find while we are out," Crawford said.

Long missions are tiring for both the Soldiers and their vehicles.

"Driving for 12 or more hours at times is hard on a vehicle," Nickolaides commented. "But our vehicles do pretty well; we have good mechanics."

With their up-armored vehicles running well, the combat engineers are able to support convoys rolling down the roads. They will lead the convoy out on their mission, and lead them back to where the Soldiers call home...for now.

By: Spc. Barbara Ospina - 1st BCT Public Affairs

Posted by Wild Thing at February 20, 2006 01:32 AM
---
Comments
WT and Rhod, I have a lot of respect for combat engineers. Tough dangerous work that keeps our troops safer. At great risk to themselves.
Posted by: RightToCarry at February 21, 2006 07:25 PM
---
Hi RightToCarry thank you. Good to see you.
Posted by: Wild Thing at February 21, 2006 08:04 PM
---
Thanks WT,
I've been very busy, a reorganization at work has me going like a one armed, one legged wallpaper hanger.
Posted by: RightToCarry at February 22, 2006 04:51 AM
---