« Conservative T-Shirt Maker Has Life Threatened | Main | Which Way's The Wind Blowing, Abdul?" »
February 22, 2006
FBI Visits Air Charter Again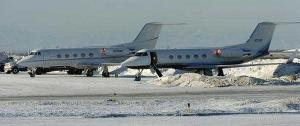 A pair of Gulfstream business jets are parked at Security Aviation, located at Ted Stevens Anchorage International Airport, earlier this month. The jet on the right was the target of a federal search warrant by FBI agents on Saturday. Federal Aviation Administration records show at least 21 aircraft registered with the companies of Mark Avery, owner of Security Aviation since 2005.
SECURITY AVIATION: Two weeks after raid, a new look focuses on one jet.
By RICHARD MAUER Anchorage Daily News Published: February 21, 2006
Federal agents returned to Security Aviation on Saturday, but this time their search was more limited than the raids two weeks ago at the air charter company's facilities in Anchorage and Palmer and owner Mark Avery's C Street building.
FBI spokesman Eric Gonzalez said Monday that only Security Aviation's Gulfstream III executive jet was targeted by agents executing a search warrant Saturday at Ted Stevens Anchorage International Airport.
Gonzalez wouldn't say what investigators were looking for or what they found. No additional people were arrested, he said, and the Gulfstream wasn't seized. Avery associate Rob Kane was arrested during the Feb. 2 raids and charged with possessing two rocket launchers without a permit. He remains in jail, denied bond as a flight risk.
Eight Czech military planes capable of being fitted with the rocket launchers were seized by federal agents a week ago and removed from the airport to an undisclosed location.......rest of article HERE.
Posted by Wild Thing at February 22, 2006 12:42 AM
---
Trackback Pings
TrackBack URL for this entry:
http://www.theodoresworld.net/mt/mt-tb.cgi/351
Comments
Post a comment