« Mickey Muhammed | Main | How To Tell Democrats From Terrorists »
February 24, 2006
Cindy Sheehan Can Share A Room In Hell With Hanoi Jane and John Kerry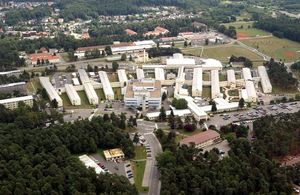 Landstuhl Army Medical Center
.
Sheehan to protest at U.S. posts in Germany in March
Cindy Sheehan is going to bring her protest to Germany outside of Landstuhl Army Medical Center. Landstuhl is usually the first stop for our wounded coming back from the war on their way to Walter Reed or Bethesda or Brooke (San Antonio).
"[We've already heard] that Cindy Sheehan is like Hanoi Jane [Fonda] coming here," said Elsa Rassbach, an event organizer with American Voices Abroad, which is supporting Sheehan's trip.
When asked for comment Wednesday on Sheehan's upcoming visit, several soldiers in Kaiserslautern asked if they could be quoted anonymously.

One soldier, who recently returned from Iraq, did give his name but didn't have much to say about Sheehan.

"Anything I would have to say about her, you couldn't print," Army Staff Sgt. Mark Genthner said.

March 9: News conference in Frankfurt; panel discussion in Aachen
March 10: Reception of the mayor and news conference in Aachen
March 11-12: "Camp Casey" events at Landstuhl/Ramstein
March 13: Press conference and various events in Paris
March 14: News conference and hearing with European Union parliament in Strasbourg, France
March 15: News conference and various events in Berlin

Stars and Stripes has the rest of the article.

The Landstuhl hospital is for troops with serious injuries or illness requiring surgery and hospitalization. Landstuhl Post is a permanent U.S. Military installation located in the German State of Rheinland-Pfalz, 5K south of Ramstein Air Base.


* Blackfive
* Mudville Gazette
* Soldier's Angels Germany

Wild Thing's comment.....
To get to Ramstein the ride is up a winding road through the wooded hills overlooking the picturesque town of Landstuhl and there is the sprawling hospital complex.
Posted by Wild Thing at February 24, 2006 03:23 PM
---
Comments
"Anything I would have to say about her, you couldn't print," Army Staff Sgt. Mark Genthner said.
Amen to that.
"Germany has the power to stop the further use of U.S. bases in Germany for illegal wars and criminal methods of warfare — the power and the right to just say no!"
Yeah, right.
Every town that has military installations near, gain in an economic way. The Germans are not stupid, and are not going to shut down any American base that boosts the local economy near said bases. Economics 101. Duh!
Posted by: RightToCarry at February 24, 2006 08:33 PM
---
This is what Cindy Sheehan said after he first met with President Bush after he son lost his life in Combat.
She said he was sincere, a man of faith, and he feels some pain for their loss.
Cindy went on to say, "For a moment, life returned to the way it was before Casey died"…the President gave them the gift of happiness
Now she is singing a completely different song. Was she lying then or is she lying now? If you want to see what Newsweek Magazine says what happens during these meetings, check out the following link. By comparison, we will see if Cindy is lying then or now.
http://www.msnbc.msn.com/id/8941525/site/newsweek/
PS Wildthing, you might need some tissues.
Posted by: BobF at February 24, 2006 08:54 PM
---
RightToCarry, you caught that too about Germany. The person that said that is stupid just like you said.
Thanks for commenting.
Posted by: Wild Thing at February 25, 2006 01:10 AM
---
Bob, thank you for the link. You are right about the link and needing kleenex. ((hug))
The question you asked Bob is a good one. It made me think about the what if's and I like that.
The damage that Sheehan has done and continues to do is unforgivable. Not once has she ever mentioned the people that did kill her son in Iraq.
Was she lying then or now? Only God knows for real. But it reminds me of a baseball player, Kirk Gibson. The Dodgers has won the World Series the season before and he was asked by a reporter about the new season. His reply was that winning the World Series was last year and he had to prove himself and so did his team, in a whole new way for the new season. As for my take on it, if she was for real when she met Bush then she would be the same person now and perhaps putting her passion and grief into honoring her son. But she has not done this.In fact she has insulted other families that have begged her not to put white flags up at her protests with their sons names on them. She goes and puts another flag down after the familes take them away in anger and heartache of being used by her.
Her true character is what has come to the forefront since she met with Bush. People say that the tuff times are what bring out either the best or worst in us. In Cindy's case the worst is more prominate then the best. Sure she has been caught up in those using her there is that too. But if she would have truly felt appreciation for her freedom and the cost of how she got it, a true respect for the Military and our Veterans.....and respected her son and what he sacrificed... she never would have been available to the agenda seekers in the first place. They would have disgusted her and she would have been furious with them for their agenda to the bone of her existence.
The lives she has messed with since her son's death earn her a front row seat in hell with Jane Fonda, Donald Sutherland, John Kerry, Code Pink and others that use the deaths of our troops to promote their agenda. So for me the Cindy we know since her meeting with Bush is the real Cindy. The one that chooses to ignore 9-11, the USS Cole and tons of other attacks.
Wow I just looked at this and I sure did write a lot. Sorry! :)
Posted by: Wild Thing at February 25, 2006 03:34 AM
---
AMEN!! You just keep on writing Wild Thing.
Posted by: BobF at February 25, 2006 07:12 AM
---
Cindy is losing steam. She may not have a single reporter cover her trip unless she hires a stringer. I think Cindy is now in the status as a "has-been". As are Jane Fonda and John Kerry. All 3 have to go to extremes to garner attention or even notice.
Posted by: TomR at February 25, 2006 10:39 AM
---
Hi Bob, thank you. (smiling)
Posted by: Wild Thing at February 25, 2006 12:18 PM
---
Hi Tom I am glad ( she is running out of sream)because I worry about the troops. They say it does not bother them but down in their souls and deep down in their hearts it might. And I worry about that.
Thank you.
Posted by: Wild Thing at February 25, 2006 12:19 PM
---
TR/WT, I'm not so sure that bitch is losing steam.
Fox News Chnl just had her ugly puss on advertising an upcoming program about her. I had the sound muted, thank goodness. The traitors from the left will do whatever it takes to prop her up.
I keep hoping that some day Congress will get smart and pass a federal law that demonstrating against the U.S. in a foreign country is an act of treason. Make it retroactive to 1900. Then they can snatch up Sheehan, Fonda, Kerry, and Clinoccio.
OOOOPs same ad just came up, pgm is The Big Story
today at 1700 ET on FNC. I wouldn't waste my time personally.
Posted by: SparkS at February 25, 2006 02:57 PM
---
Hi SparkS, thanks for the information. I would love for Congress to do that.
Thank you for commenting.
Posted by: Wild Thing at February 25, 2006 03:10 PM
---
Thanks for the link and helping to spread the word, Wild Thing.
She may be running out of steam, but she *will* get a lot of coverage from the German press on this. They eat this stuff up. Note that she's been asked to speak at the European Union Parliament.
And this type of thing *does* bother our guys, believe me. They can use - and they deserve - all the support we can give them.
Posted by: MaryAnn at February 25, 2006 03:11 PM
---