« F-35 Joint Strike Fighter | Main | Muslim Reaction To Jylland Posten Cartoons ~ Feel The Love »
February 04, 2006
Brothers Re-enlist on Mom's Birthday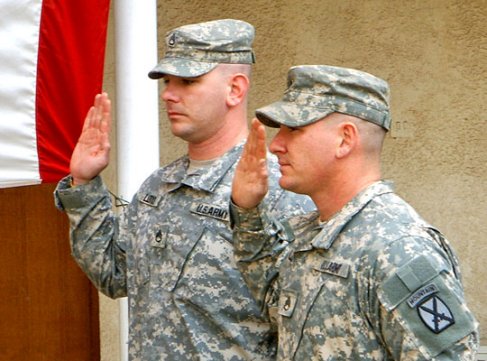 Brothers, Brandon and Jeff Lloyd, both staff sergeants in the U.S. Army, re-enlist on their mother's birthday in Baghdad, Iraq
BAGHDAD, Iraq, Feb. 2, 2006 — On a bright winter's day in eastern Baghdad, two brothers re-enlisted for love of country, love of the Army … and love of their mom back home in Alabama.

Staff Sgt. Brandon Lloyd, two years older than Staff Sgt. Jeff Lloyd, hosted his brother at Forward Operating Base Rustamiyah at the 1st Squadron, 61st Cavalry Regiment, 506th Regimental Combat Team headquarters Jan. 28.
Jeff's commander, platoon leader, and platoon sergeant traveled with him from Camp Liberty to witness the joint oath of office.

While Brandon is the older brother, Jeff enlisted in the Alabama National Guard before his brother joined the military. Jeff later enlisted in the active duty Army.

Subsequently Jeff sustained serious injuries in Operation Iraqi Freedom while serving with 1st Cavalry Division in the Baghdad area more than a year ago.

With the love of his family, Jeff recovered and returned to the freedom fight.

The brothers stood together proudly, as 1st Lt. Sangdo Choi, Brandon's platoon leader, led them in the re-enlistment oath.
"It is nice to see my brother and hard to describe how much it means to me to re-enlist with Brandon," said Jeff.

Brandon went on to describe how they remain close from growing up together in the small town of Semmes, Ala., near Mobile. They relied upon and supported each other then and they still do, the brothers said.


Just two weeks ago, Brandon volunteered to provide medical coverage so he could visit his brother at the convoy's turn-around point.

Jeff serves as a mechanic supervisor for 10th Brigade Support Battalion, 10th Mountain Division, based at Fort Drum, N.Y. His unit is currently stationed at Camp Victory near the international airport, while Brandon is based out of Fort Campbell, Ky. and currently deployed to the Currahee Cav.

Brandon re-enlisted for five years and Jeff for six, and each received a sizable bonus. Brandon also received current station stabilization money, which he says helped him and his wife, Deanna, decide on future plans.

"I'm saving to buy a house with my wife," said Brandon. "My mom is in real estate, and we hope she can help us find the right place."

Single brother Jeff said, "I'll pay a few debts and fix up my '79 Dodge hot rod truck."

The brothers know that their mother back home has mixed feelings about them being in Iraq together. "We re-enlisted on Mom's birthday on purpose," said Brandon.

"She understands that as noncommissioned officers, we want and need to be here. She knows we both love the military and our country."The Lloyds hope to see each other a few more times while serving in Iraq. They know that trust as brothers, and their oath as noncommissioned officers in the Army, will keep them going strong.
Posted by Wild Thing at February 4, 2006 12:17 AM
---
Comments
I wish I could re-up now, but I have in spirit.
Posted by: TomR at February 4, 2006 09:40 AM
---
Tom ((hug)) You sure are and it is wonderful! And you are fighting the good fight back here too. Your heart and soul are with our troops and I know from my emails to them, they feel our support and think about it right away when the press and the left says their vile stuff.
Thank you Tom
Posted by: Wild Thing at February 4, 2006 11:57 AM
---
Bravo, another fine example of our men and womens dedication to serving our great country. My thanks and prayers go out to all that serve in harms way. My oldest step son is considering going back to Iraq , as a ground pounder or with the civilian contractor that he is currently working for over there. If he does, it will be his third tour in Iraq.
Posted by: RightToCarry at February 5, 2006 06:19 AM
---
RightToCarry wow, please thank your oldest Grandson for me. We owe them all so much for what they have done and what they are doing.
RTC thank you for sharing about your Grandson.
Posted by: Wild Thing at February 5, 2006 08:24 AM
---
WT, Thanks. LOL, I'm not a grandpa yet. I'm old enough. My oldest step son is not likely to produce offspring any time soon. Now my youngest step son will most likely be the first one to do so.
Posted by: RightToCarry at February 5, 2006 04:30 PM
---
OOPs I am sorry. haha No rush there is plenty of time. heh heh
Thank you for correcting me. Let's not tell your step son I was rushing things. hahaha
Posted by: Wild Thing at February 5, 2006 04:53 PM
---
Thanks for publishing the article on my sons. I'm very, very proud of them. God bless all of our troops.
Posted by: karen at February 7, 2006 11:36 AM
---
Nice to meet you Karen. Thank you for visiting my blog. Welcome! Please stop by anytime, there are a lot of wonderful Veterans that come here so you are in good company as a Mom of two sons serving our country.
Posted by: Wild Thing at February 7, 2006 12:29 PM
---