« NAACP Chairman Compares GOP To Nazis | Main | Do NOT Put A Civilized Face On These Killers »
February 03, 2006
Air Force Officer MIA from Vietnam War is Identified
I will never forget....never!
For 36 years and one month I have prayed every day
that our POW's and MIA's would come home.
I will never stop.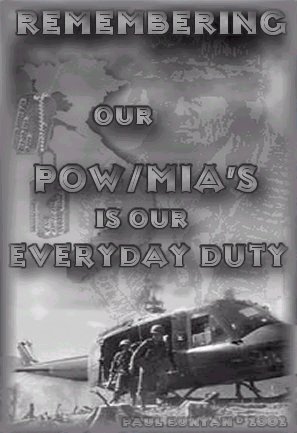 The Department of Defense POW/Missing Personnel Office (DPMO) announced today that the remains of a U.S. serviceman, missing in action from the Vietnam War, have been identified and will be returned to his family for burial with full military honors.

He is Col. Eugene D. Hamilton
of Opelika, Ala.
Final arrangements for his funeral have not been set.

On Jan. 31, 1966, Hamilton was flying an armed reconnaissance mission over North Vietnam when his F-105D 'Thunderchief' was hit by enemy ground fire over Ha Tinh province. His mission was part of a larger operation, known as Operation Rolling Thunder, which attacked air defense systems and the flow of supplies along the Ho Chi Minh Trail.

Airborne searches for his crash site that day were unsuccessful. A radio broadcast from Hanoi reported an F-105 had been shot down but did not provide any details.

Between July 1993 and November 2000, joint U.S.-Vietnam teams, led by the Joint POW/MIA Accounting Command (JPAC), conducted four investigations and one excavation searching for the pilot and his plane.

An investigation team in March 2000 learned from a Vietnamese villager that an area excavated in 1997 was not the location of the pilot's burial. A second location was then excavated in August and September 2000, which did yield aircraft wreckage, personal effects and human remains.

In 2004, three Vietnamese citizens turned over to a JPAC team remains they had found at the same crash site a year earlier.

In late May 2005, the JPAC team recovered fragments of possible human remains and life support equipment from the 2000 crash site. Personal effects found there also included a leather nametag with the name "HAMILTON" partially visible on it.

JPAC scientists and Armed Forces DNA Identification Laboratory specialists used mitochondrial DNA as one of the forensic tools to help identify the remains. Laboratory analysis of dental remains also confirmed his identity.

Of those Americans unaccounted-for from all conflicts, 1,807 are from the Vietnam War, with 1,382 of those within the country of Vietnam. Another 839 Americans have been accounted-for in Southeast Asia since the end of the war, with 599 from Vietnam.

What is JPAC?
Mission and History The Joint POW/MIA Accounting Command (JPAC), located on the island of Oahu in Hawaii, was activated on Oct. 1, 2003. JPAC's mission is to achieve the fullest possible accounting of all Americans missing as a result of our nation's previous conflicts. Our highest priority is the return of any living Americans that remain prisoners of war.

JPAC was created from the merger of the 30 year old U.S. Army Central Identification Laboratory, Hawaii, and the 11 year old Joint Task Force - Full Accounting. This 425-person organization, commanded by a flag officer, is committed and dedicated to bringing home the nation's service members and civilians who made the ultimate sacrifice.

Worldwide Mission

The Joint POW/MIA Accounting Command's (JPAC) mission is to achieve the fullest possible accounting of all Americans missing as a result of the nation's past conflicts. JPAC personnel search for, recover and identify remains of Americans unaccounted-for from the Persian Gulf War, the Vietnam War, the Cold War, the Korean War and World War II. JPAC also performs other humanitarian missions as directed.

World War II recovery operations typically consist of teams deploying to such places as Europe, Papua New Guinea, China, the Pacific Islands, and many other locations where American service members are still missing. There are more than 78,000 American service members unaccounted for from World War II. Since 1973, the JPAC has identified and returned to their families more than 1,170 American servicemen formerly listed as unaccounted for from previous wars.
Until They ALL Come Home
Until they all come home
We watch and wait
Young and old, black and white
So far away, they're sent to fight
Until they all come home
We wear our ribbons to show our pride
And let them know we are on their side
Until they all come home
We pray for peace
Throughout the land
Protect them all, on sea and sand
Until they all come home
By James Withrow
Rolling Thunder
Until they ALL come home
.
Please feel free to visit my POW MIA page's

Posted by Wild Thing at February 3, 2006 05:47 PM
---
Comments
Thank you so much for posting this, far too many of our bretheren have been forgotten since that ugly war ended. I fly my POW/MIA flag every day as a constant reminder that our nation has forsaken these Americans, much like they'd like to forget some of us who served in and survived the war. It's also a reminder of dismal liberal failure that they wish some of us would die off or forget. It's been 40 years, welcome home Col. Eugene D. Hamilton, I haven't forgotten, thank you for your sacrifice.
Posted by: Jack at February 3, 2006 07:11 PM
---
Hi Jack, thank you for commenting. I especially want to thank you for serving our country my friend.
Posted by: Wild Thing at February 4, 2006 12:22 AM
---
Welcome Home Col Hamilton
And Thank you four your prayers WT. They are helping bring our MIAs home
Posted by: TomR at February 4, 2006 09:36 AM
---
Thank you Tom for serving our country,I wish I could thank each one of you in person and a big hug of Welcome Home.
Posted by: Wild Thing at February 4, 2006 11:59 AM
---